The United States Department of Education has concluded that there was insufficient evidence to prove that Princeton University discriminates against Asian or Asian-American applicants, as was alleged in two separate complaints.
In a letter to Princeton President Christopher L. Eisgruber, the U.S. Department of Education Office for Civil Rights noted that while the New Jersey Ivy League school sometimes uses race and national origin in its admissions decisions, it does so lawfully to promote diversity within its student body.
The letter also said that a compliance review of the school, begun in 2008, revealed that Princeton University considers a wide range of factors — such as grades and test scores, as well as experiences and background — before making an offer of admission.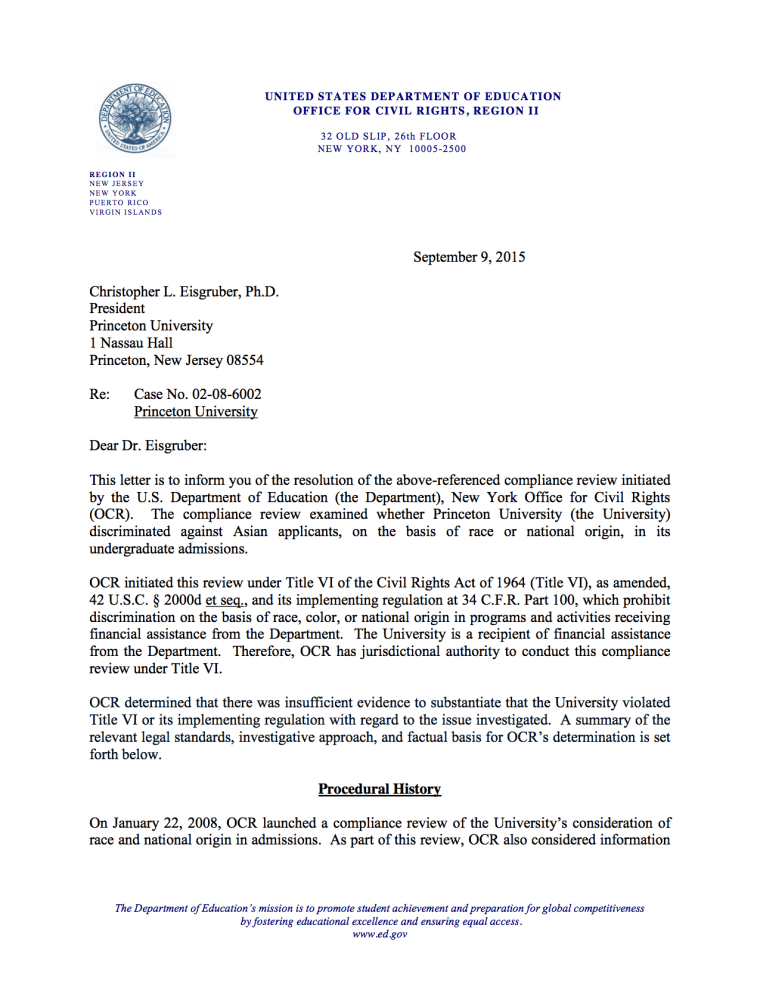 Although the review found that in some cases admissions officers or alumni interviewers did record notes about Asian applicants that evoke Asian stereotypes, using words like "shy" or "quiet" as descriptors, they also did this with candidates who were not Asian, according to the letter.
"OCR's review found that the university's use of race and national origin in admissions is consistent with the strict scrutiny standards established by the Supreme Court," the letter said.
RELATED: Coalition Sues Harvard Over Alleged Admission Racial Quotas
RELATED: Asian American Race-Based Complaint Against Harvard Dismissed
For Princeton's class of 2019, 22 percent of the 1,322 students enrolled were Asian American, according to the school's website. There were 27,290 applicants, with an admittance rate of 7.1 percent.
The compliance review stemmed in part from two complaints filed against Princeton University — one in 2006, the second in 2011 — alleging the school used race or national origin to discriminate against Asian candidates, the letter said. In both cases, the OCR found insufficient evidence to support those claims, it said.
The OCR's findings come more than two months after the U.S. Education Department dismissed a complaint filed against Harvard University alleging that it too discriminated against Asian applicants. That complaint was closed because of an on-going lawsuit filed last November by Students for Fair Admissions, Inc. that made the same accusations against Harvard University.
The issue of whether Ivy League schools discriminate against Asian applicants has fueled a contentious debate within the Asian-American community. Some have argued that the number of Asian-American students admitted annually to Ivy League schools has not kept pace with an overall increase in the Asian-American population. Others disagree, with some calling these complaints and lawsuits an attack on affirmative action, which they say promotes diverse learning environments.
For Yukong Zhao, one of the chief organizers of the Asian American Coalition, which filed the complaint against Harvard in May that was dismissed, the OCR's findings for Princeton came as a shock and a surprise.
"It is contrary to a lot of the stories we are hearing," Zhao told NBC News.