Priyanka Chopra is no stranger to fight scenes.
As the star of dozens of Bollywood films as well as the ABC drama "Quantico," Chopra said she knows what kind of preparation and moves are required to execute a dramatic fight. But playing Victoria Leeds in the new movie adaptation of "Baywatch," she noted, was unique.
"I enjoy fight scenes, I always do my own stunts. But this was different because Victoria doesn't want to chip her nails," Chopra told NBC News of her stylish and villainous character. "She doesn't want to do the dirty work."
"My mom would watch ['Baywatch'] all the time and when the theme song would come on, we'd all do the slow-mo run towards the couch."
Chopra said that the decision to make Victoria fashionable and over-the-top was a deliberate one by her and director Seth Gordon. She noted that the role of Victoria was actually written as a man named Victor but was changed only after Chopra was cast in the film, which also stars Dwayne "The Rock" Johnson, Zac Efron, and Alexandra Daddario.
"Seth and I spoke before about what Victoria should be and my addition was that I wanted her to be extreme," Chopra said. "She wears heels on the beach — who does that? — and a huge diamond on her pinky."
Victoria also uses her overly feminine image as a way to conceal her ulterior motives. The owner of the exclusive Huntley Club that faces the famed Baywatch beach has begun a drug smuggling business to lower the property values in the area so Victoria can buy up the plots and create a private beach of her own.
"It's always fun thing to play a villain," Chopra said, noting that she has played several during her time in Bollywood. "I always like to pick parts that are different, and that pushes me."
The role also offered Chopra a chance to show her American fans a different side of her, as the corrupt Victoria Leeds is a contrast to Alex Parrish, the top FBI-recruit-turned-CIA-case-officer she's played for two seasons on "Quantico." "Alex's life is totally different from Victoria's, and that was the joy to me," she said. "I had to think of everything differently, because I never play myself, I'm always playing a character."
Chopra and the rest of the "Quantico" cast recently learned the show would be returning for a third season, and she is eager to continue to show fans Alex Parrish's journey. But, she said, even she does not know what is in store for the brainy agent. "There are a lot of conversations going on about that right now," Chopra said. "It's going to be a new show. It's a total revamp."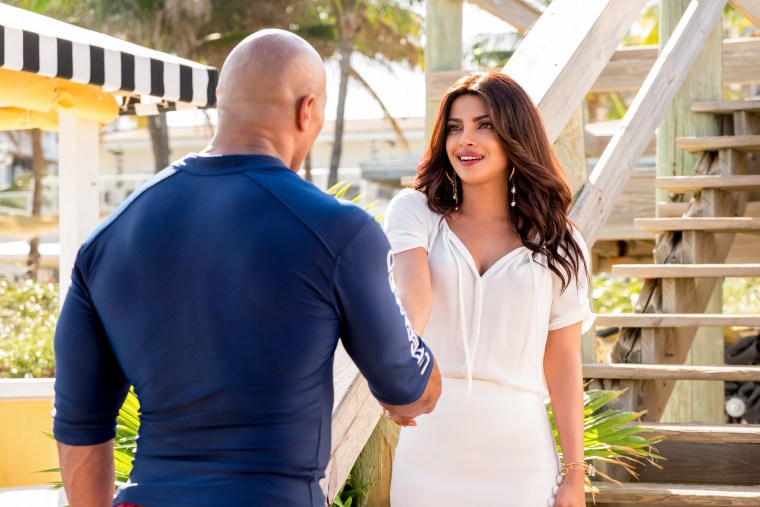 As for "Baywatch," the action-comedy marks the first time Chopra has been cast in a Hollywood film. She said it is a fitting choice for her Hollywood debut because she grew up watching the show as a child in the Indian city of Bareilly. "My mom would watch it all the time and when the theme song would come on, we'd all do the slow-mo run towards the couch," Chopra said. "That's what I thought America was like."
"Baywatch" the film also features cameos from the show's two biggest stars of the 1990s, David Hasselhoff and Pamela Anderson. While Chopra did not meet Hasselhoff on set, the actor reached out to her afterwards for a chat.
"He said he loves Bollywood and that he would be cool to be in a Bollywood movie," she said. "I could see it. Maybe not doing the slo-mo running though."
Follow NBC Asian America on Facebook, Twitter, Instagram and Tumblr.