In the World Wrestling Entertainment (WWE) ring, Raj Dhesi plays the role of swaggering Punjabi Sikh wrestler Jinder Mahal as a series of stereotypes: His entourage, the Singh Brothers, lay out a rug for him as he enters. He often wears suits, which he takes off to reveal wrestling trunks with a print of a lotus flower, a traditional Sikh symbol. He also wears a dastaar — a turban representing a commitment to service, compassion, and honesty — to the ring.
In May 2017, a week after the 31-year-old won the WWE Championship, the first wrestler of Indian descent to do so according to the Times of India, Dhesi even marked the occasion with a "Punjabi Celebration."
"I'm very grateful. I didn't think I'd reach this level but I proved through hard work, anything is possible as long as you're willing to do the work for it," he told NBC News. "Anyone can aspire to be anything. Regardless of what people tell you, if you want to do something, anything it's more than possible as long as you're willing to work for it."
The Canadian-born son of Indian immigrants hasn't always had that level of success. Dhesi began his journey training at the Martial Arts Fitness Center in Calgary, Alberta, as a teenager under former WWE wrestlers Rick Bognar and Allen Coage.
After college at the University of Calgary, he made his way through the independent wrestling circuit to reach "jobber" status in the WWE in 2011, losing to his opponents to make them look good.
But his prospects changed when he was released from his WWE contract in 2014. Dhesi remained a wrestler, working with independent promotions in Canada, Japan, Puerto Rico, India, and the United States and continued to hone his act.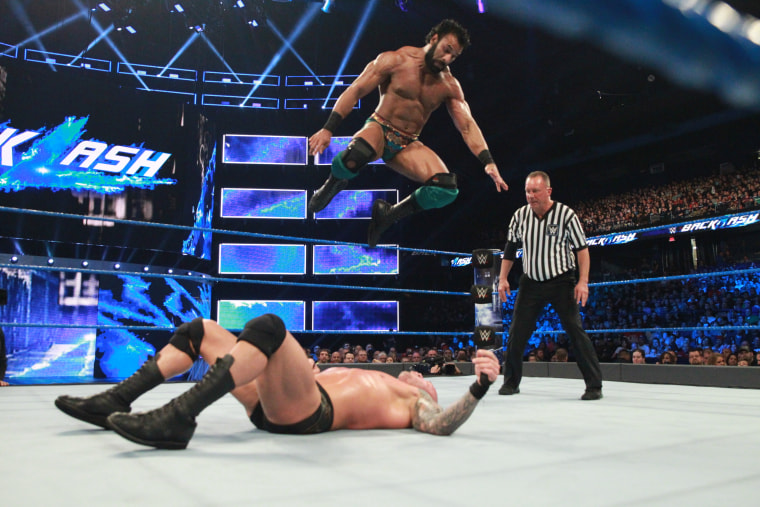 The bravado exuded by Dhesi while speaking on the microphone or during video promos is also part of that work: According to Dhesi, he was shy as a child and it took him time to develop his speaking skills.
"I'm very down to earth, quiet. I'm kind of a homebody. I have a little dog. She keeps me company," Dhesi said. "I just like to train and diet and get my rest so my body can recover so I can wrestle."
"It's an entertainment industry, and I know you have to turn up the volume, which I'm now comfortable doing," he added. "At first I was very shy to talk into the mic and to talk in front of people."
Dhesi began his comeback to the WWE in August 2016, beating former teammate Heath Slater. Since his departure, he had developed more musculature and was larger and leaner. He credits his improvement to stopping his alcohol consumption and training harder.
"You put in the hard work and then the result comes," Dhesi said. "It's not that you see the result and then you put in the hard work. I was preparing myself."
"There's a saying, 'force the result,'" he added. "I was constantly getting in better shape, really watching what I eat, improving on all the facets of my game, so when the opportunity came, I would be ready. You have to stay ready."
By May 2017, Dhesi was challenging for the WWE Championship, the professional wrestling company's top prize. Ahead of the match, in which he became the title's 50th recognized champion, Dhesi challenged the audience to end racism.
"I don't fit your stereotypes. I defy them," he told the crowd. "You people take one look at me and hate me. You hate me for who you think I am. You hate me because of the way that I look. You hate me because of the way that I talk. I'm going to take all of that hatred and turn it into goodness."
"People would always make fun of me. But it's important to always stay true to yourself and not let that get to you."
He is scheduled to next defend his title on July 23. Though no one of Indian descent had made it to the top the pro wrestling world before, Mahal's success is not without precedent. Traditional wrestling in India dates back hundreds of years according to researchers and many of the most well-known pro wrestlers of Indian descent hail from the north of the country.
Dalip Singh Rana, known in ring as "The Great Khali," was the first Indian professional wrestler to be signed by the WWE, according to the BBC. Since retiring, he has established a pro-wrestling training academy, Continental Wrestling Entertainment, in India's Punjab state that hosts approximately 200 students per day, Rana has said.
Dhesi's own family has a tradition of wrestling that has helped him prepare for the journey. His uncle, Gadowar Singh Sahota, was a professional wrestler in Calgary during the 1970s and 1980s known as "Great Gama," he said.
"His finishing move was the cobra clutch," Dhesi said. "As a tribute to him, my finishing move is the cobra clutch into a slam."
Dhesi practiced other sports growing up and also explored wrestling using traditional Indian techniques, all of which helped him become a more well-rounded professional, he said. He noted that, as a youth, he would be picked on for wearing a turban. But despite that, representing his culture has always been important to Dhesi.
"People would always make fun of me," he said. "But it's important to always stay true to yourself and not let that get to you."
"Our fans there are very passionate," he added. "WWE Universe India is one of our most special places. ... I'm very proud of my heritage and hope to make everybody proud."
Impacting youth also ranks high on Dhesi's list of priorities. He said he is deeply involved in the WWE's anti-bullying "Be a STAR" initiative and with the Make-A-Wish Foundation. In time, he sees his role with youth expanding on a community level. In 10 years, he plans to open his own gym or wrestling school, likely in British Columbia to reach the large at-risk Indian youth population there.
"I was fortunate enough to have great trainers growing up," Dhesi said. "I just want to give the youth the same opportunities that I had. I want to pass it forward. Often the kids are neglected and they find themselves getting into trouble."
Follow NBC Asian America on Facebook, Twitter, Instagram and Tumblr.