Prosecutors alleged that as many as 100 girls could have undergone genital mutilation procedures at a Detroit-area clinic during a hearing this week where the clinic owner and his wife were granted release on bond.
The couple, Fakhruddin and Farida Attar, were charged in April with female genital mutilation of a minor and conspiracy to defraud the United States government, among other things.
A federal judge Wednesday said the Attars could be freed on $10,000 unsecured bond.
"Dr. Attar is elated that he is being released pending trial," his defense attorney, Mary Chartier, told NBC News in an email. "He intends to vigorously fight these charges, as he has been doing."
Farid Attar's attorney did not immediately respond to a request for comment.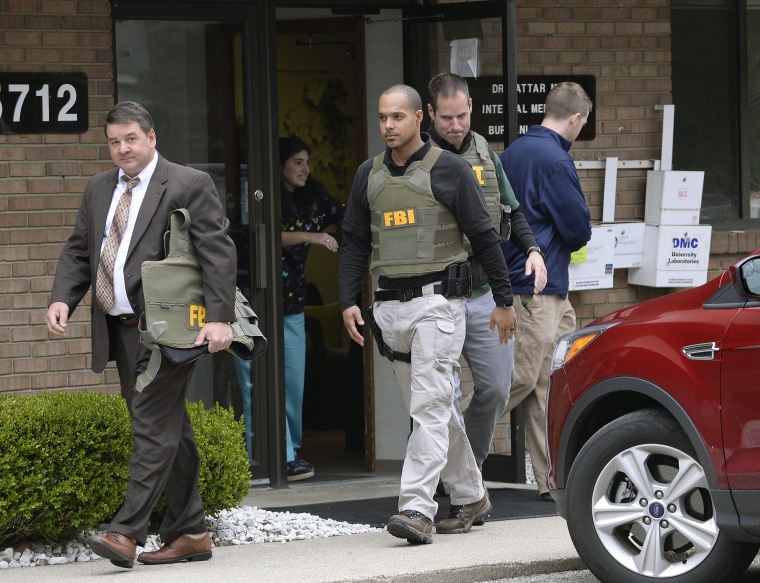 Prosecutors allege that 53-year-old Fakhruddin Attar, a medical doctor, owned and operated the clinic where a Detroit emergency room physician, Jumana Nagarwala, allegedly performed female genital mutilation on girls between 6 and 9 years old.
Farida Attar, 50, is accused of being in the examination room, comforting the girls and holding theirs hands, while Nagarwala treated them, according to the complaint.
RELATED: Second Michigan Doctor, His Wife Charged in Female Genital Mutilation Procedures
The allegations stretch over a 12-year period, beginning in 2005, the complaint said.
Nagarwala was also arrested and charged in April in connection with the case.
At a court hearing Wednesday, assistant U.S. attorney Sara Woodward said Nagarwala may have cut the genitals of as many as 100 girls, according to the Associated Press.
But Nagarwala's defense attorney, Shannon Smith, disputed that allegation.
"The claim that there are over 100 alleged victims is a clear overreach by the government in overstating its case as there is absolutely no evidence or facts to support that claim," Smith told NBC News in an email. "It's mere speculation and it's quite frankly wrong."

Female genital mutilation is a religious and cultural practice common in parts of Africa, Asia, and the Middle East, according to the World Health Organization (WHO). Practitioners believe the procedure helps girls remain virgins before marriage and ensures fidelity once they wed, but it is widely viewed across the world as a human rights violation.
Congress passed a law in the late 1990s making female genital mutilation of a minor a federal crime.
RELATED: Michigan Doctor Charged With Performing Female Genital Mutilations
In the Michigan case — believed to be the first in which charges have been brought under the statute — two girls from Minnesota arrived in Detroit with their parents in February for a "special" girls' trip, according to court papers.
One of them said they had to see Nagarwala because their "tummies hurt," the complaint said. The procedure, according to court papers, was "to get the germs out."
Medical examinations of both children revealed their clittoral hoods and labia minoras had been altered, the complaint said. The parents of one of the girls, who could barely walk afterwards, told their daughter the procedure was a secret, according to court documents.
Both children were told not to talk about it, the complaint alleges.
The Attars and Nagarwala belong to a Muslim sect called Dawoodi Bohra, according to the Associated Press. They have said a religious ritual was performed.
Federal investigators have said the families of the Minnesota girls also belong to the sect.
Both the Attars are required to surrender their passports, submit to 24-hour-a-day home incarceration, and agree not to text or use the Internet as conditions of their release.
The case is expected to head to trial in October.
Follow NBC Asian America on Facebook, Twitter, Instagram and Tumblr.