The indictment yesterday of a Chinese-American police officer accused of fatally shooting an unarmed black man in a Brooklyn housing project last November drew praise from Chinatown's city councilmember and a Chinatown community group that has been critical of the New York Police Department.
"I commend Brooklyn District Attorney Ken Thompson for his work on this issue, and I firmly believe that the grand jury did the right thing by deciding to indict NYPD Officer Peter Liang in this case," said Councilmember Margaret Chin in a statement Tuesday.
As of Tuesday night, the Brooklyn DA's Office had not yet made public the specific charges in the indictment.
For months, Chin has maintained that a grand jury should indict Liang in the November 20 shooting, in which the rookie officer allegedly discharged his weapon while he and his partner patrolled a dark stairwell in the Pink Houses in East New York, mortally wounding Akai Gurley.
"It doesn't matter what race this person is...It could be reversed. So you have to treat everyone equally."
The Chinese-American councilmember, whose district extends from Wall Street to Washington Square, told NBC News in a February 6 interview that she had taken some "flak" from the Chinese community after pressing for charges against Liang, who is also Chinese American. Some even accused her of "not supporting Chinese," she said.
"It doesn't matter what race this person is," Chin said, referring to Liang. "It could be reversed. So you have to treat everyone equally."
Chin added that she did receive much more support for her stance than many people might imagine.
"When an innocent person dies, as a police officer, you have to be accountable," Chin explained. "At the end, maybe the sentence might be lighter, based on the situation. But there's a responsibility there that someone has to be accountable."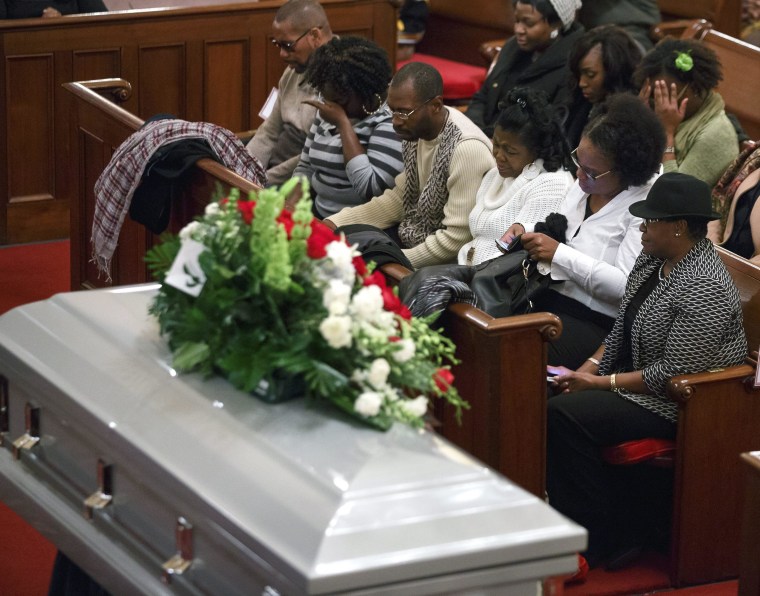 Cathy Dang, the executive director of the Committee Against Anti-Asian Violence, a Chinatown organization that addresses police and hate violence toward Asian immigrants, also welcomed news of the indictment.
"We know and acknowledge that Peter Liang is Chinese American," Dang told NBC News in a telephone interview Tuesday night. "However, this doesn't make this case any different from any other officer that has killed someone who is unarmed, or a cop using excessive force on innocent New Yorkers."
New York Police Commissioner William Bratton had announced at a November 21 press conference, one day after Gurley was killed, that the shooting "appears to be an accidental discharge, no intention to strike anybody at this time." After news of the indictment Tuesday, Patrick J. Lynch, president of the Patrolmen's Benevolent Association, the union that represents NYPD officers, said that Liang should be given the same due process rights "of anyone involved in the accidental death of another."
"The fact [that] he was assigned to patrol one [of the] most dangerous housing projects in New York City must be considered among the circumstances of this tragic accident," Lynch said in a statement.