Asian Americans protested Wednesday night outside a concert in Maryland, criticizing California rap artist YG for a song whose lyrics talk about burglarizing homes in Chinese neighborhoods.
"It glorifies crime against Asian Americans," Cliff Li, one of the rally organizers, told NBC News. "We want to say it's wrong to glorify crime against everybody."
Holding signs that read "STOP Cultural Violence" and "Respect everybody, Respect yourself," between 30 and 50 protesters, most of them Chinese American, gathered outside YG's concert at The Fillmore in Silver Spring, Maryland, Li said, about six miles north of Washington, D.C.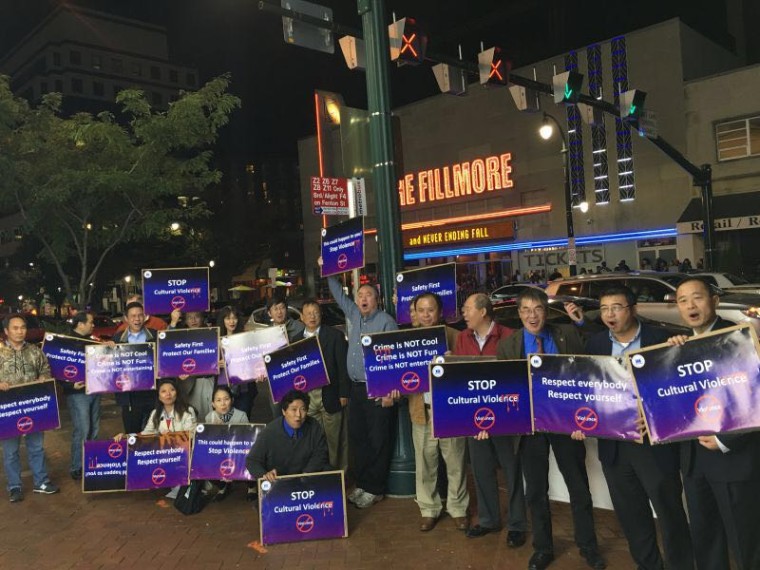 The controversy centers on YG's "Meet The Flockers" and its music video, released in 2014. The lyrics, which critics say detail how to commit a burglary, begin: "First, you find a house and scope it out. Find a Chinese neighborhood, cause they don't believe in bank accounts."
The music video shows two armed men, with bandanas partially covering their faces, entering a house as the camera pans over to a framed photo of an Asian-American family of four.
Outrage over "Meet The Flockers" comes almost a month after a Chinese-American woman made headlines for confronting three intruders who had entered her Atlanta-area home in the middle of the night on Sept. 16.
The woman opened fire with her own handgun, and at least two armed suspects returned fire, according to NBC Atlanta affiliate 11Alive. One suspect was killed in the exchange, while two others escaped and were still at large, the news station reported. The woman was not charged.
There is no confirmation whether the incident was related to the song, but Li said it was one of the factors that led to the protests against the song.
Five days after the Atlanta incident, a White House petition was created, saying "'Meet the Flockers' by YG encourages violence and crimes to a specific ethnic group." The online petition asks for the song to be banned from "public media" and for the "legal responsibilities of the writer" to be investigated.
As of Friday morning, the petition had received more than 71,000 signatures.
"Think about all the inner-city kids, think about all the kids in the United States and all over the world, if they watch this, what kind of influence will it have on these kids," said Li, secretary general of the New Civil Rights Alliance, one of the groups that demonstrated.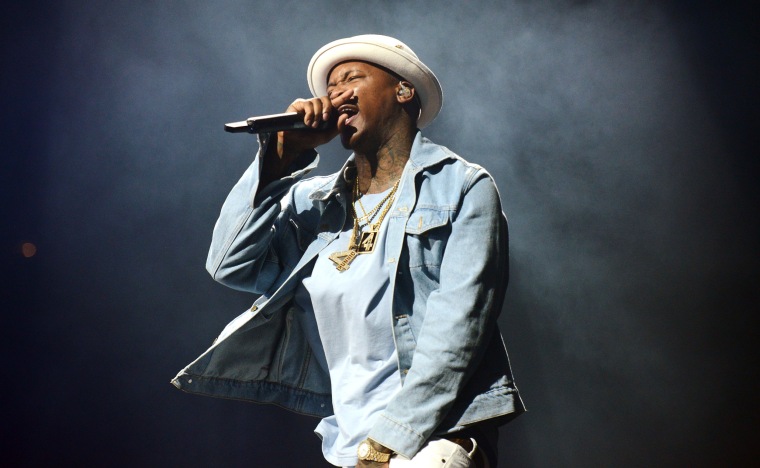 YG did not return emails from NBC News requesting comment on the protest.
Li said demonstrators were also upset by YG and Nipsey Hussle's "FDT" song and video, which features rappers singing the refrain "f**k Donald Trump" as people display the middle finger at the camera.
"I feel this is the wrong way to use an art form to distort a lot of facts the candidate said," Li added.
Additional protests against the rap artists and what demonstrators called cultural violence are being planned for this weekend and next week, Li said, in cities where YG will appear for "The F**k Donald Trump Tour."
That includes Philadelphia on Saturday, with a march in Chinatown, and Boston on Wednesday, Li said.
Follow NBC Asian America on Facebook, Twitter, Instagram, and Tumblr.