Pulitzer Prize-winning journalist and undocumented immigrant Jose Antonio Vargas' highly anticipated documentary film called "White People" - exploring whiteness, race, and immigration in an increasingly diverse America - debuted last night on MTV. The film follows five, young, white Americans faced with issues of race in cities across the country, as Vargas engaged them in conversations about their experiences. The hashtag #WhitePeople began trending nationwide while the film premiered Wednesday night.
"As we've seen in politics and current events in the past few months, race and immigration are inherently linked in the United States," said Vargas, who was born in the Philippines, in a statement, "Since starting Define American four years ago and traveling across the country, it became clear to me that much of the opposition to immigration reform is rooted in anxiety and fear among white Americans. This TV special - aimed at white Millennials - connects the dots between race and immigration and aims to increase empathy."
The film was notable for talking to white people about whiteness, but also for including the experiences of Asian Americans. In an interview with E. Alex Jung, Vargas said, "I actually think people of color know more about whiteness than white people do."
Asian Americans commenting online noted that they could relate, even if they did not enjoy all of it.
Asian Americans also joined the discussion of how the demographics of the Bensonhurst neighborhood in Brooklyn, New York, formerly an Italian American neighborhood, had shifted during their lifetimes. In the past fifteen years, the Asian American population increased 57 percent.
The film also challenged model minority myth stereotypes about Asian Americans and higher education, countering mistaken perceptions about reverse racism with facts and statistics about white privilege.
When an Asian American man discussed how he wrestles with stereotypes every day, a white man in the group had a hard time understanding, but people of color on Twitter chimed in with comments showing understanding and solidarity.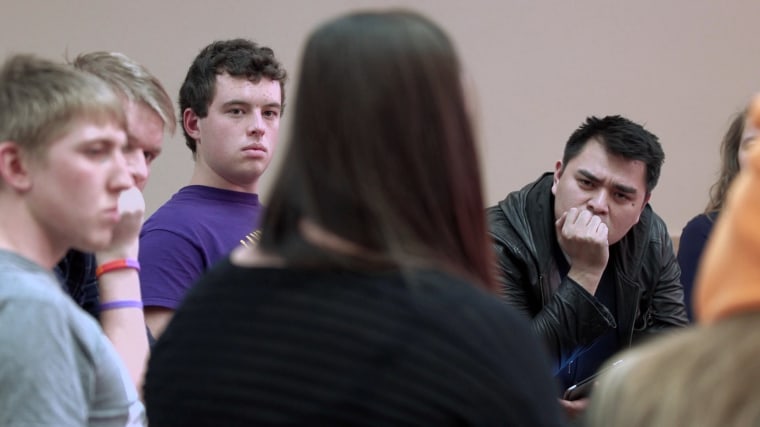 As the film, and online conversation continued, Jose Antonio Vargas was quickly to engage the audience online, answering criticism swiftly.
The dialogue was lauded as America's Truth and Reconcilation conversation, especially as it included the experiences of Native Americans in the discussion, although many in the white audience commented how difficult it was to watch.
The one element that didn't escape any segment of the audience was how Vargas reacted to several parts of the race dialogue - with notable eyebrow raising and a nearly meme-worthy side-eye.
The whole film is available online at MTV.com.