NAME: Jivan Atman (creator, director); active cast: Julian Booker, Marlon Booker, Cenisa Gavin, Shiranthi Goonathilaka, Janei Maynard, Chris Sanders
(Past and recent contributors: Jessica Lam, Malcolm Lizzappi, Audrey Williams, Fredrick Cloyd, Paula Reyna Williams, Whitney Francis, Charon Cummings, Sabrina Im)
AGES: Early and late 20's, a 40-something and 60-something
HOMETOWNS: Phnom Pehn, Cambodia; Anchorage, Alaska; Honolulu, Hawaii; Atlanta, Georgia; Oakland, California; San Francisco, California; San Diego, California; Long Beach, California; London, UK; St. Paul, Minnesota; Westminster, California; Houston, Texas; Aurora, Colorado; Sarasota, Florida
TWITTER: @blasianproject / INSTAGRAM: @blasianproject / FACEBOOK: Blasian Narratives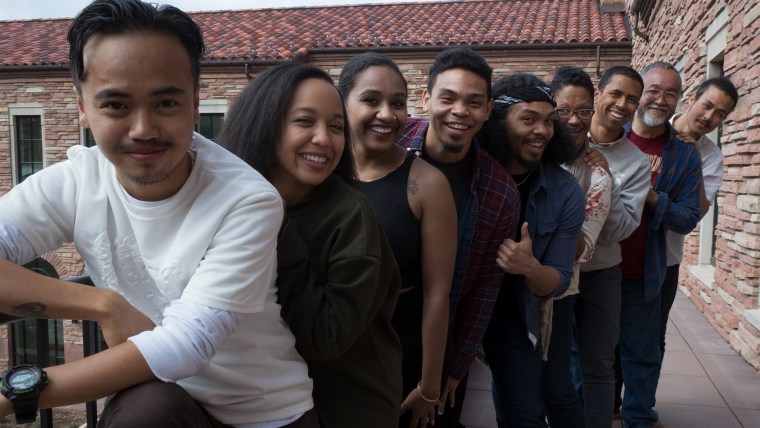 How do you introduce yourself?
We are Blasian Narratives, a multi-media docu-theatre project that takes an intimate look into the lives of Black and Asian individuals to explore the constructs of racial and cultural identities, and to explore difference and marginalization in the United States and beyond. The project aims to empower, restore, and inspire.
What inspires you?
We are inspired by the possibilities of affirmations and empowerment of our individual and collective identities. We believe that the creator-audience have the power to cultivate a positive symbiotic relationship and transformations. By collectively and critically thinking, we critically create.
What challenges you?
Maintaining the resilience and integrity to respond to personal preconceived notions, prejudices, provocations and traumas, from our own and others'.
SEE THE LIST: NBC Asian America Presents: A to Z - The 26 Emerging Voices of 2017
Tell us about the biggest risk you ever took.
Being vulnerable: sharing our experiences with the public, however flawed those experiences and perspectives might have been. We put our lived experiences out there with the possibilities that our our identities are up for critique.
What are you reading/watching/listening to these days?
We currently are building a reading list that can one day turn into a resource guide. Some recommendations are "Original Instructions," "Black Pacific Anti-Colonialist Struggle," "The Making of Asian America: A History," and "Emergent Strategy."
If you weren't doing what you're doing now, what job would you want to have?
We enjoy what we do and truly appreciate the fact that what we do is a possibility and inspiration.
What's your motto?
"We don't need to live in a colorblind society when we can live in a colorful world."
We celebrate Asian Pacific American Heritage Month because…
...it is fulfilling and nourishing to be able to embrace our identities and roots, reconnect cultures and honor our ancestors from all heritages and diaspora. This celebration helps us bridge the past, understand the present, and prepare for the future.
Follow NBC Asian America on Facebook, Twitter, Instagram and Tumblr.