NAME: Karuna Riazi
AGE: 24
HOMETOWN: Long Island, New York
TWITTER: @karunariazi, @gildedspine
How do you introduce yourself?
I am a YA/MG author, diversity advocate, perpetual dreamer, overworked undergrad senior, and proud big sister. I wear many hats and read many books!
What inspires you?
What has most inspired me, both as a writer and an activist, is the ladies — particularly the ladies of color — who have supported me, strengthened me, given me my ideals of character and class and bravery to aspire toward, and have often even protected me in instructing me about microaggressions and how much harder it is for a lady of color to break in and be heard in this industry. I am inspired by them and all they stand for, the initiatives — hashtags, grassroots organizations, online publications — that they create and draw other amazing artists and thinkers to engage with and be heard within, and it always reminds me of why I do what I do and how we need to keep helping each other reach these platforms and spaces where we can be heard without interruption, or disruption, or being forced back into silence.
SEE THE LIST: NBC Asian America Presents: A to Z - The 26 Emerging Voices of 2017
What challenges you?
I realized it at a young age, but one of the biggest challenges is how much of the narrative about me, and people like me, has been stolen, misconstrued, rewritten to keep us from reaching back in and tearing out the stitches that leave no room for our light and lives and stories the way they are meant to be seen and heard. There is so much that we are doing now that I couldn't have imagined being part of when I was younger — We Need Diverse Books, for instance — but still so many days when it feels like we are caught in this cycle of two steps forward, two steps back, and it's hard not to get disheartened and wonder if this work is worth it.
Another of the biggest challenges, in all honesty, is my own self: my self-deprecation, anxiety, and the (all too frequent) moments when I listen to the internalized voices of years of being told who I am and what I am and question whether or not I was born to do this or if I'm writing as good as my heroes or if this story even is worth the telling.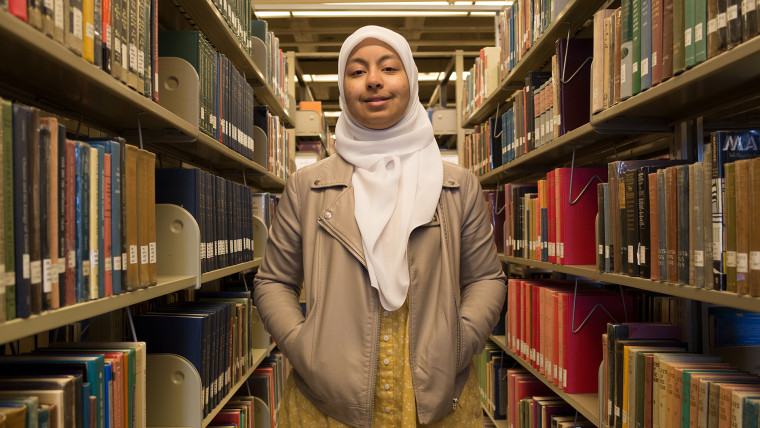 Tell us about the biggest risk you ever took.
I feel like every step I've taken, particularly in regards to online activism, has been a risk, hinged on a moment when I an e-mail that often was comprised of two words: "I'm in," or submitted a writing sample without the gift of foresight to realize that careless selection would lead to a conversation, and then another, and then contracts, and then a phone call where I would hear the words I've wanted to hear most since I was younger, "You have a book deal."
Everything is a chance, and everything is a risk. You just close your eyes, hit submit, and then open a book or plug in your headphones and try not to think about it. And if it gets rejected? You just have to wait for the next window to open that you might have a chance of climbing through, or that door that seems to blow open almost by itself while you are standing there and waiting. You just have to keep going.
Everything is a chance, and everything is a risk. You just close your eyes, hit submit, and then open a book or plug in your headphones and try not to think about it...You just have to keep going.
What are you reading/watching/listening to these days?
As an English major, I have far too many books stacked on my desk (in particular, "Leaves of Grass" by Walt Whitman for a literature class is taking top priority), but in regards to personal pleasure reading, I'm finishing Laini Taylor's new YA release, "Strange the Dreamer" and another wonderful, magical YA (from an Asian author I am proud to call a friend!), "The Bone Witch" by Rin Chupeco, and starting "The Sky Over Lima," a beautifully crafted adult literary by Juan Gomez Barcena. Up to bat after those titles are "Goodbye Tsugumi" by Banana Yoshimoto and "We Are Okay" by Nina LaCour.
I almost exclusively watch Korean dramas nowadays, so I'm juggling both older titles and ones that are currently airing — "Queen of Mystery," "Age of Youth," "Chicago Typewriter," and "Goblin" — and am also trying to finish the Chinese remake of one of my favorite Korean dramas, "Queen In-Hyun's Man," which is time travel and romance and incredible no matter what version you watch, apparently. I am trying to work on branching back out into American television.
In terms of listening, whenever I'm working on a draft or particularly stressed with school, I don't tend to listen to a lot of vocals, so I focus more on instrumentals or else music that echoes the world I am attempting to craft on the page. I'm very out of touch with the Top 40 right now unless a particular song plays in my school's cafeteria, if I'll be entirely honest!
If you weren't doing what you're doing now, what job would you want to have?
I have been considering law and have background in elementary school education, but whatever I do would have to involve stories and respecting voices that tell those stories — particularly those who are unheard or dismissed or erased from the grand, overarching tapestries of literary canon as it stands. No matter what I do, I have a feeling it will stay rooted in advocacy for fellow marginalized peoples.
What's your motto?
"You never know unless you try!"
I celebrate Asian Pacific American Heritage Month because...
This may sound trite, but I celebrate because I can and because it's a beautiful thing to be able to celebrate this month and the people who worked hard and struggled in order to have them in place for those who came afterward - those who they likely would not meet, but still had a desire to link hands with through shared traditions, history and background.
Follow NBC Asian America on Facebook, Twitter, Instagram and Tumblr.