NAME: Rajuju Brown
AGE: 28
HOMETOWN: New York City
TWITTER: @rajujubrown / INSTAGRAM: @rajujubrown / SNAPCHAT: rajujubrown / SOUNDCLOUD: GRUMBY
How do you introduce yourself?
I work as a music producer/DJ and am 1/2 of the R&B/jazz duo, GRUMBY. I'm also the creator of a satire and music radio podcast called Half Bad Radio.
What inspires you?
I really find inspiration in the beauty and blessing of every day life. Every time I step out of my apartment, I'm reminded of how much there is beyond my grasp of knowledge and ability. There's so much to appreciate in this world and the fact that we have the potential to do anything within our means at any given moment during our lives is truly incredible, but it can also be daunting. It's that reminder that continues to inspire and push me to appreciate and do wonderful things in this lifetime.
SEE THE LIST: NBC Asian America Presents: A to Z - The 26 Emerging Voices of 2017
What challenges you?
My parents, brothers, and sisters are probably the biggest catalyst in my desire to reach my potential. I'm blessed to come from a very grounded and service-based family who all hold themselves to high standards in many different aspects of their lives; that continually motivates me to work on becoming a better version of myself.
Tell us about the biggest risk you ever took.
I never had formal music or production training, so I've really self-taught myself everything I know which has led me to be in the position I'm in today. That being said, choosing to be a musician and producer is probably the biggest risk I've taken. I think I've always had the idea that I wanted to be in entertainment since I was young, but was never sure how it would take it's form. Now the path is kind of paving itself as my client roster and GRUMBY continues to grow.
What are you reading/watching/listening to these days?
Currently reading: "Zen and the Art of Mixing"
Currently watching: "Abstract: The Art of Design"
Currently listening: Robert Glasper
If you weren't doing what you're doing now, what job would you want to have?
Beyond sound, I've always been interested in space. We all get so caught up in things of this world that we often forget how much exists beyond it. I'd love to travel to space one day, so in an alternate universe where I'm actually smart and good at science and math, I'd love to be an astronaut.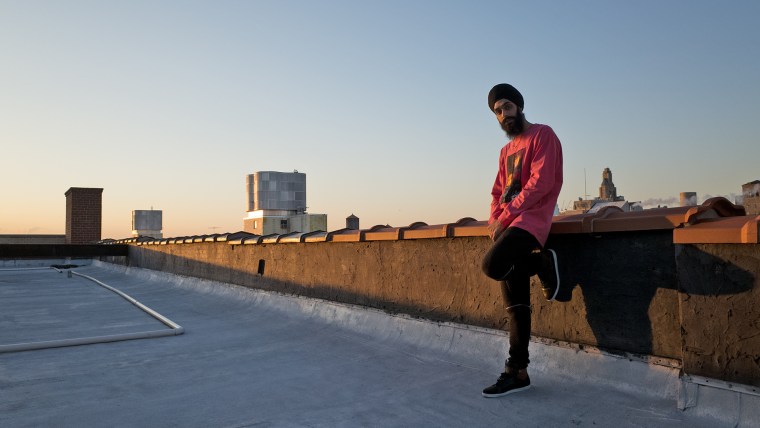 What's your motto?
"TFYQA" - Think For Yourself, Question Authority (-Tim Leary)
I celebrate Asian Pacific American Heritage Month because...
...we as Asian Americans are a part of this nation's story, which makes the USA what it is today. The history of Asian Americans belongs to all of us and celebrating our heritage helps us celebrate those great things and people in our community.
Follow NBC Asian America on Facebook, Twitter, Instagram and Tumblr.