NAME: Richard Tran // Nguyễn Trần Quỳnh
AGE: 23
HOMETOWN: Chicago, Illinois
INSTAGRAM: @ntq.richard
How do you introduce yourself?
Depending on the situation, I will introduce myself as Richard or Quỳnh. Richard is my documented American name, while Quỳnh is my family given name. I also introduce myself as a gender non-conforming person, who uses the gender-neutral pronouns they, them, and theirs.
What inspires you?
To be completely honest, my bà ngoại, my maternal grandmother, has always been an influential figure in my life and continues to inspire me everyday. She has persevered through immense adversity without complaints and is someone who will literally force-feed you to the point of no return before she even considers taking a bite for herself.
My bà ngoại has also been the biggest inspiration to me when it comes to my work as an artist. It is through her work and struggle as a powerful badass Vietnamese woman that has set me on my own path to celebrate narratives and histories like my bà ngoại's.
SEE THE LIST: NBC Asian America Presents: A to Z - The 26 Emerging Voices of 2017
What challenges you?
Getting older, learning how to accept and love myself, exploring the world, and moving away from home, while trying to maintain a relationship with my family has been the biggest challenge of my life. Like many other cultures, Vietnamese children tend not to venture far away from their parents because there is an expectation that since your parents took care of you, you will take care of them. Because I left home and started venturing on a path for myself, I often times feel a sense of guilt when I think about my family that has challenged me in ways that force me to analyze and reflect upon myself and my position in my family and global community.
Tell us about the biggest risk you ever took.
There are two big risks (or acts of stupidity depending on how you look at it, to be honest…) I have faced in my life and they are 1) moving to New York City on impulse, without ever having visited New York AND without housing arrangements and no friends, and 2) climbing the tallest mountain on mainland Southeast Asia in dinky tennis shoes and no pants… Obviously both situations ended up just fine, but were both risks that became pivotal moments in life for the good.
"There have been so many accomplishments and triumphs that need to be recognized and celebrated amongst our community."
What are you reading/watching/listening to these days?
I recently finished reading a phenomenal work by Angela Davis titled "Women, Race, and Class" and "Building a Movement to End the New Jim Crow" by Daniel Hunter, and am currently reading "The New Jim Crow" by Michelle Alexander. These works have always been relevant to the social and political landscape of the U.S., but are now extremely relevant given the current administration. These are books that I would highly recommend to non-Black folks who are trying to self-educate themselves about the history and contemporary war on Black lives and also how to help fight against this war.
I am also listening to a Chicago-based arts and activism collective, Elephant Rebellion. Members of Elephant Rebellion are some of those whom I cherish deeply and owe much of my political and emotional upbringing.
If you weren't doing what you're doing now, what job would you want to have?
If I wasn't an artist, I would without a doubt, pursue a career as an urban planner. I think there are far too many urban planners and city politicians who are hell bent on "beautifying" low-income/poor neighborhoods that house communities of Black and Brown folks in order to make the neighborhoods more appealing to gentrifiers.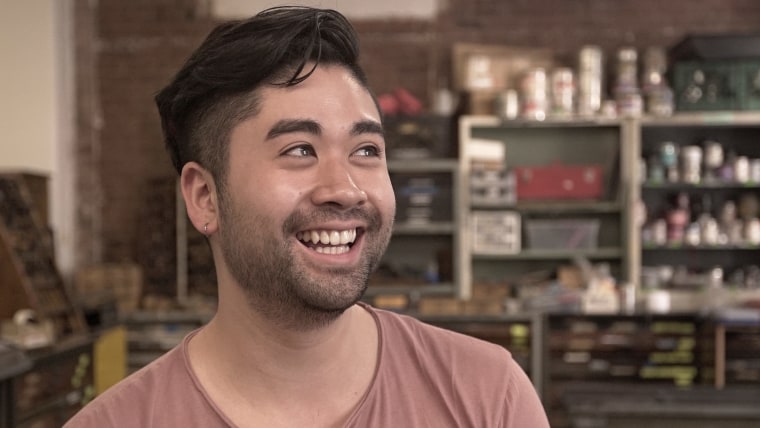 What's your motto?
I don't think there's one set motto I've always lived by, but embarrassingly enough, "do better" runs through my mind every time I do something. Perhaps this is some type of inferiority complex I need to hash out for myself, but this motto has pushed me to surpass my own limits.
I celebrate Asian Pacific Islander American Heritage Month because...
...I love my APIA community and believe that there have been so many accomplishments and triumphs that need to be recognized and celebrated amongst our community. And not only do I use the month of May to celebrate APIA Heritage Month, I also use it as a time of reflection because I believe it is just as necessary for me to celebrate someone like David Tran, the mastermind behind Sriracha who has helped shape the contemporary landscape of food in the U.S., but also understand and reflect on the history of someone like Vincent Chin, a son taken too soon by the hands of white supremacists.
Follow NBC Asian America on Facebook, Twitter, Instagram and Tumblr.