LOS ANGELES — Racially or ethnically diverse students constitute more than two-thirds of enrollment in California's public colleges and universities, but that diversity is not reflected in the schools' faculty and leadership, which could negatively affect the state's economy, according to a new report.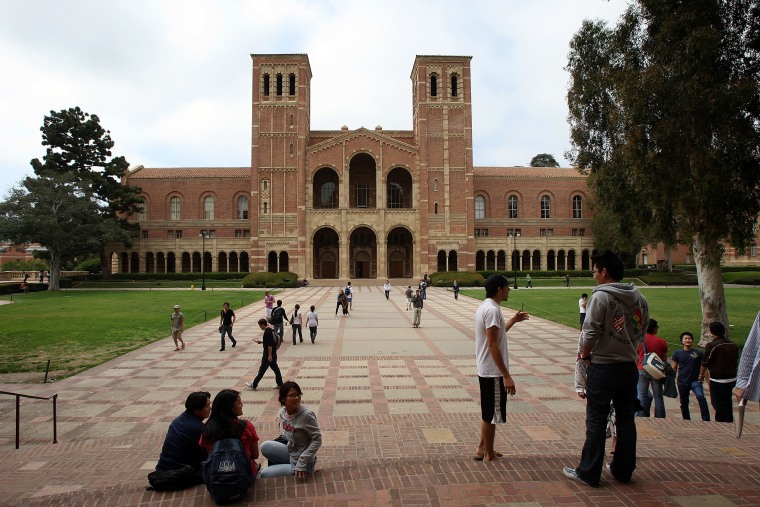 The report, "Left Out: How Exclusion in California's Colleges and Universities Hurts Our Values, Our Students, and Our Economy," was released Monday by The Campaign for College Opportunity, a nonprofit organization dedicated to increasing the number of Californians who attend and graduate from college. It examined publically-available student and faculty data for the University of California (UC), California State University (CSU), and California community college systems and compiled information on the schools' leadership and academic senates.
In total, the report examined data about 2.8 million students and about 46,000 leaders. It found that while 69 percent of students enrolled in California colleges and universities are ethnically or racially diverse, more than 60 percent of faculty and senior leadership and 74 percent of academic senators — faculty members elected by their peers who help determine things like admissions requirements and course content — are white.
Latinx students — a gender-neutral term the report uses to identify Hispanic or Latino students — are the largest ethnic group in California colleges and universities, accounting for 43 percent of students, followed by whites (26 percent) and Asian Americans, Native Hawaiians, and Pacific Islanders (16 percent), according to the report. Blacks constitute 6 percent of students enrolled in these post-secondary institutions. Yet more than two-thirds of the leadership positions at California's public universities are held by whites, the report found.
The report also found that women are underrepresented in leadership and faculty positions, despite the fact that 54 percent of California college students are women.
"What we hear a lot from college leaders and faculty is that they care about serving students," Michele Siqueiros, co-author of the report and president of The Campaign for College Opportunity, said. "And what we have heard from students is that seeing faculty and leaders on campus that look like them that they can relate to is one critical component of whether or not they see themselves able to succeed and graduate."
The nonprofit projects that by 2025, California will have a deficit of 1.7 million college degrees compared to what the workforce is projected to require, according to a California Higher Education Report Card issued last year. Eliminating that gap will require improving graduation rates among students of color, Siqueiros said.
"We know that creating an inclusive environment where students have access to a diverse faculty is a component of ensuring greater success," she added.
Among the reasons for the lack of diversity in leadership Siqueiros cites is that state leaders, including the governor, haven't appointed leaders reflective of California's diversity. The Campaign for College Opportunity further believes it is probable that that the hiring processes at colleges and universities have biases engrained in them.
"You have hiring committees in many campuses that are not reflective of the student population and it's not an unreasonable belief to imagine that faculty hiring committees will hire people that look like them and that they can relate to," Siqueiros said.
Some recommendations made in the report include having leaders at these colleges review their current hiring practices and analyze the biases that may exist; ensuring the governor appoints leaders at colleges and universities who reflect California's diversity; having college leaders seek qualified diverse candidates for academic senate seats; and having state leaders require UCs, CSUs, and California community colleges to submit annual reports of the diversity of their faculty and leadership.
Siqueiros said the organization hopes the report will urge college leaders and elected officials to have the uncomfortable conversations about representation at colleges and universities.
"Diversity in our state has always been a big strength, and we are generally seen both inside and outside of California as very welcoming of diversity and very supportive of diversity," she said. "And I think the wake up call to our leaders is that we can't just say that we are supportive of diversity and then ignore its absence on our college campuses."
Follow NBC Asian America on Facebook, Twitter, Instagram and Tumblr.