Students from China continue to lead the growth of international enrollment at high schools in the United States as they try to get a leg up in making it into American colleges and universities, a new study has found.
The report, compiled by the Institute of International Education (IIE), a nonprofit, revealed that around 2 in 5 international students enrolled in American high schools came from China and that the total number of students from China rose by 48 percent between 2013 and 2016.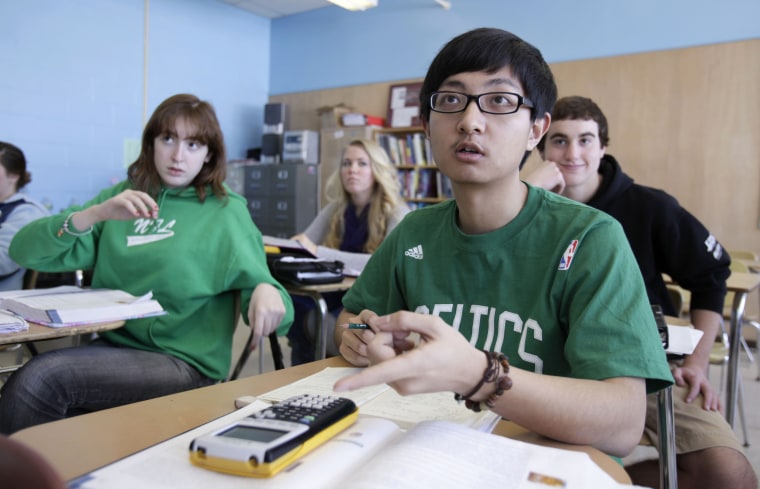 By contrast, there was just an overall 12 percent increase during the same period for total international exchange students and diploma-seekers combined, the report said.
The data for 2016 covers enrollment in the 2016-2017 academic year.
"What we're really seeing is sort of a continued interest on the part of Chinese students to aim for a U.S. credential, except that we're now seeing that interest play out at a younger age," Rajika Bhandari, director of the IIE Center for Academic Mobility Research & Impact, told NBC News.
A majority of international secondary students pursuing U.S. diplomas — 78 percent — hail from Asian countries, the report said. With China leading the way, they come to study at high schools, most of them private, on what's called an F-1 visa.
That visa is granted to students enrolled in programs that confer degrees, diplomas, or certificates on the elementary, high school or college level, according to U.S. Citizenship and Immigration Services. They are also given out for study at language training programs.
Nearly 3 in 5 international students on F-1s are from China, many of them from middle-class or wealthy families, according to the report and Bhandari.
Bhandari noted that insufficient causal data exist to show what positive impact studying at an American high school may have on the future of international secondary students. But she said there are many benefits.
"Students are really using the opportunity to be able to come to the U.S. earlier to really refine their English-language skills, to become acquainted with U.S. academic and social culture, well before they actually arrive on the U.S. college campus," she said.
Between 2004 and 2016, the number of international high school students to the U.S. more than tripled, according to the study. But the overall growth rate has slowed since 2013, owing in part to efforts from governments of Asian and Southeast Asian countries to increase academic exchanges within the Asian Pacific region, Bhandari said.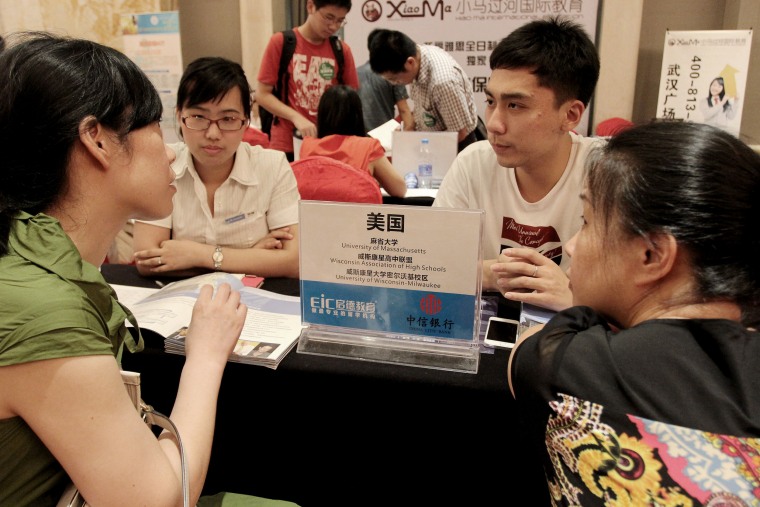 One direct beneficiary has been Australia, which recorded a 34 percent increase in international secondary students between 2013 and 2016, the study found. That was the fastest growth rate among English-speaking host countries, though it came from the smallest base of students, according to the report.
In the U.S., high school enrollment figures for international students from China and Vietnam have continued to push upwards, according to the IIE.
That, the report said, is likely the result of a growing middle class in both countries with parents who want their kids to receive a high quality education.
RELATED: Survey Finds Foreign Students Aren't Applying to American Colleges
At the same time, South Korea saw a drop in diploma-bound secondary students headed to the U.S., the report said. It attributed that decrease to a decline in the youth population and a growing interest in study opportunities both locally and regionally.
These patterns have also appeared on the college and university level, the study noted.
International students make up just a fraction of the more than 15.5 million high schoolers in the U.S., according to the report. In the fall of 2016, there were 81,981 enrolled in U.S. high schools, most on the F-1 visa. The remainder, around 28 percent, were part of cultural exchange programs, studying on what's called a J-1 visa, the report said.
China, South Korea and Vietnam were the top three countries from which students came to the U.S. to pursue high school diplomas, the study found. China, overall, sends the most international students, followed by India, then Saudi Arabia, according to the IIE.
RELATED: For Some 'Parachute Kids,' A Hard Landing in American Schools
Responding to these trends, a growing number of U.S. high schools has begun recruiting international high school students, the report said. Some 2,300 secondary schools hosted them in 2013; that number shot up to 2,800 in 2016.
California, New York, and Texas (in that order) topped the list of states to enroll students on F-1 and J-1 visas, according to the study.
Bhandari said the fact that many international secondary students likely come from affluent families has implications for American colleges and universities that may be recruiting directly from U.S. high schools.
"These students are going to be different from perhaps other Chinese students and certainly from other international students," she said.
"Institutions need to still diversify their recruitment efforts to make sure that they're drawing from a full pool of more diverse international applicants," Bhandari added.
The growing trend among younger international students to study at U.S. high schools, meanwhile, may also have a payoff.
"What this is really laying the groundwork for is more and stronger economic and diplomatic ties between the U.S. and the countries that these students come from," Bhandari said.
Follow NBC Asian America on Facebook, Twitter, Instagram and Tumblr.
CORRECTION (Aug. 14, 2017, 8:35 p.m.): An earlier version of this article the name of an expert at the Institute of International of Education. She is Rajika Bhandari, not Bhandar.