More than half of all Hollywood projects don't feature speaking Asian or Asian-American characters, according to a report released Monday by the Media, Diversity and Social Change Initiative at the University of Southern California's Annenberg School for Communication and Journalism.
The report, which has been released annually in some form over the past decade, examined 10 major media companies, including NBC Universal, Netflix, Amazon, and Disney. In total, the study looked at 109 films released in 2014 and 305 scripted, first-run TV and digital series released from September 2014 to August 2015, representing 31 networks and streaming services.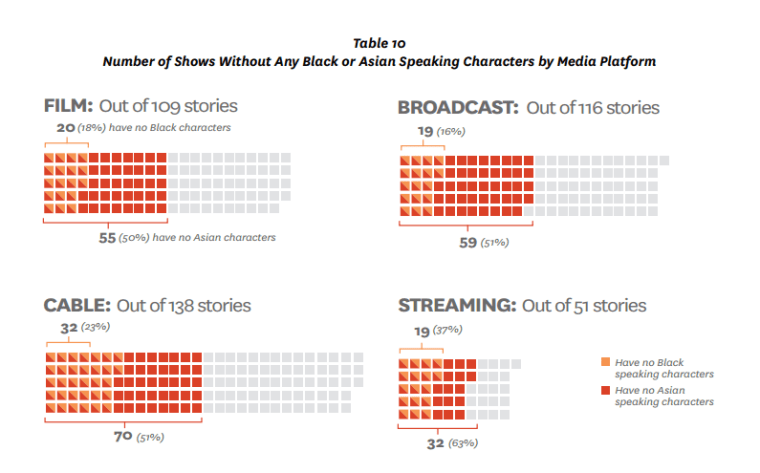 "Two trends are immediately apparent in Table 10," the study reads. "First, streaming stories were more exclusionary of actors from both groups than the other media platforms. Second, at least half or more of all cinematic, television, or streaming stories fail to portray on speaking or named Asian or Asian American on screen."
Female characters were underrepresented consistently across all races, the study found. Approximately 37.7 percent of characters were women in total. Of Asian roles, 36.6 percent of characters were women. Representation worsened as characters aged. In the sample, 25.7 percent of characters in middle age and older were women. Of those characters, only 20.9 percent were non-white, representing less than 2 percent of all speaking characters.
Representation also worsened when it came to leading characters. Approximately 21.8 percent of lead characters were non-white, and only 1.3 percent of all lead characters were Asian, according to the report.
The study also examined directors, finding that roughly 12.7 percent were non-white compared to 37 percent of the United States population. The study found a positive correlation between having a non-white director and non-white characters — 47.3 percent of characters in projects with a non-white director came from underrepresented populations, compared to 26.2 percent for project with white directors.
"The prequel to OscarsSoWhite is HollywoodSoWhite," Stacy L. Smith, one of the study's authors, told the Associated Press. "We don't have a diversity problem. We have an inclusion crisis."
Follow NBC Asian America on Facebook, Twitter, Instagram, and Tumblr.
RELATED