Instances of reported hate violence and biased political rhetoric against the South Asian, Muslim, Sikh, Hindu, Middle Eastern, and Arab communities have risen during the one-year period after President Donald Trump was elected, compared to a similar time frame in the previous election cycle, according to a new report.
The analysis, conducted by a professor at the University of Illinois at Chicago with the nonprofit South Asian Americans Leading Together (SAALT) documented 302 such incidents between Nov. 9, 2016, and Nov. 7, 2017 — with more than 8 in 10 motivated by anti-Muslim sentiment.
That represents a 46 percent increase in incidents involving hate violence and biased political rhetoric over the period between Nov. 1, 2015, and Nov 8, 2016, when a total of 207 had occurred, the report said.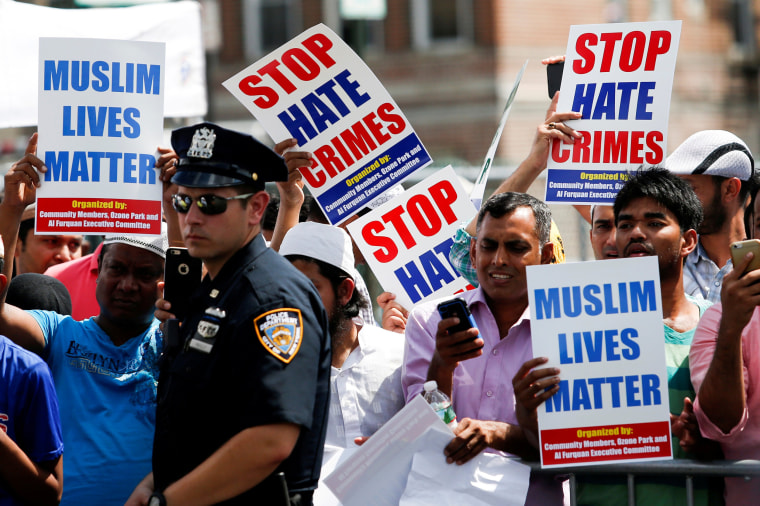 "Deadly shootings, torched mosques, vandalized homes and businesses, and young people harassed at school have animated an acutely violent post-election year," Suman Raghunathan, SAALT's executive director, said in an email.
The report defined hate violence and hate incidents as "attacks that appear to involve hate or malice toward our communities, instill fear, or threaten safety and freedom," independent of whether or not the incidents were charged as state or federal hate crimes. Since 2010, SAALT has been tracking hate violence, xenophobic political rhetoric, and racial profiling aimed at South Asian, Muslim, Sikh, Hindu, Middle Eastern and Arab communities, the report said.
It does so through a public database on its website populated by news searches, other organizations, and community members, among other sources.
The report said the examples of hate incidents in the analysis should be viewed as a sample, not a comprehensive account, of all hate violence against these communities.
It noted that incidents of hate violence don't always make it into the news cycle in real time, with sources learning about them only weeks or months later.
"While community organizations often take on the task of documentation where government agencies fail, this time lag means that developing a current snapshot of the violence can be a moving target," the report concluded.
In the 2016-2017 election cycle, 1 in 5 perpetrators in hate violence incidents referenced Trump, a Trump policy, or a Trump campaign slogan, according to the report.
The analysis also found that women wearing a hijab or headscarf were most vulnerable to hate violence, owing to the combination of gender, skin color, religious presentation and immigrant background they represent.
Youth were susceptible as well, having been exposed often to bullying at school and receiving threats from people on the street, including strangers, the report said.
Hate violence and hate incidents in the report refer to harassment, assaults, threats, murder, and property damage that include bias or animus. Xenophobic political rhetoric is defined as biased language that is racist, anti-immigrant, or anti-Muslim, uttered by those in positions of power or influence.
Among the incidents in 2017 mentioned were a man in South Padre Island, Texas, who allegedly accosted a beach-going Muslim family and graffiti scrawled in a Kent, Washington, high school.
SAALT's analysis comes a few months after the FBI released its annual hate crime report, which showed a roughly 5 percent increase in hate crime incidents for 2016, compared to the year before, rising from 5,850 to 6,121.
Nearly a quarter of hate crime offenses motivated by religious bias were anti-Muslim, while just seven were against Sikhs, a group often targeted because of the beards they keep and the turbans they wear for their faith.
Critics of the FBI report claim the numbers can be unreliable and underreported because they depend on law enforcement agencies voluntarily providing them.
SAALT made a number of recommendations in its report, including urging the Justice Department to mandate hate crime data collection and building coalitions across communities of color.
Follow NBC Asian America on Facebook, Twitter, Instagram and Tumblr.