Composer Him Sophy had just premiered his 2008 opera "Where Elephants Weep," about a Cambodian-American music producer who returns to Cambodia and falls in love, when he started to think about what his next composition would be.
He ultimately settled on a piece devoted to those who lost their lives during the Khmer Rouge regime. A decade later, the show, "Bangsokol: A Requiem for Cambodia," is finally a reality.
"Those memories stay in our hearts. We remember, and we don't want to experience that dark time again."
"Bangsokol" — which debuted in Australia this month — features music, film, and voice compositions by Him and filmmaker Rithy Panh, who both survived the Cambodian genocide.
Him hopes the show will memorialize those who have died, but he also wants it to serve as an example for the rest of the world.
"I wrote 'Bangsokol' to help bring peace to the world, today and in the future," Him said. "Art like this helps us to remember the past, but also to look forward and hope for a peaceful future."
The show begins in the heavens and focuses on a countryside funeral before showcasing the horrors of the Khmer Rouge period. It ends with the Buddhist rite for the deceased.
Panh produced the show's film elements while Him wrote the score, which combines a traditional Cambodian ensemble, a Western string orchestra with a choir, and two soloists singing in a Cambodian religious chanting style.
After its October premiere at the Melbourne Festival, "Bangsokol" is scheduled to come to Boston and New York City in December. Panh and Him also plan to tour the show in Europe and Asia in 2018.
"Both of us survived from the Khmer Rouge genocide, so we would like to do something together like the tribute to those people who died," Panh, known for his films "Rice People" and "The Missing Picture," said.
Him said that composing the piece was complicated because it included people from different countries, languages, traditions and artistic disciplines. The show's team has lived and worked in Cambodia, Australia, and the United States.
Cambodian Living Arts (CLA), a Phnom Penh-based organization promoting the arts, commissioned the piece. It was originally a musical composition but transformed into a large stage production with film, movement, and community participation, said Phloeun Prim, the organization's director.
"CLA has always had at the heart of its work the belief that arts have the power to transform — both individuals and societies," he said. "'Bangsokol' is part of the natural progression of our work."
"Art like this helps us to remember the past, but also to look forward and hope for a peaceful future."
Prim said it's important the piece is seen all over the world to connect with the Cambodian diaspora, share the country's story, and showcase Cambodia's up-and-coming talent.
"Too often people around the world think only of the glory of Angkor Wat and Cambodia's ancient heritage and then of course of the horrors of the Khmer Rouge," he said. "We want to show people that 21st century Cambodia produces complex, powerful meaningful art, and that Cambodians are in a position to tell their own stories to the world."
Him Savy, one of the show's Khmer soloists and unrelated to Him Sophy, said she becomes very emotional while singing during "Bangsokol" because her father was a victim of the Khmer Rouge. Sometimes, she said, the emotions are so strong that she can't continue her chanting and begins to cry.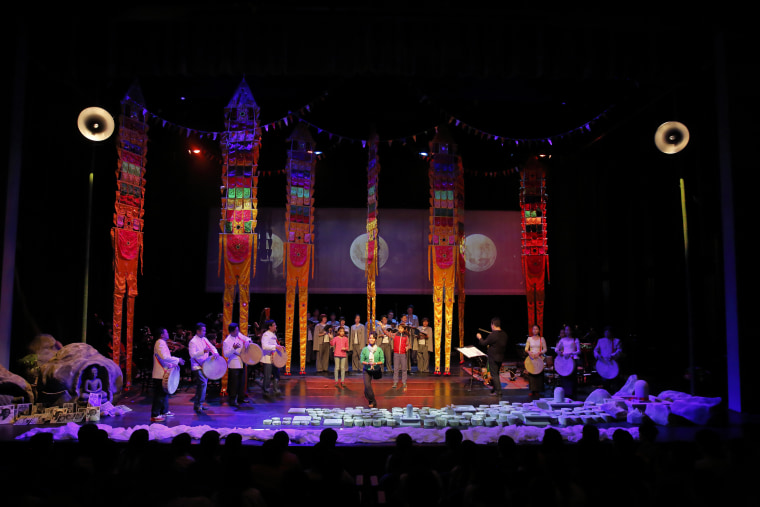 "It's not only for my personal story, but 'Bangsokol' also reminds me of the suffering of all Cambodian people who lost their families and relatives during the killing time," Him Savy said. "Those memories stay in our hearts. We remember and we don't want to experience that dark time again."
She said she has learned new techniques from taking part in the performance and hopes to share them with others.
The music, she added, can be a tool to help people find peace.
"Music can be a medicine to heal all suffering," she said.
Follow NBC Asian America on Facebook, Twitter, Instagram and Tumblr.