Across the street from Columbus Park in Manhattan's Chinatown, where Chinese men squat on empty soybean oil containers, smoke cigarettes and play cards, a man tried to start a conversation last week with a Chinese woman who worked at a dry cleaners, police said. When she rebuffed him, the man allegedly struck her in the face with a hard object in a bag.
That attack, on the morning of June 15, was the fourth of its kind in less than two weeks, carried out in broad daylight on a busy street dotted with parked police cruisers, with courthouses and the Manhattan Detention Center looming in the background.
Now, Tyrell Shaw, the suspect in that attack and three others on Asian women in Manhattan, is dead in an apparent suicide, according to NBC New York.
Last week, as police searched for Shaw, 25, who expressed displeasure about not being able to date Asian women, many in Chinatown remained on edge, not knowing when another attack might happen.
"It's horrifying," said a man at the counter of Paragon II Cleaners, the workplace of the fourth victim, a woman in her 40's.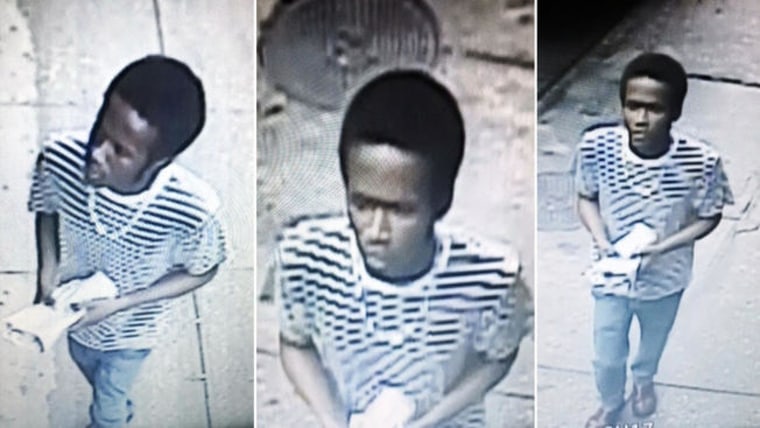 The man, who declined to give his name, told NBC News that he was filling in for the victim, who he said usually worked morning shifts. He added that he did not know her condition or when she would return. The woman, who was struck outside the cleaners at 48 Mulberry Street, began working there at the start of this year, he said.
On Mott Street, one block away from where the fourth victim was assaulted, a young Asian-American woman who gave only her surname as Yang said last week that the Chinatown community had been "really shaken" because of the attacks, adding that women were trying not to wear headphones, so they could hear what's happening around them.
"When someone comes up to you for no reason and asks you a random question," she said, "your natural defense is to ignore them."
Related: Suspect in Attacks on Asian Women in Manhattan Found Dead in Apparent Suicide: Sources
Fanny Li, who was tending the coffee bar at Silk Road Cafe on Mott Street, uttered one word in Mandarin when asked about the attacks -- "scary." On her storefront window pane, a poster typed in Chinese and English implored passersby to "call police right now" if they saw the man in a surveillance photo, who police identified as Shaw. Li said she believes community groups in Chinatown distributed those posters and hung them up around the neighborhood.
Police said Shaw had been arrested 10 times since 2006 on charges including credit card theft, criminal trespassing and burglary, according to NBC New York. He also was involved in four domestic cases, including one with a girlfriend, the report said.
Li, who has worked at Silk Road Cafe for more than 20 years, said she had never heard of any other incident in Chinatown like this one, where Asian women were randomly targeted because of their gender and race. She added that she also has two daughters who were scared.
"When they leave the house, I tell them to be careful," Li said.
Related: Blog Pledging to 'Hit Over a Million Asian Women' Linked to Attacks?
Despite two attacks in Chinatown -- the first having occurred on June 10 in front of 155 Grand Street, just up the block from the Museum of Chinese in America -- Ling Chen explained in Mandarin that she still feels safe in the community. But like Li, Chen, who works at an Asian candy store on Mott Street called Aji Ichiban, used the word "scary" to characterize the four assaults, including two others that took place outside Chinatown.
A Wordpress blog apparently linked to Shaw described the motivation behind the attacks. In one blog post, the writer talked about being "infatuated with the idea of having an Asian wife and children." Another, dated June 18, said the writer had "decided to talk to over 150 Asian women" over the weekend of June 6, "which ended horribly." The post continued, saying that "I've been rejected so much I feel absolutely numb" and that "the world hates me because I'm African American."
The writer also discussed committing suicide by tying a noose to the bottom of an elevator and waiting "until someone pushes a button." Police sources said Shaw was found dead in an elevator shaft in the basement of a building on the Upper East Side, having apparently hanged himself, according to NBC New York.