When the dancers take the stage for the 52nd annual Merrie Monarch Festival, the world's premiere hula competition, viewers at home will be able to choose to watch the broadcast in either the Hawaiian language, known as 'ōlelo Hawai'i, or English.
"Having our ʻōlelo Hawaiʻi become a part of this broadcast is momentous, and hopefully will continue to grow in presence and content coverage," Hiapo Perreira, Associate Professor of Hawaiian Language and Literature at the University of Hawai'i at Hilo, told NBC News, "joining current normalization efforts that support the life and proliferation of our language. E ola ka ʻōlelo Hawaiʻi! (The Hawaiian language shall live!)"
Hula is an important part of Hawaii's oral history, and as hula has enjoyed a continuing renaissance, so has the Hawaiian language.
The Merrie Monarch Festival is a week-long celebration of hula and the Hawaiian arts in Hilo, Hawaii. Founded in 1963, it is named in honor of King David Kalakaua, the Merrie Monarch, who is credited with bringing the art of hula back from the brink of extinction after it had been outlawed for many years by Christian missionaries and earlier monarchs who had converted to Christianity.
"Merrie Monarch is a big factor as far as reviving mele and chants, and inspiring people to speak the language," said Roland Yamamoto, executive producer of the Merrie Monarch broadcasts in a statement. "More people speak 'ōlelo Hawai'i, and it seemed funny to me that we weren't doing something with it as far as the Merrie Monarch goes."
Today, the Merrie Monarch Festival features hula in both ancient and modern forms, and competitions for men, women, children, groups, and soloists. This year, 24 hula halau or hula schools from Hawaii and the mainland United States will be participating.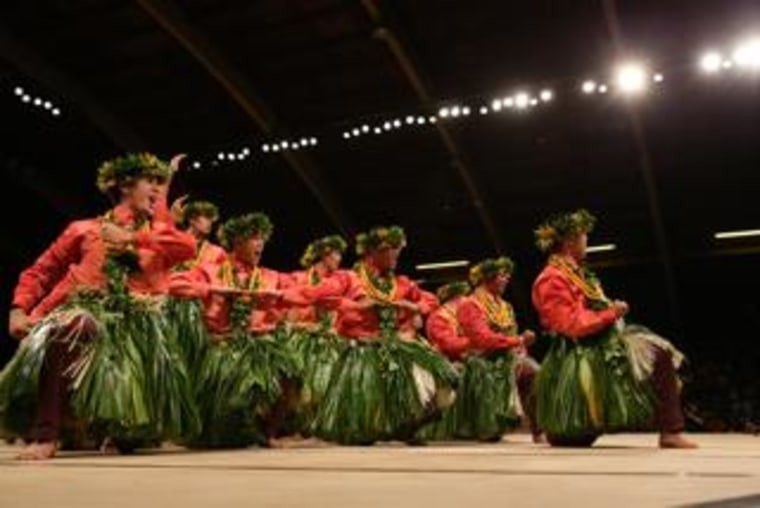 IN-DEPTH
SOCIAL