An unprecedented number of undocumented Indian immigrants are crossing U.S. borders on foot, according to new data from U.S. Customs and Border Protection. What has been a years-long increase in migration has now developed into a dramatic spike.
From October 2022 to this September, the 2023 fiscal year, there were 96,917 Indians encountered — apprehended, expelled or denied entry — having entered the U.S. without papers. It marks a fivefold increase from the same period from 2019 to 2020, when there were just 19,883.
Immigration experts say several factors are at play, including an overall growth in global migration since the pandemic, oppression of minority communities in India, smugglers' use of increasingly sophisticated and in-demand methods of getting people to America, and extreme visa backlogs. 
The number of undocumented Indians in the U.S. has been climbing since borders opened post-Covid, with 30,662 encountered in the 2021 fiscal year and 63,927 in the 2022 fiscal year.
Out of the nearly 97,000 encounters this year, 30,010 were at the Canadian border and 41,770 at the Southern border.
"The Southern border has just become a staging ground for migrants from all parts of the world to come to the U.S. most quickly," said Muzaffar Chishti, a lawyer and the director of non-partisan research group Migration Policy Institute's New York office. "Why would you wait for a visitor visa in Delhi if you can make it faster to the Southern border?"
The Canadian border, on the other hand, has large stretches that are virtually unguarded at times, said Gaurav Khanna, an assistant professor of economics at the University of California at San Diego, whose research concentrates on immigration. 
While not all routes look the same, a journey from India to the U.S. might take migrants on several legs, all while being passed among various facilitators.
"People will get you to, let's say, the Middle East, or people will get you to Europe," Chishti said. "The next journey from there would be to Africa. If not Africa, maybe then to South America. Then the next person will get you from South America to the south of Mexico. Then from the south of Mexico to the northern cities of Mexico, and then the next person will get you over to the U.S."
Long, treacherous journeys often land migrants in limbo, facing overwhelmed immigration systems, he said. CBP told NBC News that families coming to the U.S. illegally will face removal.
"No one should believe the lies of smugglers through these travel agencies. The fact is that individuals and families without a legal basis to remain in the United States will be removed," a CBP spokesperson said. 
But when those migrants are coming from across an ocean, experts say, the reality is far more complicated.
"You can easily turn people back to Mexico — that's their country, 'make a U-turn,'" Chishti said. "But you can't deport people to faraway places that easily. Mexico won't take them. Why would Mexico take an Indian?"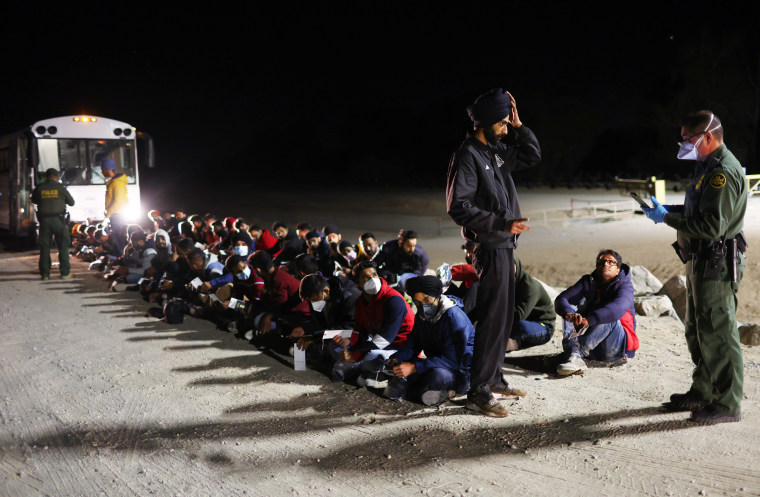 Who's migrating and immigrating and why
Though still relatively low compared to migration from Mexico and Central America, the number of undocumented Indians crossing U.S. borders has been growing for several years, said Pawan Dhingra, a professor of American studies at Amherst College. But the growth this past fiscal year was unprecedented. 
He and other South Asian American scholars worry that the recent spike might have something to do with worsening conditions for minorities like Muslims, Sikhs and Christians in India under Prime Minister Narendra Modi's government, which has been widely criticized for human rights violations. 
"Many of them are Sikh, seeking asylum based on how they feel they've been mistreated and targeted in Punjab under Modi's government," he said. "Now the U.S. has a big problem on its hands. It's cozying up to Modi in every possible way, in terms of state visits and rhetoric, but it has an increased set of asylum-seekers from this country."
A series of laws deregulating India's agricultural sector in 2020 threatened to upend the lives of many farmers, especially in the North Indian state of Punjab. Modi's government, among other things, removed the minimum prices of key crops, leading to massive protests around the country that were sometimes met with violence from the state.
In September 2021, over 500,000 farmers gathered in the state of Uttar Pradesh to protest the laws.
The bills were formally repealed in December 2021. 
But experts say the destabilization and the scale of the protests were enough to constitute an asylum claim.
"They have a perception that they have no future in that country," Chishti said.
In comparison to an India that migrants might feel is pushing them out, a promised new life in the U.S. seems ideal. The general success of Indian Americans in the U.S. or of previous migrants who have taken the same journey are some of the factors that pull people in. 
"People in Punjab might know people who went from their village, cousins and aunts and uncles and so forth," Khanna said. "That creates more waves of movement."
Decades-long visa backlogs have made it difficult for would-be immigrants to join their families in the U.S., leaving many with little recourse. On top of that, Covid's devastation has also created a crop of desperate migrants in India and around the world, experts said. 
With social media-savvy groups masquerading as travel agencies, hopeful migrants often pay their life savings to make the journey, Khanna and Chishti said. 
"The poorest people in the country do not migrate; they can't afford to," Dhingra said. "But those who will undergo such challenges to migrate are still desperate for some kind of economic or political change."
With lofty claims and misinformation often circulated on Facebook and WhatsApp and even plastered around small towns in India, migrants might not know exactly what they are getting themselves into, they said. 
"It is extremely treacherous, but people might not actually know how treacherous it is," Khanna said. 
Last year, a lower-income family of four with two young children was found dead near the U.S. border with Canada. Having made the journey from a village in Gujarat through a similar illegal pathway, they were separated from the rest of the group during a blizzard. Their bodies were found just 13 yards from the border.
"You have to really either mortgage your life savings or mortgage your life to take this difficult journey," Chishti said.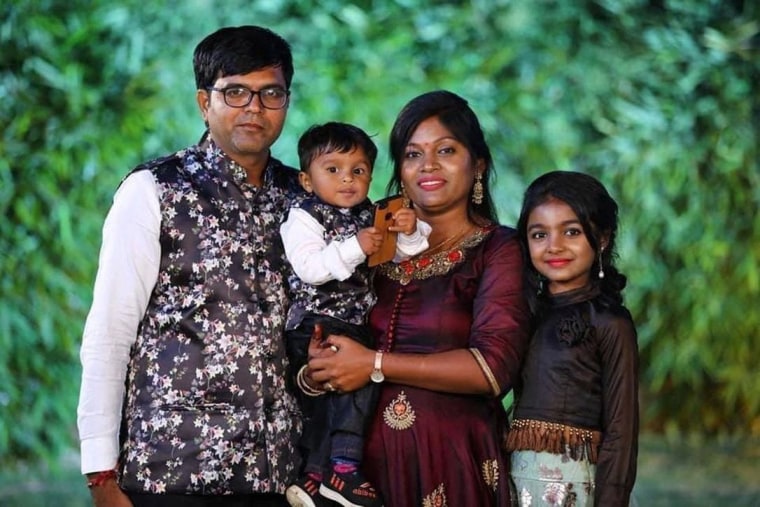 What happens at the border
Those who make it to the U.S., sometimes after having traversed multiple continents, are often met with an immigration system that is extremely disorganized and lacks the capacity to give them real answers, Chishti said. 
The processes at the Southern border have, for decades, been designed with the idea that single Mexican men are coming in to work, Chishti said. But that's not the case anymore, and the systems have not adapted to meet the new volume and challenges, he said. 
Now, there are more families, as well as those who are neither Mexican or Central American, and the biggest reason is asylum.
"There are not enough beds and not enough Border Patrol officers to screen you," Chishti said. "So what we do now, mostly, we just let people in in various buckets." 
A spokesperson for U.S. Immigration and Customs Enforcement told NBC News that each case is carefully and individually assessed before a decision is made. 
"Regardless of nationality, ICE makes custody determinations on a case-by-case basis, in accordance with U.S. law and U.S. Department of Homeland Security (DHS) policy, considering the circumstances of each case," they said. 
Though sending asylum-seekers back is also not as easy as it sounds, Chishti said. 
"It's a diplomatic hassle to return people," he said, noting it requires an agreement between two countries that does not exist between the U.S. and India. 
What typically happens, instead, is that Indian migrants are issued notices to appear before judges on specific dates, he said, and those immigration courts have backlogs of their own. If migrants do not have lawyers, their hearing dates may be delayed for months or years.
"It is a system breaking under its own weight," Chishti said. "So smugglers know that; they publicize that."
The U.S. as a promised land for the South Asian diaspora
While it might be logistically easier for migrants to go to Europe or the U.K., the U.S. holds a unique promise for Indian nationals specifically, experts said. 
"I don't think it takes much propaganda or marketing for people to see the U.S. as a highly developed country that has opportunities," Dhingra said. "So the question becomes 'What are my chances of making it there versus making it somewhere else?'"
For a burgeoning diaspora with a high median household income, level of English proficiency and college education level, it remains to be seen how Indian Americans will receive this growing group of lower-income undocumented immigrants. 
"Will we be a community that preaches acceptance of these migrants and others, or will we be a community that's focused on quote-unquote 'law and order' that has very little sympathy towards those who cross without full documents?" he asked. "That's hard to predict."