Sitting cross-legged on a black rectangular stage, Juyoung "Peter" Lim rapidly strikes a small, handheld gong, creating a high-pitched, metallic sound. Around him, several others follow his lead, playing three different percussion instruments at a fast tempo: an hourglass-shaped drum, a large gong, a barrel drum.
The musicians are members of a Korean percussion group called NORI, which was founded in 2007 and performs a type of traditional Korean music called samulnori. The genre was born from a Korean folk music tradition called pungmul, which NORI members explain is rooted in Korea's agricultural history.
"They used it for cheering up people and for farmers; sometimes it was used for marching for wars," Yoonhee Aprahamian, a member of NORI who has been playing the genre for nine years, told NBC News. "They would also use it for parties."
Pungmul is believed to have existed even before 57 B.C., and many of the motions made during play mirror those made by farmers while working in the field.
Samulnori came to life in the 1970s, created by a master drummer named Kim Duk Soo, who made the genre more coherent and one that could be performed on stage. It differs from pungmul, NORI members say, which historically took place out in the community and involved dozens of people singing, drumming, and dancing.
Eunice Kim, a member of NORI, said in some instances, people would perform pungmul while marching through all rooms of a person's home to drive out bad luck.
"It's got a strong beat that makes people get excited, including us," Kim said.
We really enjoy this music, and we don't have a lot of other reasons for why we do this. Some people want to be on stage and be famous and try to make money, but we don't do that.
Samulnori uses four instruments, each of which symbolize an element of nature: janggu, the hour-glass shaped drum that represents the rain; buk, the barrel drum — which has been around for 5,000 years — that represents the clouds; jing, a large gong that represents the wind; and kkwaenggwari, the small, handheld gong that represents thunder.
"It's kind of a combination between earth — the janggu and buk — and the sounds of heaven — the jing and kkwaenggwari — together," Kim said.
During performances, samulnori players are also typically dressed in traditional colorful Korean clothing, hats, and shoes. Sometimes, the attire includes ribbons that are blue, red, and yellow, which represent the sky, earth, and people, respectively.
"Our ancestors' view of the world was, 'Where the sky and the earth meet, there are people,'" Aprahamian said.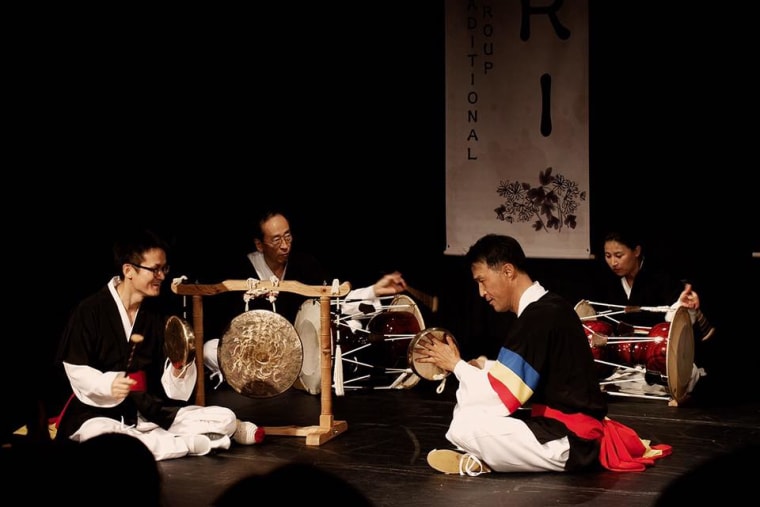 Hats are another component of the costumes: a black round one called sang-mo, which traces back to the Goguryeo dynasty's army helmet, and could symbolize performers as part of an army; and a pointed white hat called gokkal, with origins from hats worn by Buddhist monks, according to Aprahamian.
She added that teams in the present day typically choose what colors and styles to wear.
Since its inception, NORI has performed at nearly three dozen events, including the re-opening of the Korean Exhibit Hall at the Los Angeles County Museum of Art in 2009 and at an event in Costa Rica in March 2016. Its most recent performance was at the Korean Cultural Center in Los Angeles in December 2016.
The group has 10 members who convene at a Taekwando studio near Koreatown in Los Angeles on Tuesday and Friday evenings for two and a half hours. Members of NORI describe it as a club: it isn't a non-profit and people aren't paid for their involvement in the group, but all of them are passionate about the music, continually learning about the roots of samulnori and pungmul, and honing their craft.
"We really enjoy this music, and we don't have a lot of other reasons for why we do this," said Lim, music director of NORI. "Some people want to be on stage and be famous and try to make money, but we don't do that."
Lim, who was taught by Soo, the founder of samulnori, said NORI's ultimate goal is to continue preserving the tradition of samulnori properly and to create opportunities for young Korean Americans to learn about the genre.
He added it's particularly important for the community to know about it because its roots — pungmul — were oppressed during the Japanese occupation of Korea in the early 1900s.
"They hated the philosophy of pungmulnori because it has a harmony in it, [a sort of] unification. Whenever pungmulnori sounds came out, everybody goes out wondering, 'Where's the sound coming from?' Then they walk together. That's the [biggest] reason Japanese imperialists didn't like it," he said.
As a result of the oppression, Lim said Korea lost that type of music for 34 years.
It's got a strong beat that makes people get excited, including us.
Samulnori has been in existence for less than 40 years, and it's a facet of Korean culture that was unfamiliar to many Koreans and Korean Americans, Lim said, including himself: he was one of those people who had no clue about the music until he got into college.
At some colleges and universities in the United States, samulnori clubs have sprung up to provide avenues for second-generation Korean Americans to learn about it and how to play the instruments.
"In Korea, they don't teach about Korean traditional culture and music. I know The Beatles and Western artists and singers, but I don't know about Korean traditional musicians or artists," Lim said.
It also took several years after samulnori was established before it was documented using musical notation. Prior to that, it was simply passed down verbally between generations and from teacher to student.
In learning pieces to perform, NORI uses a combination of relying on notes and verbal instruction from Lim, since he was taught by Soo. In its nearly decade of existence, the group has committed to maintaining the tradition of samulnori, excluding the incorporation of external influences.
"We're not trying to be stubborn, but we want to learn the actual root of Korean traditional music, so we try not to blend in other types of music and just try to continue our traditions," Aprahamian said. "We are not recreating it. Just like the works of Beethoven, old traditional classics, people nowadays keep on doing it the same way over and over. This is what we do."
One aspect it does incorporate into its repertoire, however, is the varying rhythms originating from different regions in Korea. A piece from a region where there's military training, for instance, would have a stronger beat but less complicated rhythm, Kim said. In areas where farming is more prevalent, the rhythm contains greater variety, and is more relaxing and more complex, she added.
Although NORI doesn't include anything other than samulnori traditions into its music, it does recognize the genre's similarities with other cultural music, including that of Native Americans and Ethiopians.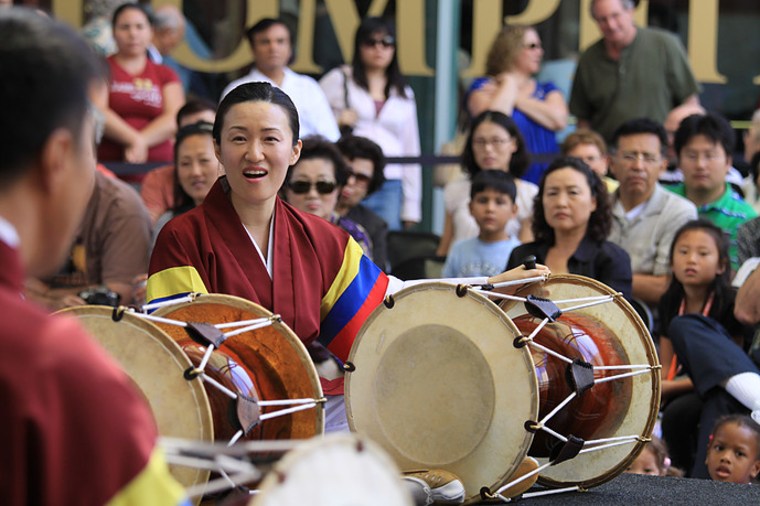 In 2012, NORI participated in a cross-cultural event with the Ethiopian community in Los Angeles, where an Ethiopian woman danced to samulnori drumming. It's something the group hopes to do with other cultures to bring communities together and continue teaching others about this traditional music.
Group members also say that samulnori has influenced other types of music.
"Initially, Taiko [Japanese drumming] rhythm was really simple. But now they incorporate our rhythms. It's getting more dynamic and it's more complicated," Kim said.
In addition to performing in the community, NORI offers samulnori classes to the public for a fee through the Korean Cultural Center in Los Angeles, which musical director Lim says he hopes will encourage younger people to join the group.
"When the kids learn about this kind of music, they're also going to learn the philosophy of this music," Lim said. "So we can teach them harmony, unification, and they can be proud of being Korean and identify themselves as Korean."
Follow NBC Asian America on Facebook, Twitter, Instagram and Tumblr.