DUMANDIH, India — Anita Kumari was scared and apprehensive when, at age 13, she first started her period. Though she'd learned about menstruation at her school in rural eastern India, she didn't fully understand what was happening to her body. But her mother calmed her nerves and gave her a cloth to use to absorb the blood.
Like the majority of women in rural India, Kumari prefers to use a cloth each month during her period, wearing it for one day, washing it, and then reusing it.
"It's better using the cloth," the 24-year-old told NBC News at a gathering of women and girls in Dumandih village, a tiny hamlet of 400 households in eastern India's rural Jharkhand State, where only one-quarter of the homes have cement toilets and open defecation is widely practiced.
Kumari sits on the floor with the other women, each wearing brightly colored saris, and explains through a translator that she feels more comfortable using a cloth because it feels safe and is easy to wash and dry. She also doesn't have to worry about burning the cloth to dispose of it.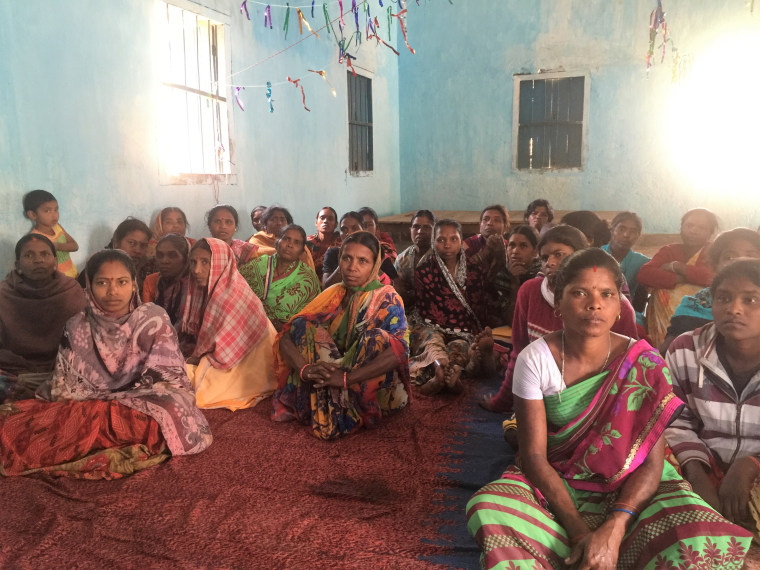 But experts warn reusing cloths may be unhygienic because of a lack of soap and clean water, and because cloths are sometimes dried indoors — away from the sun and open air — due to social stigmas around menstruation. For other women, ashes or dried leaves are the preferred method to absorb blood during menstruation. Such practices, health experts say, can make a woman susceptible to diseases, and in the most severe cases, cause death.
A new startup founded by three graduates from the Massachusetts Institute of Technology and a graduate from Nirma University in India is hoping to improve access and waste disposal of pads for women like Kumari. Saathi Pads uses locally-sourced banana fiber to create biodegradable sanitary napkins, which degrade faster if buried and don't have to be burned.
"Only 16 percent have access to sanitary pads in India," Kristin Kagetsu, one of the founders of Saathi, told NBC News during a recent interview at the company's production facility, located in a non-descript building on a winding dirt pathway off the main road outside Ahmedabad, in India's western state of Gujarat. "How do we work to increase access? And why is that important? Well, it's important because access to sanitary pads means they can go to school and work more."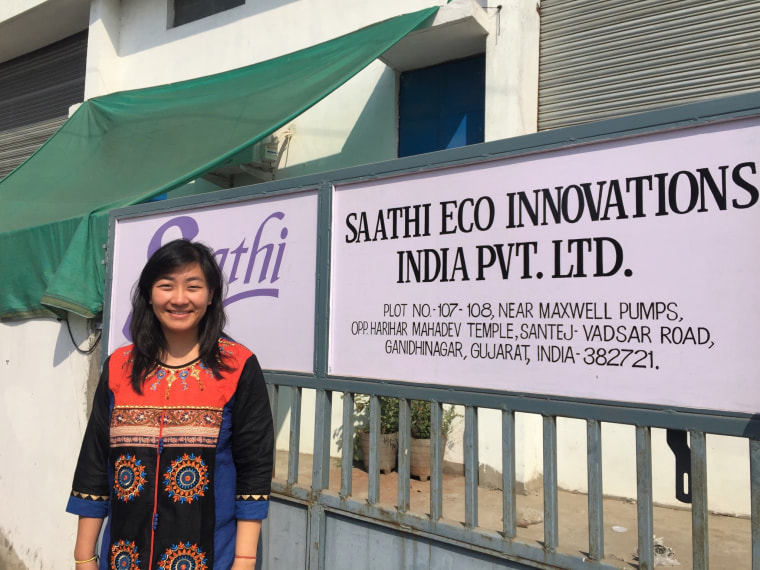 Saathi, which means "companion" in Hindi, will be hosting a menstrual hygiene education event, training and orientation in Jharkhand State later in February. With initial funding from a handful of grants, including one from the Harvard Business School, the small team started creating the pads by hand, an arduous and time-consuming process.
"Access to sanitary pads means [women] can go to school and work more."
Since then, an improvement in machinery and a more streamlined process have increased the production from 100 pads produced in a week to hundreds in a day, Kagetsu says.
Banana fiber, she notes, is one of the most absorbent natural fibers, and it is very abundant in Gujarat and thrown out. The pads last for six to eight hours like standard pads, Kagetsu says.
"There's a huge untapped market here," Tarun Bothra, chief technology officer at Saathi and another co-founder, told NBC News. Saathi sources the banana fiber, which comes from the bark of a banana plant, from a local farmer and hopes to work with local cooperatives in the future.
The company, which currently employs 17 full-time workers and four part-time workers, continues to receive funding through various grants and innovation challenges, but is looking for additional investment as well to scale-up the production, Kagetsu says. In March, the company will also be presenting at SXSW in Austin, Texas, in hopes of securing more funding and will start selling an urban brand of the pad later this month.
But the company will have its work cut out for them in areas like Jharkhand State, where knowledge is limited and menstrual hygiene management is tied to a lack of access to toilets.
Across India, 87 percent of women and girls do not have knowledge about the biological purpose of menstruation, according to UNICEF, and 75 percent of girls do not know what material to use to absorb the flow. Further, about 65 percent of people in rural areas of India do not have access to a toilet.
Though India has set an ambitious goal of eradicating open defecation by 2019, in rural villages like Dumandih, that promise seems very far off. The government of India also released new guidelines in 2015 for menstrual hygiene management to improve the practices and knowledge around menstruation at the state, district and school levels.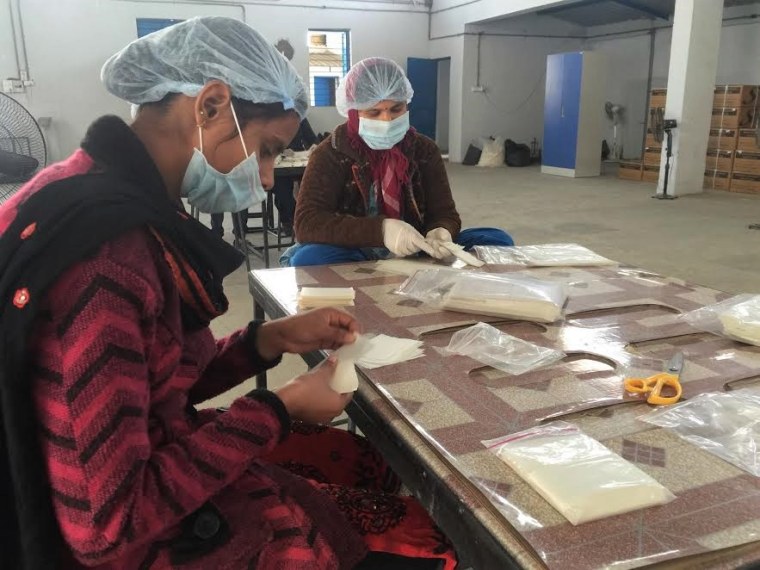 Still, progress seems to be slow, at least in Dumandih. At the gathering, women ranging in age from their 20s to 60s gathered to talk about their habits, beliefs, and knowledge around menstruation. Many of the women knew to expect their period each month, but were unsure about why it happened and struggled to recall information they had learned at a previous workshop on menstruation.
Kunti Sahu with Lohardaga Gram Swarajya Sansthan, an organization working to improve the conditions and opportunities for people in Jharkhand, says she believes innovations like sanitary pads made out of banana fiber could help women and girls to some extent, but won't solve the problem.
"How will they change the pad every three hours if there are not enough toilets?" Sahu asked. "Even with toilets, what if there is no water?"
This story was reported as part of the International Reporting Project in India.
Follow NBC Asian America on Facebook, Twitter, Instagram and Tumblr.