San Francisco is expected to become the first major U.S. city to install a memorial to "comfort women," the mostly Korean women who were forced into Japanese military-run brothels during World War II.
The memorial is slated for installation in September in San Francisco's Chinatown and was granted final approval on Monday by the San Francisco Arts Commission.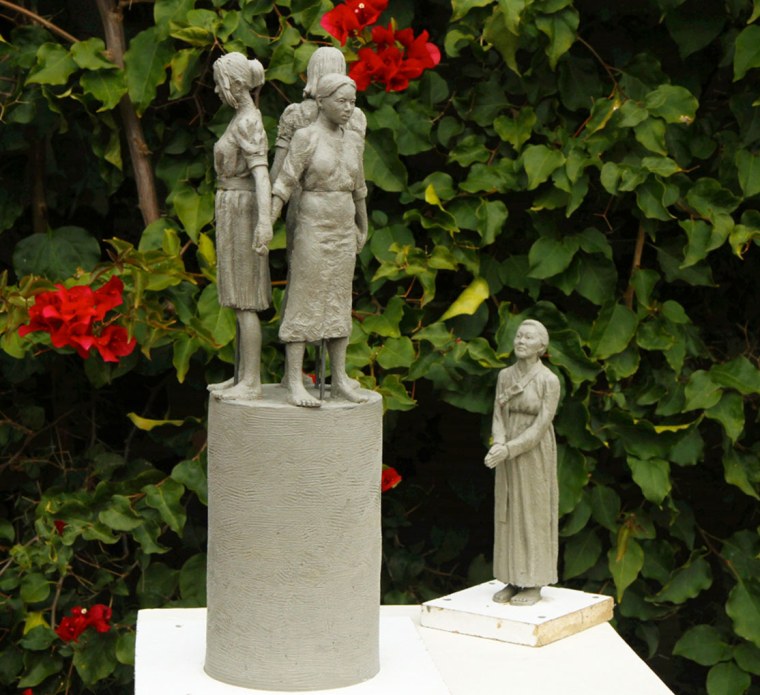 "We wanted to have a memorial to remember the comfort women so their members will be remembered forever, and so our children in schools in the next generation will understand how devastating these atrocities are to not just to the women but for generations to come. Unless we learn about it, unless we address it, history will repeat itself," ret. Judge Julie Tang told NBC News.
During WWII, an estimated 200,000 women from countries including Korea, the Philippines, China, and Indonesia were forced into sexual slavery and "served" between five to 60 soldiers per day, according to research referenced by the CWJC.
"Unparalleled in its scale and brutality, Japanese military sexual slavery left deep scars among generations of Asian American families and communities, including our own," faculty members from San Francisco State University, the University of San Francisco, and San Francisco City College wrote in public comment supporting the statue.
RELATED: Japan, South Korea Reach Historic Deal on Wartime 'Comfort Women'
Installing a memorial in San Francisco has been a contentious issue, with proponents arguing that there has been no official apology from the Japanese government for what happened and that it would help in educating people about the women during WWII. Opponents dispute the story of comfort women and claim there is no evidence to support it.
In 2015, when the San Francisco Board of Supervisors unanimously voted to support the memorial, Toru Hashimoto, who at the time was mayor of Osaka, one of San Francisco's sister cities, sent a letter opposing the decision.
San Francisco isn't the only city to receive opposition for a comfort women sculpture. In December last year, a memorial in South Korea was unveiled in front of the Japanese Consulate in the city of Busan and caused a diplomatic rift between the two countries.
Kate Patterson, director of communications at the arts commission, told NBC News in an email Wednesday that the commission had received nearly 300 emails expressing opposition to the project. Most were sent from Japan and said the memorial would be insulting to Japanese.
Others that spoke during the project's public commenting period were concerned that the inscription on the memorial should be carefully worded, "so as not to undermine Japan and its allies" and that "it is important that residents and visitors alike, be they private or world leaders, have a positive reaction when viewing the Comfort Women statue."
The project has received support from local stakeholders including former Congressman Mike Honda and Karen Korematsu of the Fred T. Korematsu Institute, according to Patterson.
RELATED: Asian-American Leaders Respond to Japan-South Korea Agreement Regarding 'Comfort Women'
The statue, designed by sculptor Steven Whyte, depicts three women who are holding hands standing in a circle on top of a cylinder, while a fourth woman looks at them. In the project proposal, Whyte explains that the position of the women on the cylinder represents how they have risen above sexual violence and how survivors of sexual violence can feel disconnected from the rest of society.
The inscription on the memorial is expected to read:
This monument bears witness to the suffering of hundreds of thousands of women and girls euphemistically called "Comfort Women," who were sexually enslaved by the Japanese Imperial Armed Forces in thirteen Asian-Pacific countries from 1931 to 1945. Most of these women died during their wartime captivity. This dark history was largely hidden for decades until the 1990s, when the survivors courageously broke their silence. They helped move the world to declare that sexual violence as a strategy of war is a crime against humanity for which governments must be held accountable.This memorial is dedicated to the memory of these women and to eradicating sexual violence and sex trafficking throughout the world.
San Francisco will join other cities across the country that have installed comfort women memorials, including Palisades Park and Union City, New Jersey; Southfield, Michigan; Fairfax County, Virginia; and Glendale, California. Countries including Australia, Canada, and China also have memorial statues.
Follow NBC Asian America on Facebook, Twitter, Instagram and Tumblr.