San Francisco is scheduled to unveil a "comfort women" memorial statue this week, becoming what activists say is the first major city to install a monument honoring the mostly Korean women who were forced into Japanese military-run brothels during World War II.
"I'm very proud that San Francisco is the first [major] city to have this beautiful memorial because it represents a global issue," Lillian Sing, co-chair of the Comfort Women Justice Coalition (CWJC), which spearheaded the project, told NBC News. "San Francisco is a global city, so it's just beautiful that we have it in San Francisco."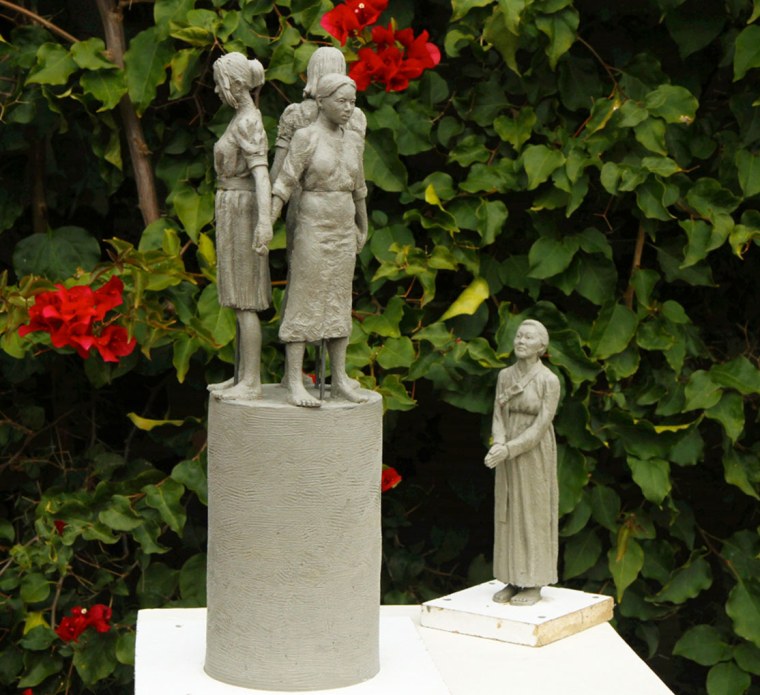 The statue is slated to be unveiled at a park near San Francisco's Chinatown on Friday, which the San Francisco Board of Supervisors earlier this week declared "Comfort Women Day."
"The Comfort Women Memorial has been a long time coming," Supervisor Sandra Fewer, a co-sponsor of the Comfort Women Day resolution, told NBC News in an email. "There have been very active community groups working to make this happen to recognize this period in history, and not let the mistakes of the past repeat themselves."
During World War II, an estimated 200,000 women from countries including Korea, the Philippines, China, and Indonesia were forced into sexual slavery and "served" between five to 60 soldiers per day, according to research referenced by professors from Vassar College and Shanghai Normal University.
Julie Tang, co-chair of the CWJC, said that the purpose of the statue is to educate people and raise awareness about sex trafficking. The coalition hopes to offer school field trips to the memorial and encourage tour companies to include it as a stop on itineraries for tourists, she added.
Installing the memorial in San Francisco was a two-year process that began when a "grandma" — a term used to refer to former comfort women — traveled from South Korea and testified in support of a memorial before the San Francisco Board of Supervisors, Sing said. On Sept. 22, 2015, the board approved a resolution urging the City and County of San Francisco to establish a comfort women memorial.
Over the last two years, the effort to install a memorial has received opposition from a number of individuals.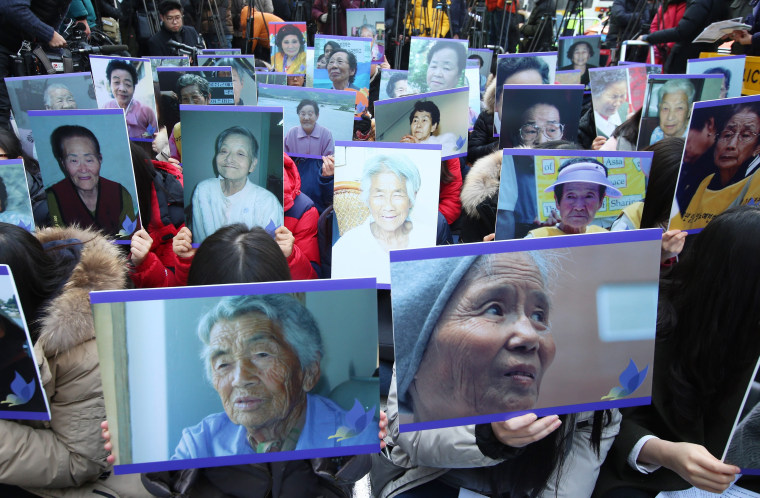 In 2015, when the San Francisco Board of Supervisors unanimously voted to support the memorial, Toru Hashimoto, then the mayor of Osaka, one of San Francisco's sister cities, sent a letter opposing the decision.
Before the project was granted final approval, the San Francisco Arts Commission received nearly 300 emails expressing opposition to the memorial.
San Francisco isn't the only city to receive opposition for a comfort women sculpture. In December last year, a memorial in South Korea was unveiled in front of the Japanese Consulate in the city of Busan and caused a diplomatic rift between the two countries.
Comfort women memorials have been a contentious issue, with advocates arguing that the Japanese government has not issued an official or sufficient apology for what happened during World War II, while opponents say there is no evidence to support that women were forced into sex slavery.
In 2014, the city of Glendale in Los Angeles County was faced with a lawsuit alleging that the city unconstitutionally infringed on the federal government's exclusive authority to conduct foreign affairs.
Jun Yamada, the Consul General of Japan in San Francisco, told NBC News in an email that Japan takes the issue of comfort women seriously and that Japanese government administrations have expressed apologies and feelings of remorse to former comfort women on numerous occasions. He cited a 2015 agreement between Japan and Korea in which Japan apologized and pledged $8.3 million in government funds to help comfort women.
Yamada added that comfort women memorials seem to "perpetuate and fixate on certain one-sided interpretations without presenting credible evidence, in the form of physical statues."
"As it stands, particularly regarding the inscription that obstinately singles out the Japanese case, this new San Francisco memorial is surely destined to be yet another addition to the existing quagmire surrounding 'controversial statues,'" he said.

The San Francisco memorial depicts three women holding hands standing in a circle on top of a cylinder. The inscription is expected to be published in five languages — English, Korean, Chinese, Japanese and Tagalog — and is expected to read:
"This monument bears witness to the suffering of hundreds of thousands of women and girls, euphemistically called "Comfort Women", who were sexually enslaved by the Japanese Imperial Armed Forces in thirteen Asia-Pacific countries from 1931 to 1945. Most of these women died during their wartime captivity. The dark history was hidden for decades until the 1990s when the survivors courageously broke their silence. They helped move the world to declare that sexual violence as a strategy of war is a crime against humanity for which governments must be held accountable.This memorial is dedicated to the memory of these women, and to eradicating sexual violence and sex trafficking throughout the world."
San Francisco will join others across the United States that have also installed memorial statues, including Brookhaven, Georgia; Glendale, California; Southfield, Michigan; Palisades Park and Union City, New Jersey; and Fairfax County, Virginia.
Follow NBC Asian America on Facebook, Twitter, Instagram and Tumblr.
CORRECTION (Sept. 21, 2017, 6:45 p.m. ET): An earlier version of this article misstated the installation date of the statue. It was installed on Sept. 20 and is scheduled to be unveiled on Sept. 22.