Pixar Animation Studio's first human protagonist of color made his debut on the big screen Thanksgiving week in "Sanjay's Super Team," directed by Pixar supervising animator and storyboard artist Sanjay Patel.
The short film opened for "The Good Dinosaur," directed by Peter Sohn.
Patel told NBC News that, growing up, he felt embarrassed by his identity and tried to fit into mainstream American culture. But as an adult, he came to appreciate the richness of the culture his father was trying to pass on to him.
"Sanjay's Super Team" is a seven-minute short film inspired by Patel's experiences growing up as the child of immigrants in a modest motel along Route 66. The titular Indian-American boy would rather be daydreaming about television superheroes than praying and doing puja with his father. However, the Hindu deities soon transform into a team of dazzling superheroes in the boy's imagination, bringing him closer to understanding his immigrant father and his place in America.
Before this film, Patel's father had not seen any of the movies Patel had worked on in his almost 20 years at Pixar, so the studio invited him to watch the film when it was completed. Patel told NBC News that his father was very moved — he was obviously proud of his son's achievements but was particularly touched to see a film about their relationship.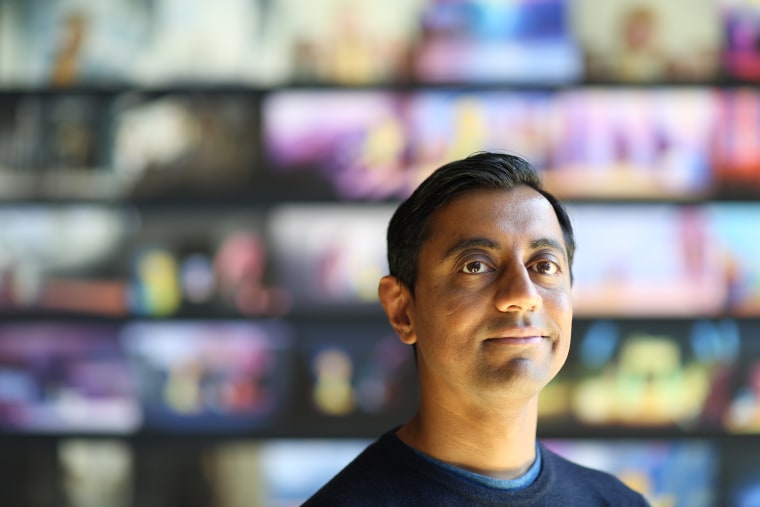 In addition to Patel's work as an animator at Pixar, whose credits include "A Bug's Life," "Toy Story 3," "Monsters, Inc.," and "The Incredibles", what drew Pixar's attention to Patel's developing storytelling skills was his work writing and illustrating children's books like "Ganesha's Sweet Tooth" and "Ramayana - Divine Loophole," and his art exhibitions including "Deities, Demons, and Dudes with 'Staches" at the Asian Art Museum in San Francisco.
Follow NBC Asian America on Facebook, Twitter, and Tumblr.
RELATED
SOCIAL