LUCKNOW, India — Kunti Rawat was around 11 years old when she left her government-run school in northern India and joined a school for underprivileged girls. It's where, she says, she finally learned how to be confident in herself and speak up.
Today, the 24 year old has attained her MBA, studied in the U.S., and has returned to India to work at a social enterprise empowering women, the same place where she got her start years ago.
"Not only for girls or women, but I think everyone needs to have an education. This is a right," Rawat told NBC News. "Education helps us to open our minds — this is how you can think beyond your limitations."
Rawat is a graduate of Prerna Girls School, located in Lucknow, India, which enrolls girls from nearby poverty-stricken neighborhoods and slums, and teaches them a unique set of feminist principles to help them see and understand they are equal to boys. More than 800 girls are currently enrolled at the school.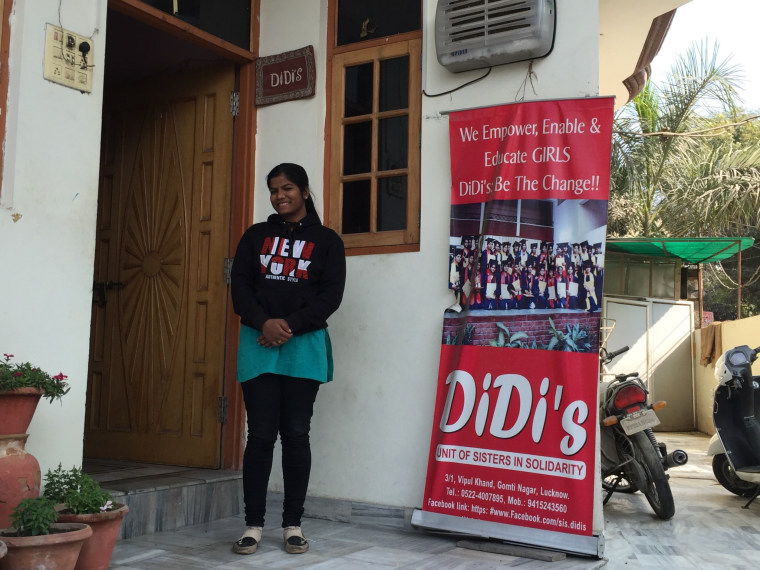 In a deeply patriarchal society like India's, girls are at a disadvantage before they are even born, and many of the girls at Prerna come from the most marginalized communities, living in slum homes without access to basic necessities like food and clean drinking water. Some may have never attended school before, instead working at home or in other peoples' homes as domestic help.
"First of all, they had never been to any school," Rakhee Panjwani told NBC News of the school's start back in 2003.
Panjwani started as a teacher at Prerna and later became the school's principal. "It was their first school, so it was a challenge for us also to teach them life lessons: punctuality, uniforms, hygiene," Panjwani said. "They didn't know how to stand in a line. They didn't know how to write answers. They didn't know how to go on to a stage, how to perform."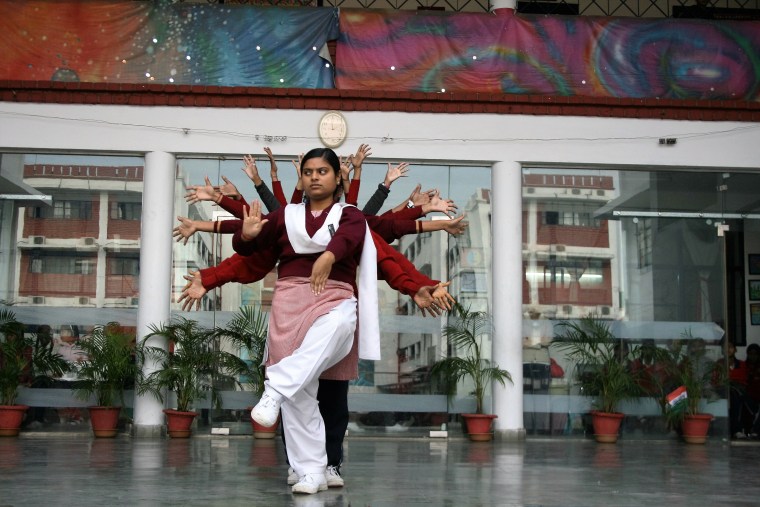 The Prerna Girls School is part of the Study Hall Educational Foundation, the brainchild of Urvashi Sahni, a University of California, Berkeley Masters and Ph.D graduate and a current fellow at the Brookings Institution. Sahni is expanding her feminist curriculum to other schools in India's Uttar Pradesh State and will also release a book about Prerna later this year.
"The mission is to have an equal world, of course, but I think education has not been tapped for its potential to develop a social and political consciousness in students — to help them think equal," Sahni told NBC News. "Any conservation you have about violence on the streets, child marriage, dowry — it all boils down to mindset."
The Idea Behind Prerna
Girls in India face obstacles and challenges from day one. Out of 188 countries, India ranks 130 on the Gender Inequality Index, a measure looking at empowerment and economic disparities between men and women. The United States ranks No. 8, while Norway ranks No. 1.
Though sex selection before birth is banned in India, activists say the law is routinely flouted, leaving skewed gender ratios across the country. Education for girls pales in comparison to boys, with family's often choosing to educate sons over daughters. A third of the world's child brides live in India, according to UNICEF, and once they reach reproductive age, a third of Indian women remain undernourished, leading to babies who are undernourished, which creates a cycle of malnutrition.
Sahni has seen some of these issues up close. Born just eight years after the British Indian Empire was partitioned into Pakistan and India, Sahni grew up in a middle class family and married at 18. Though she had long felt unease at the inherent gender discrimination and bias she saw growing up, she says she had little understanding of it.
"Education helps us to open our minds — this is how you can think beyond your limitations."
All that changed when her 24-year-old cousin, a mother of a 2 year old, burned herself to death — or so the official account says. Sahni, however, believes she was burned to death, though there is no way to prove it.
"That gave me such a shock, but that really, I think, was the beginning of my journey along the feminist path," Sahni said.
There were few women's rights organizations around at that time in the early 1980s, Sahni notes, so she started her own organization and began hosting workshops with schools. She realized gender discrimination was a societal issue that needed to be combated.
In 1986, Sahni started Study Hall School, an English-medium co-educational school for students from middle-class backgrounds. An educational foundation started in 1994, paving the way for Prerna Girls School to open in 2003. Study Hall and Prerna are closely connected: the students use the same facilities with Study Hall School students going to school in the morning and Prerna girls using the facilities in the afternoon. The structure allows students from various backgrounds, castes, classes, and religions to interact on a daily basis.
A Prerna Boys School for underprivileged boys also opened a few years ago.
At Prerna Girls School, the students use drama, singing, dialogues, poetry, and sports to learn about patriarchy, castes, and class. This helps them learn how to speak up for themselves and question entrenched gender biases.
For example, girls learn to ask for more food if they are not getting enough at home, says Panjwani, the principal at Prerna Girls School. They also are taught to question workloads and chores, writing down and examining their workloads compared to the workloads of their brothers, and their mothers' compared to their fathers' workloads.
"In these small acts they are motivated to speak up," Panjwani said.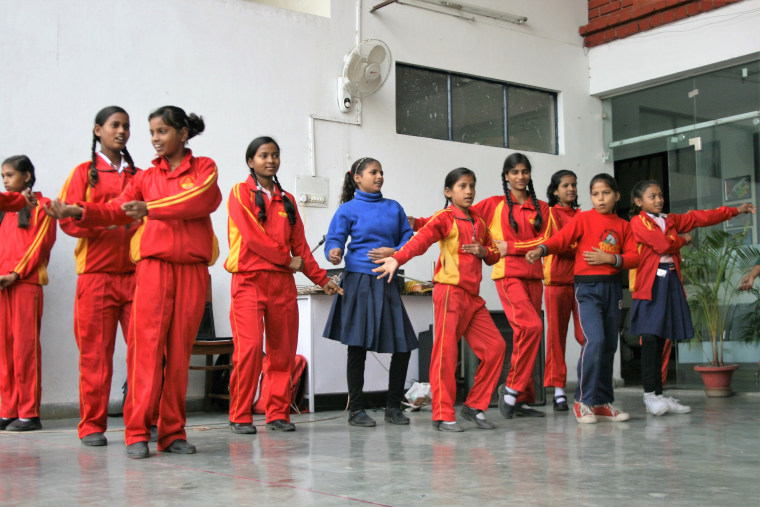 The school has also intervened in child marriages in the past, hosting education panels and creating contracts between parents and children promising to remain in school and continue their education. Over the years, the school has adopted a progressive stance toward gender.
During a recent visit to the school, the Prerna girls, who range in age from 3 to 20, and Prerna boys were busy preparing for their annual concert.
Some of the skits and performances push the gender boundaries quite a bit, Sahni notes, including lines from the boys about learning to cook, clean, and wash. Though most everyone is now OK with girls and women taking on roles outside the home, including becoming pilots and police officers, few are OK with men expanding their role to include housework inside the home, she says.
"For them, that is such a big step down," Sahni added.
Future Opportunities
Rawat, the 24-year-old Prerna graduate, says she had no idea what to do with her future before attending the school.
After joining Prerna and later DiDi's, a social enterprise partner with the school that trains some of the girls and even some of their mothers in cooking, tailoring and driving, Rawant said she had a better vision for her future.
"Our goal is to make women entrepreneurs. They are capable of doing that and they can earn more."
"Our goal is to make women entrepreneurs," Veena Anand, DiDi's executive director who started the social enterprise in 2008, told NBC News. "They are capable of doing that and they can earn more."
Empowering women to work and earn their own money opens them up to more opportunities and chances to change circumstances. During the interview, one worker sought out Anand for counseling, asking what she should do about her husband who beats her and forbids her from working at DiDi's.
Anand pressed her to keep working so she could earn her own money.
"I try to motivate them," Anand said..
For girls and women like Rawat, that motivation — along with scholarships to pursue undergraduate and post-graduate studies — has opened doors she never thought possible.
After graduating from Prerna, Rawat went on to college and was accepted into U.S. Department of State-sponsored programs at Whatcom Community College in Washington. Wearing a black New York hoodie, her long black hair pulled back in a ponytail and peppering her sentences with "like," Rawat recalls the challenges she initially faced when arriving to the U.S.
Though she had traveled abroad once before — taking part in a weeklong drama workshop in the U.K. with Prerna — it was the first time she'd ever been to the U.S., and the first time she'd spent such an extended period of time away from everything she had known. Language was a big challenge, she said, but she would stay up at night studying and eventually became more comfortable with her English skills. She got to meet countless people and travel throughout the western United States — California, Arizona, and Hawaii.
"I never had an idea that Americans could be so cool. Hollywood paints stereotypes, but that was totally wrong. People were so good to me," she said, adding that she's still in touch with her host family.
Afterwards, she returned to India and completed her MBA and now works at DiDi's in human resources. The idea, she said, is to serve her community and give back to young girls who, like her, want better opportunities.
"All the learning I gained I gained from here," she said, while sitting at DiDi's. "I learned a lot from here, so I have to give back. It's my responsibility to come back and give back and tell what I have learned."
This story was reported as part of the International Reporting Project in India.
Follow NBC Asian America on Facebook, Twitter, Instagram and Tumblr.