An FBI special agent knowingly made false statements and kept evidence from federal prosecutors who brought — but later dropped — charges against a Chinese-American physics professor accused of spying, a recent lawsuit alleges.
Xiaoxing Xi, 59, argues in papers filed in federal court Wednesday that lead case agent Andrew Haugen told prosecutors Xi's dealings with colleagues in China were "for a sinister and illicit purpose," even though Haugen allegedly knew they were "legitimate normal academic collaborations."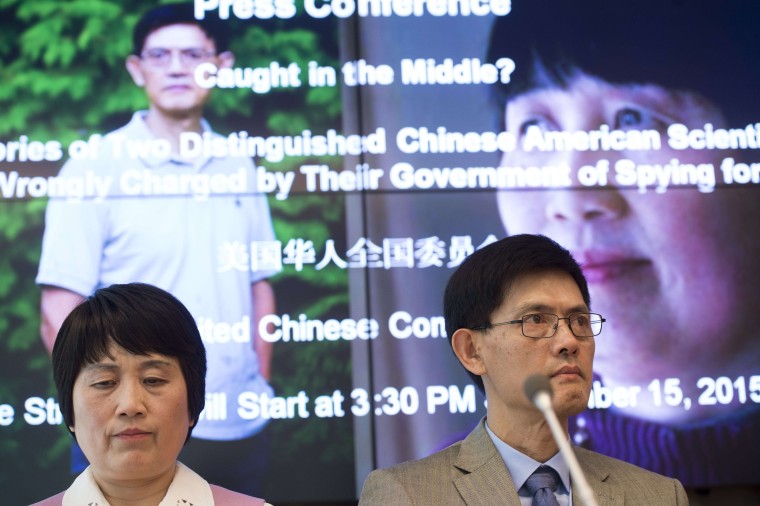 An indictment handed up in May 2015 by a federal grand jury in Pennsylvania accused Xi of sharing information with counterparts in China about a pocket heater, which Xi bought in 2004 for use in his superconductor research, court papers said.
He was charged with four counts of wire fraud in what prosecutors said was an effort to help the Chinese become "world leaders of the superconductivity field."
But the government dropped its case in September 2015 after Xi and his attorney gave a presentation to investigators a month earlier, according to court papers.
RELATED: Feds Will Not File New Espionage Charges Against Physics Professor
According to Xi's lawsuit, the only thing the physics department's interim chair at Temple University in Philadelphia discussed in emails with those colleagues was technology he himself had invented and published — not the pocket heater.
And that, the suit contends, was a fact Haugen knew before Xi was ever indicted.
"It was obvious to anyone who looked carefully that Professor Xi had not sent any information about the technology that he was charged with unlawfully sharing," one of his attorneys, Jonathan Feinberg, told NBC News.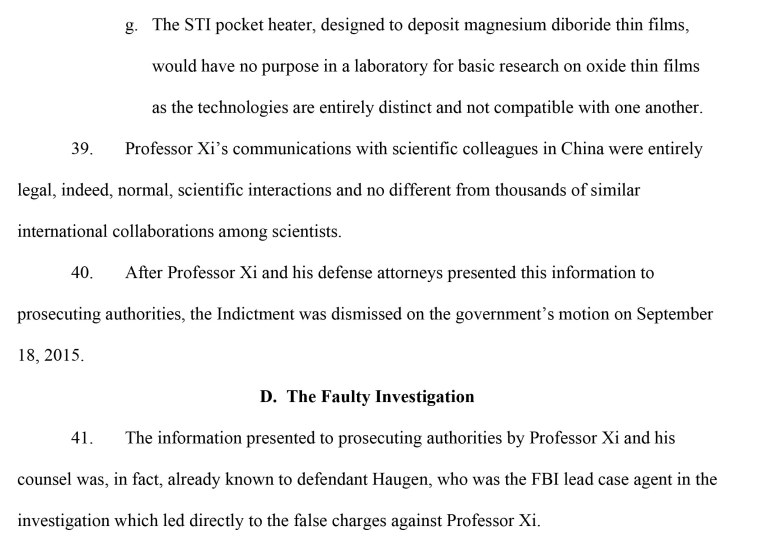 The FBI declined to comment on the lawsuit citing pending litigation. The Justice Department did not immediately respond to a request for comment.
A naturalized citizen born in China, Xi is among several Chinese-American scientists who in recent years have had federal criminal indictments dismissed before heading to trial.
Last May, the Congressional Asian Pacific American Caucus, among others, called on the Justice Department to investigate whether race, ethnicity, or national origin played a role in bringing espionage charges against Asian Americans, including Xi and hydrologist Xiafen (Sherry) Chen.
RELATED: Petition Demands Apology for Chinese-American Scientists Previously Accused of Spying
Asian Americans Advancing Justice Los Angeles said in a statement Wednesday that it supported Xi's lawsuit, calling his prosecution unjust.
"In reality, the federal government had sought to criminalize Professor Xi for routine academic research that was not secret or unlawful in any way," the statement reads.
Xi's arrest came in the early morning hours of May 21, 2015, while at home with his family, court papers said. Not fully dressed, Xi answered the door after hearing loud, urgent knocks. Awaiting him on the other side were armed federal agents, some with a battering ram, court documents said.
Xi's wife and two daughters, the youngest age 12 at the time, were held at gunpoint as a handcuffed Xi was led away, his lawsuit claims.
Agents at the FBI's Philadelphia field office fingerprinted Xi, took his mugshot, and made him give a DNA sample, court papers said. Xi was also interrogated for two hours, allegedly being told the reason for his arrest only after the questioning ended, his suit said.
The U.S. Marshals Service, which took custody of Xi, ordered him to strip naked and performed a visual body cavity search, according to court papers.
Xi was released after posting $100,000 in bond, though a judge required that he turn over his passport and restricted his travel to the Eastern District of Pennsylvania, his lawsuit said.
He was told he faced up to 80 years in prison and a $1 million fine if convicted, according to court papers.
The four-count indictment alleged that Xi violated an agreement he had signed in 2006 with a company claiming ownership of the pocket heater he had bought two years earlier. Xi promised in that document not to "reproduce, sell, transfer or otherwise distribute" the device "to any third party," his lawsuit said.
That was a condition for Xi to lease and use the pocket heater in his research for a 12-month period, according to court documents.
The physical components of that particular device were not trade secrets or protected by federal law from being disclosed, the court filing said.
The wire fraud charges were based on emails in 2010 between Xi and colleagues in China. But, as Xi maintains, details of the pocket heater were never brought up in those electronic communications.
"They addressed completely different devices — in fact, devices that professor Xi had himself invented, which had nothing to do with the STI pocket heater," Feinberg said.
That was among the evidence Xi and his attorney presented to prosecutors, who ultimately dismissed the charges on Sept. 18, 2015, court filings said.
Xi's lawsuit accuses Haugen of making a number of false statements that led to what Xi calls a malicious prosecution. Among them, that Xi sent diagrams and photographs of the pocket heater to colleagues at universities in China, and that Xi bought the device with the intent of violating the non-disclosure agreement he had signed.
The lawsuit claims Xi's equal protection and due process rights were violated, and that he was subjected to unlawful search and seizure. He is seeking unspecified compensatory and punitive damages as well as attorneys' fees.
Xi has since returned to work at Temple University, Feinberg said. He added that Xi was never told what caused the government to be suspicious of his conduct in the first place.
"There's no question that these charges left a very, very distressing impression upon him," Feinberg said. "He is constantly watching his back, concerned that someone may misinterpret his normal academic collaborations."
Additional defendants could be tacked on to the lawsuit if it's discovered that other agents were involved, Feinberg said.
The FBI itself was not named in the complaint since the agency can not be sued under federal law, he noted.
But Feinberg added, "At some point, it is likely that we will bring claims against the United States under the Federal Tort Claims Act. That's an issue that we'll be addressing in the weeks and months to come."
Follow NBC Asian America on Facebook, Twitter, Instagram and Tumblr.