Over 266,000 Asian-American and Pacific Islander women of childbearing age in Texas could have their access to abortion affected by a Supreme Court ruling expected in June.
Whole Woman's Health v. Hellerstedt — the first abortion case the Supreme Court is ruling on in more than two decades — challenges a Texas law that could ultimately shut down all but 10 abortion clinics in the state, which is home to the 5.4 million women of childbearing age. Texas contains the third largest Asian-American community in the United States, according to the U.S. Census.
"The impact for our community is huge," Miriam Yeung, executive director of the National Asian Pacific Women's Forum (NAPAWF), told NBC News. "One out of 20 women of reproductive age in Texas are AAPI."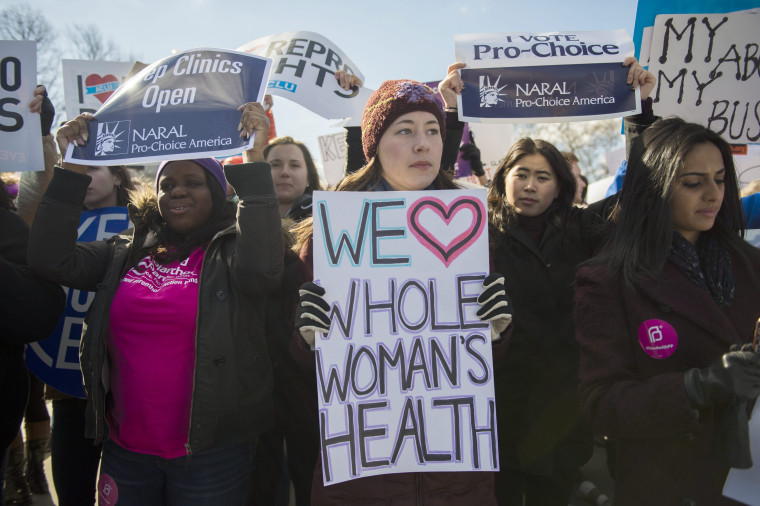 In 2013, Texas passed HB-2, a law which increases regulations on abortion providers, requiring them to have admitting privileges at nearby hospitals and render themselves as ambulatory outpatient surgical centers.
About half of Texas's abortion clinics closed when the first requirement went into effect. If the second requirement — meeting standards of outpatient surgical centers — goes into effect, only ten clinics would remain accessible, according to MSNBC.
The arguments presented to the Supreme Court centered around whether or not the law imposes an "undue burden" on a woman's right to terminate her pregnancy.
"The effect is physically making it more challenging to access abortion," Yeung said. "It is going to impact our community, which already has a hard enough time accessing healthcare that is linguistically and culturally competent."
"Take for instance the experience of an AAPI woman living in Brazos County, Texas. Under HB 2, this woman would have to travel over 100 miles one-way to get to an abortion clinic in Houston."
The amount of time women had to wait before receiving an appointment at an abortion clinic in Texas increased in most cities following the passage of the bill, pushing many abortions into the second trimester, according to research by the Texas Policy Evaluation Project (TxPEP) a project by the University of Texas, University of California San Francisco (UCSF), Ibis Reproductive Health, and the University of Alabama at Birmingham.
"The increase in second-trimester abortion is concerning from a public health perspective, since later abortions — although very safe — are associated with a higher risk of complications compared to early abortions," Dr. Daniel Grossman, a professor in the department of obstetrics, gynecology, and reproductive sciences at UCSF and a researcher on the project, said in a statement. "Later abortion procedures are also significantly more costly to women."
"The reality is that one in eight AAPI women in Texas lives in poverty," Yeung said. "Those are the folks that we really have to pay attention to and think about — giving them support and help."
RELATED: Margaret Cho, Asian-American Activists Voice Support for Planned Parenthood
"Take for instance the experience of an AAPI woman living in Brazos County, Texas," a statement from NAPAWF attributed to Nimra Chowdhry — a NAPAWF reproductive justice fellow — and Yeung, reads. "Under HB 2, this woman would have to travel over 100 miles one-way to get to an abortion clinic in Houston."
The statement adds that not only do the costs of the procedure and travel need to be taken into account, but the woman's immigration status, her level of English proficiency, child care costs, losses from taking time off from work or school, or her other familial and work obligations do as well.
"This case would be critical because it for once and for all would say, 'You just can't do that,'" Yeung said. "These types of regulations and this type of cutting-off-of-access-to-women is unconstitutional."
The Supreme Court is expected to reach a decision in late June.
Follow NBC Asian America on Facebook, Twitter, Instagram, and Tumblr.