The New York City Board of Elections suspended a second official without pay amid allegations that at least 120,000 names were purged from voter rolls in Brooklyn ahead of the presidential primaries last month.
At a meeting Thursday afternoon, the board announced the suspension of Brooklyn Deputy Clerk Betty Ann Canizio, a Democrat, pending an investigation, city Board of Elections spokeswoman Valerie Vazquez told NBC News. The news came on the same day that the board certified primary election results in Brooklyn, Queens, Staten Island, and the Bronx, Vazquez said, adding that the results in Manhattan were expected to be certified on Friday.
The board is being audited and investigated over its handling of both the primary and the state's special assembly elections, including complaints of poll workers misinforming voters, polling sites understaffed with interpreters, and names missing from voter rolls.
Vazquez said the board had no comment on those reported complaints.
Asian Americans, who account for roughly 8 percent of the city's registered voters, are among those who said they faced obstacles voting in the two New York elections, both held on April 19. The board, which consists of 10 commissioners that the City Council appoints based on political recommendations, still has a federal primary in June, a local and state primary in September, and the general election in November to oversee for the city's 4.5 million registered voters.
RELATED: Advocates Call for Voting Reform Following Reported New York Primary Irregularities
"We've personally observed numerous instances of Asian-American voters not being able to cast a vote in the race they wanted to vote in," Jerry Vattamala, director of the democracy program at the Asian American Legal Defense and Education Fund (AALDEF), told NBC News. "That cannot be remedied, and that's something the board really needs to work on."
Just days after the New York primary, which Democrat Hillary Clinton and Republican Donald Trump both won, the board suspended Brooklyn Chief Clerk Diane Haslett-Rudiano, a Republican, without pay following news that at least 120,000 people in that borough were purged from voter lists. That prompted the board's executive director, Michael Ryan, to issue an apology on April 26 at a commissioners' meeting.
"We run, again, despite what others may think, we run a clean shop here, and I can vouch not only for my own integrity but for the integrity of our staff and the board," he said.
While inactive voters are often removed from voter rolls, Vattamala said AALDEF is working with other groups to review the purge list for violations of law. He said they'll look not only at surnames to see if the purge created "a racially disparate impact," but also at assembly and election district breakdowns to see if a disproportionate number of people of color were affected.
RELATED: Clinton, Trump Win New York Chinatown Voters Amid Election Day Issues
This is not the first time the city Board of Elections has drawn criticism for its handling of elections. Vattamala said AALDEF has monitored every major election in the city since 1988 and has sued the board multiple times over the last 10 years.
"We are afraid we have only heard the tip of the iceberg when it comes to their ability to vote."
At a rally last week on the steps of City Hall, Vattamala said AALDEF sent monitors to 18 polling sites in the 65th Assembly District, where one of three special state elections were held the same day as the primary. Asian Americans make up roughly 43 percent of residents in that Lower Manhattan district, represented for nearly four decades by former Speaker Sheldon Silver. (The 72-year-old was convicted in November in a $5 million corruption case and was sentenced Tuesday to 12 years in prison.)
In one instance, a voter in Manhattan's Chinatown was erroneously told he had to vote in the primary to also participate in the special election, Vattamala said. In another, a Chinatown voter whose name could not be located on the voter register was instead given an affidavit ballot, he said. After poll workers found the name, the voter, who had already begun filling out the affidavit ballot, was told it was too late to vote using the regular scanned ballot, Vattamala said.
"Generally speaking, unfortunately, when you lose your right to vote on Election Day, it's lost forever," Vattamala said.
Yuh-Line Niou, the Working Families Party candidate, narrowly lost to Democrat Alice Cancel by 1,219 votes, according to election results the board certified on Wednesday.
Testifying before the board last week, Julia Chung of the MinKwon Center for Community Action said voter snafus also extended to Queens, where one in four residents is Asian. In one case, Chung said one of MinKwon's youth members helped her parents register to vote, but her father never received a confirmation letter from the board. When she checked the voter website, her father was erroneously registered as an Independent and was thus unable to participate in the primary, Chung told the board.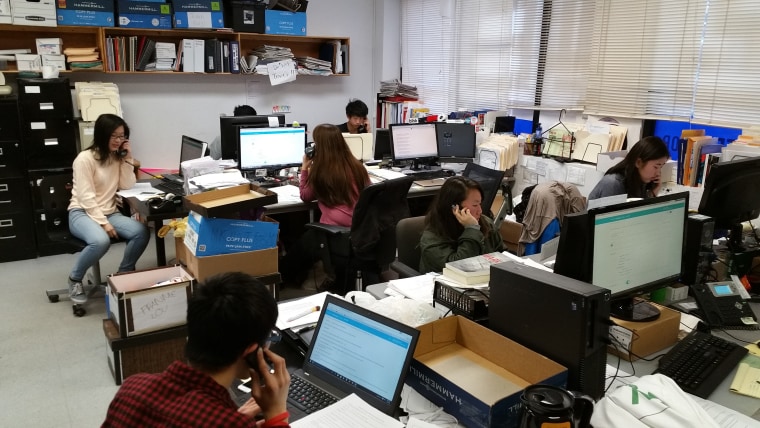 In another incident in Queens, a staff member of Adhikaar, a non-profit that serves the Nepali-speaking community, learned her mother had been turned away from a polling site after workers couldn't locate her name on the register, Chung said. So she went back with her mother, a newly naturalized citizen who like her daughter was voting for the first time, and requested she be allowed to vote by affidavit.
"Many first-time and young Asian-American voters that we had registered went to the polls on April 19, and we are afraid we have only heard the tip of the iceberg when it comes to their ability to vote," James Hong, the MinKwon Center's director of civic engagement, told NBC News in an email.
Like Asian Americans and Pacific Islanders across the country, many of New York's roughly one million Asian-American residents have been following this year's presidential election with keen interest. That, in turn, has translated into an increase in voter registration. Since September, APA VOICE, a coalition of 18 non-profits headed by the MinKwon Center, had signed up around 5,629 Asian-American New Yorkers to vote — more than double the number between August 2014 and August 2015.
"Generally speaking, unfortunately, when you lose your right to vote on Election Day, it's lost forever."
As of this year, at least 903,000 AAPI voters in New York state are eligible to vote, roughly 6.3 percent of the state's electorate, according to APIA Vote. From 2000 to 2010, the number of eligible AAPI voters grew in New York by 33 percent.
It remains to be seen what changes the city Board of Elections will make in the wake of April's primary and special elections. New York City Comptroller Scott M. Stringer, the city's chief fiscal officer, said his office will audit the board, and New York State Attorney General Eric T. Schneiderman has launched an investigation after receiving more than 1,000 complaints from voters on primary day.
New York City Mayor Bill de Blasio also pledged to fund the city Board of Elections with $20 million to retain an outside operations consultant, create a blue-ribbon commission to identify failures, and improve poll worker training.
For New York's remaining two primaries and general election, Vattamala said AALDEF will monitor polling sites to ensure interpreters are on hand where required and that affidavit ballots are provided when necessary.
"But the real shame here is that I don't think there's going to be a big turnout in the other two primaries," Vattamala added. "This past presidential primary — that was what really mattered."
Follow NBC Asian America on Facebook, Twitter, Instagram, and Tumblr.