Most Americans know about Dr. Martin Luther King, Jr.'s adoption of Gandhian non-violent principles. Not as well known is the shared solidarity between South Asians and African Americans that dates back over a hundred years.
For African American History Month, one of the curators of the famed Berkeley South Asian Radical History Walking Tour, Anirvan Chatterjee, has launched a new digital project to highlight that hidden past, called, "The Secret History of South Asian and African American Solidarity."
"Since the tragedy in Ferguson, I've been seeing a lot of Asian Americans working to engage anti-Black racism through conversations in their families and communities, protests, and direct action," said Chatterjee, "but they're not the first."
Pairing period photographs with quotes and adding short historical captions, Chatterjee shows how African Americans repeatedly advanced South Asian rights, such as the NAACP passing a resolution in favor of Indian independence, Langston Hughes' poems about the oppression of South Asian freedom fighters, and Bayard Rustin, lead organizer of the 1963 March on Washington, forming the Free India Committee while in jail.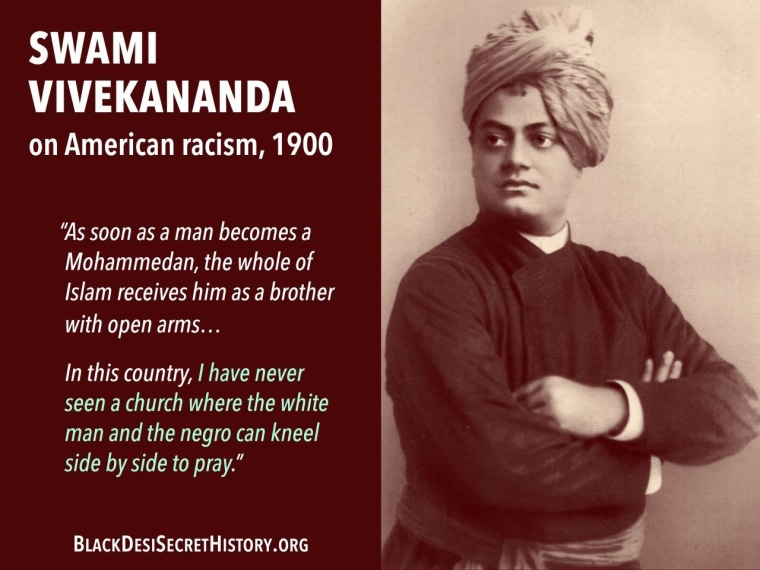 "Conversely," said Chatterjee, "We've repeatedly stood up for African-American communities — the Pakistani and Indian professors who helped desegregate Jackson, Mississippi; Indian Prime Minister Nehru defending Paul Robeson when he was under attack in his own country; and the Gandhians who trained civil rights movement activists."
This is not the first time Chatterjee has undertaken creative ways to share history. Together with Barnali Ghosh, their award-winning Berkeley South Asian Radical History Walking Tour takes audiences to original locations and uses storytelling, visuals, and street theater to bring Berkeley's South Asian American history to life.
Chatterjee says he hopes to inspire more Asian-American activists, "From freedom fighters to feminists, labor to LGBTQ, for over a century, organizing has been central to our community's tradition in the United States."