Authorities have charged a security guard in Virginia in connection with the fatal shooting of a 60-year-old man who his family attorney said was playing Pokemon Go in his minivan, the Commonwealth's Attorney Office for the City of Chesapeake announced Thursday.
Johnathan Cromwell was charged with second-degree murder and use of a firearm in the commission of murder in the Jan. 26 shooting of Jiansheng Chen, Commonwealth Attorney Nancy G. Parr said in a statement.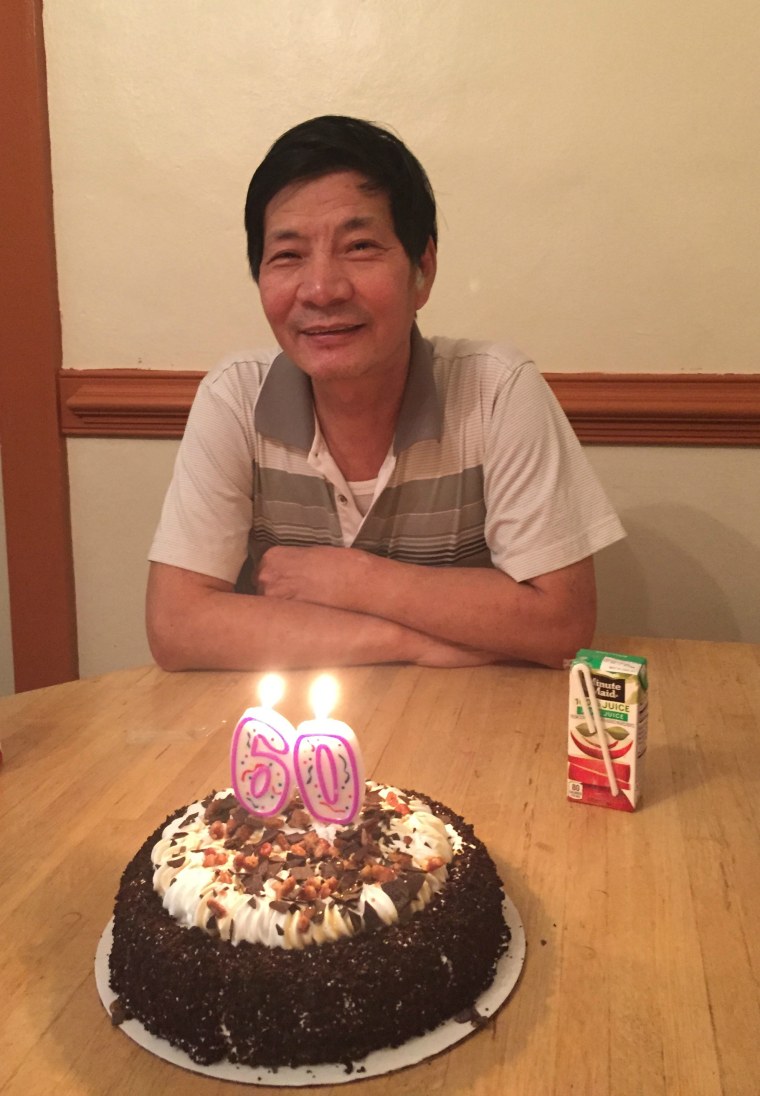 NBC affiliate WAVY reported that Cromwell turned himself in Thursday afternoon.
Cromwell's attorney did not immediately return a voicemail from NBC News requesting comment.
Cromwell allegedly confronted Chen, a retiree and immigrant from China, after Chen drove his blue van into the driveway of the River Walk clubhouse parking area, prosecutors said. Greg Sandler, a Chen family attorney, said Chen went to the clubhouse parking lot to play Pokemon Go, a GPS-based virtual reality game.
It was a way for him to bond with his nieces, nephews, and grandchildren, Sandler said.
Cromwell stopped his own vehicle in front of Chen's, according to the statement. Chen then backed up and turned his van around to the entrance of the driveway, which faces River Walk Parkway, prosecutors said.
That, according to the commonwealth's attorney statement, was when Chen was shot.
Cromwell, who worked for Citywide Protection Services, exited his car and said "stop" before allegedly firing his weapon, according to authorities.
Chen, who police have said was not armed, was shot four times in his upper left chest and once in his left upper arm, the statement reads.
Police have said that Chen and Cromwell had had a disagreement. Sandler said Chen's command of English was "very, very limited."
Andrew Sacks, an attorney for the security company, said last week that Chen drove his van toward the officer and that he fired as a last resort in self-defense. He added that he didn't "have any information to indicate that the events in this case occurred because of a language barrier."
Sacks has also said Chen had previously been served a notice barring him from a community area that he had visited after hours.
RELATED: 'Fear for His Life' Led Security Officer to Shoot 60-Year-Old Grandfather, Attorney Says
In a statement to NBC News Thursday, Sacks said Citywide Protection Services remains confident that Cromwell acted justifiably. "The Company continues to stand by its view, based on its investigation, that their employee's actions were lawful and in self-defense," Sacks said.
According to the Commonwealth's Attorney Office, the lead detective on Jan. 27 asked the River Walk Community manager whether the property had surveillance cameras and whether there were videos. The manager said there was one camera on the building, but said it was not working, according to prosecutors.
That camera was at the entrance to the building, but not at the two entrances to the parking lot, the statement reads.
James Broccoletti, an attorney representing the Chen family, told NBC-affiliate WAVY that "they are very gratified that they are now one step closer to justice for their family and the Chinese community."
Whether Cromwell should have been armed in the first place has also been a source of contention. River Walk Community Association spokesman Billy Rudolph confirmed to NBC News last week that it did have a contract with Citywide Protection Services for "unarmed roving patrol services."
But Sacks, the attorney for the security company, told NBC News last week that the contract was for both armed and unarmed services, and that it was up to the company to decide which to provide.
RELATED: Politicians, Advocates Call for Answers in Fatal Shooting of Grandfather
News of the charges comes as three federal lawmakers, including U.S. Rep. Grace Meng (D-NY), issued a joint statement Wednesday saying they were concerned over the circumstances surrounding Chen's death.
Chinese-American civil rights organizations had also been stepping up pressure before charges were filed. A change.org petition as of Thursday night had collected more than 7,000 signatures calling on authorities to prosecute Cromwell.
Harry Zhang, president of the Eastern Virginia chapter of the Organization of Chinese Americans, told NBC news Thursday evening that the charges brought some relief to the community.
"Finally we see the wheels of justice starting to turn, although slowly, but turn to the right direction," said Zhang, whose group has been helping the Chen family. "We expect full justice for Grandpa Chen."
Follow NBC Asian America on Facebook, Twitter, Instagram and Tumblr.