When the words ran out, 14-year-old Gokul Venkatachalam quickly spelled nunatak (a hill surrounded by glacial ice) to match 13-year-old Vanya Shivashankar's scherenschnitte (the decorative art of paper cutting).
And that was it.
For the second straight year, the 88th Scripps-Howard National Spelling Bee ended in a tie, with two students of South Asian descent crowned co-champions.
For Venkatacham from St. Louis, it was his first championship in four appearances.
For Shivashanker from Olathe, Kansas, it was her fifth appearance and first championship. "This is a dream come true; I can't believe I'm up here," she said on the national TV cablecast on ESPN. "I'm dedicating this to my grandma because she passed away October 2013, and all she wanted was her grandkids to do so well."
And now they have. Shivashanker's oldest sister, Kavya, won in 2009 with the word laodicean. They are now the first siblings ever to win the national competition.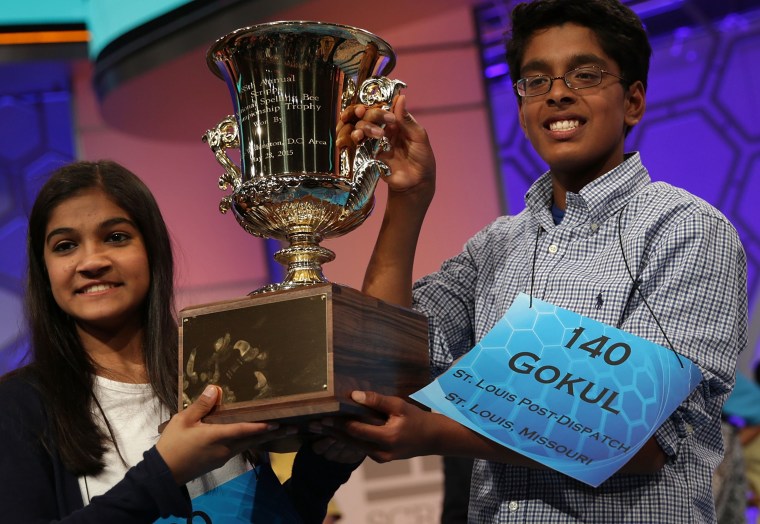 This year's co-championship was another first for back-to-back ties.
Last year, Sriram Hathwar of Corning New York and Ansun Sujoe of Fort Worth, Texas were the first ever to split the championship.
This year also continued the domination of the competition by South Asian spellers who have won or shared the championship for seven straight years since 2008.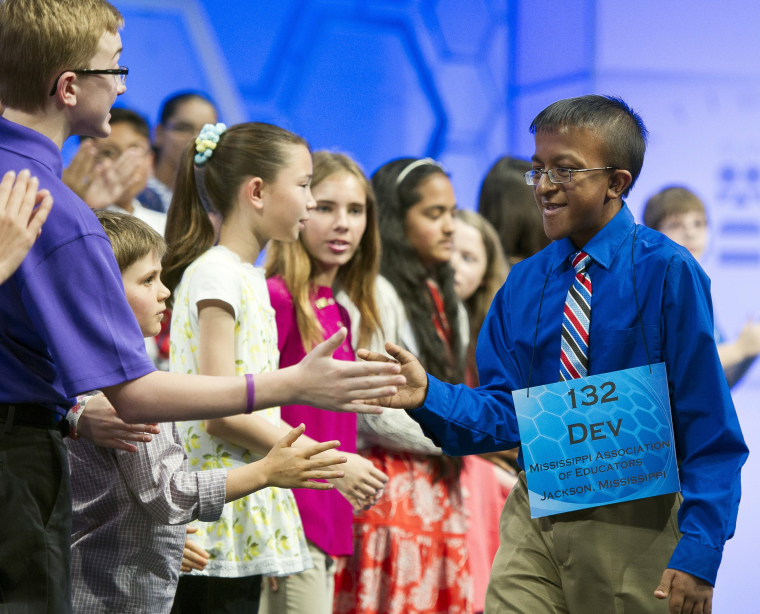 The veteran experience of both Venkatacham and Shivashankar clearly showed. They spelled their words correctly, and often quickly, as in the case of Venkatacham who whipped out words like pyrrhuloxia, pipsissewa, and paroemiology.
Shivashankar seemed slower and more deliberate, but never seemed to lack confidence on words like bruxellois and hippocrepiform. And while there was a hesitant moment with thamakau, a type of Fijian canoe, she navigated the spelling cleanly.
Head to head they both went, until the words ran out and a co-championship was declared.
Among the evening's top ten spellers, seven were of South Asian descent.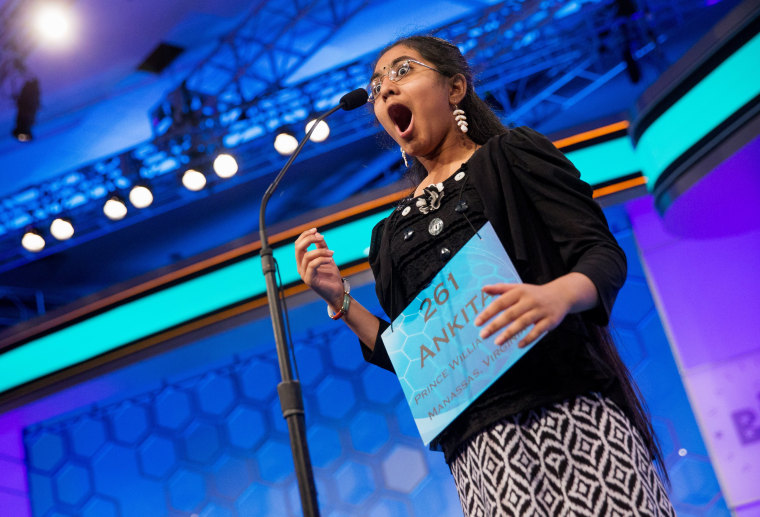 Siddharth Krishnakumar,13, a seventh-grader from Pearland, Texas made it to the final four before the word minhag ended his night.
Energetic Dev Jaiswal, 13, from Louisville, Mississippi, had the top score after the Thursday afternoon semifinals, and seemed to be a crowd favorite in the evening finals. But in round 9 he misspelled iridocyclitis and left to a standing ovation.
Nearly 300 contestants entered the national event competing for more than $37,000 in cash and prizes.