Throughout her career as an activist and advocate for child survivors of sexual assault, Amita Swadhin has told her story to countless audiences across the country. But preparing to testify before the Senate Judiciary Committee during confirmation hearings for Donald Trump Attorney General pick Sen. Jeff Sessions required a bit of special preparation.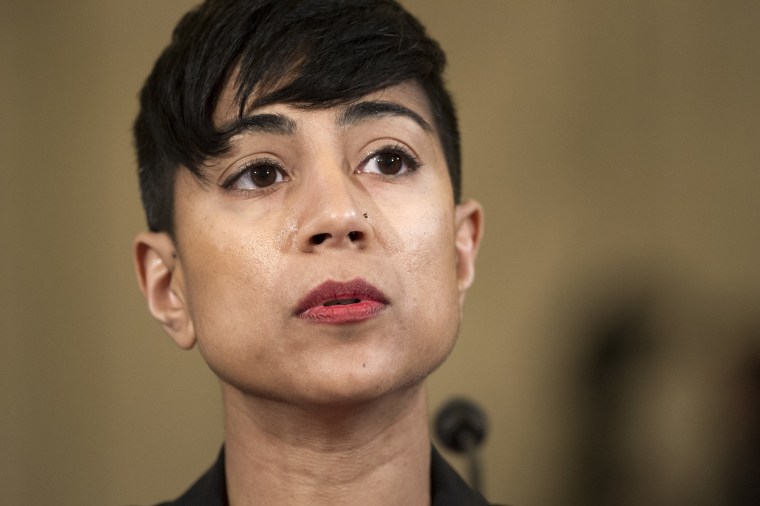 "I've done a lot of public speaking sharing my story over the past twenty years, but I've never testified before Congress until now," Swadhin told NBC News. "What makes testifying before the Judiciary Committee different of course is that there are opposition leaders there who had free reign to challenge me through their questions. So I had to prepare for that possibility."
RELATED: Jeff Sessions, Trump's Pick for Attorney General, Says He'll Recuse Himself from Clinton Investigations
During her testimony on Wednesday, Swadhin, who said she was regularly raped by her father between the ages of 4 and 12, detailed the toll the abuse had.
"I endured psychological, physical, and verbal abuse from him for years," she told the committee. "I also grew up watching my father abuse my mother in a textbook case of domestic violence and marital rape."
Vermont's Sen. Patrick Leahy and Hawaii's Sen. Mazie Hirono, both Democrats, were ultimately the only senators who asked Swadhin questions after her testimony. Both focused on the impact the attitudes public officials have about sexual assault have on survivors and their decision to go forward and get help.
Speaking to NBC News after her testimony, Swadhin said survivors had to know they would be believed and respected by law enforcement officials in order for them to feel comfortable enough to reach out for help. She urged senators not to confirm Sessions as attorney general in light of his record on sexual assault and LGBTQ issues.
Swadhin notes that 80 percent of adult survivors of sexual assault and 90 percent of child sexual abuse survivors are assaulted by someone that they know, according to the Department of Justice. In order for survivors to report their assault to authorities, "we have to trust the state — strangers in the form of police, social workers, judges and prosecutors — more than we fear our perpetrators, people who violated our trust. That's very difficult to achieve," she said.
As the founder and director of Mirror Memoirs, Swadhin collects the stories of LGBTQ people of color who have survived sexual assault. She stressed that law enforcement and government officials have to understand how LGBTQ people of color are uniquely vulnerable to sexual violence in order to make real progress when it comes to ending sexual assault.
"When issues of family violence come up in immigrant families, it can be difficult for victims to leave abusive situations because the community is so tight-knit," Swadhin said.
She recalled her own family's experience as Indian immigrants in New Jersey while discussing the cultural and social barriers many immigrants face when it comes to domestic violence and sexual abuse.
"The stigma in the Indian-American community against divorce was so high that at no point did my mother receive support or assistance from her family friends," Swadhin said."The nature of this violence is often intergenerational and violence is a learned behavior. There is no way we are going to be able to end sexual abuse if we treat it as a private matter and not a public health issue."
Follow NBC Asian America on Facebook, Twitter, Instagram and Tumblr