It's not uncommon on Christmas to see people gathered at Shalom Japan, watching Hayao Miyazaki films over hot pot.
The annual tradition at the Brooklyn restaurant, which opened in 2013, began at home for Shalom Japan's chefs and owners Aaron Israel and Sawako Okochi, who would often cook and watch Miyazaki films together while dating. The now-married couple have been offering a hot pot prix fixe for Christmas since opening Shalom Japan, which they describe as "authentically inauthentic" Japanese and Jewish food.
"We were already cooking and eating together all the time, and when we started coming up with dishes, one-by-one, it started to feel like… us," Okochi said. "Jewish-Japanese made sense for us and we just went for it."
On the menu at Shalom Japan: sake kasu challah, matzoh ball ramen, and — during the colder months and to celebrate Hanukkah — okonomi-latkes (a combination of the Japanese okonomiyaki, a savory pancake, and the traditional Jewish latkes, which are often cooked on Hanukkah).
He added that during other major Jewish holidays, they try to make specials that relate to the specific holiday. During Rosh Hashanah, Israel said one year, they served a poached bass cheek and matsutake soup in dashi broth. For Passover, he said they do their own version of the Gefilte Fish, which they call "Gefilte Takoyaki" where they fry a Gefilte fish and top it with kewpie mayo, okonomi sauce, bonito flakes and beet horseradish.
"It's a crowd pleaser and I think it changes the way people think about what Gefilte fish can be, and how it's generally served," he said.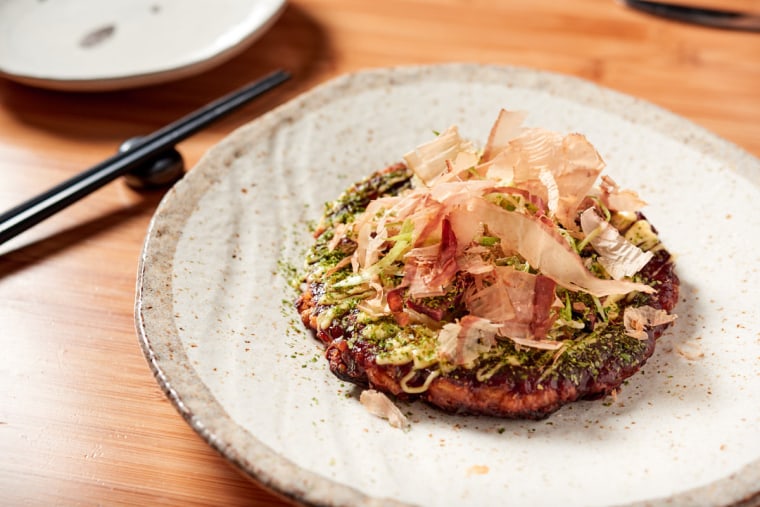 The name "Shalom Japan" came to the couple by accident, Israel explained, in 2011 when the two were doing research for various projects at the Brooklyn Public Library. Israel had come across a 1983 guidebook that featured a walking tour of Jewish neighborhoods in New York City, which included synagogues, bathhouses and various nightclubs and restaurants, when he spotted a recommendation for a place called "Shalom Japan," a kosher nightclub located in SoHo that was owned by a Japanese woman and had sushi and matzah ball soup.
"We laughed so hard and thought, 'If we ever open up a restaurant, we should call it 'Shalom Japan' and it stuck in the back of our heads," Israel said. "When we finally started working together to open up a restaurant a few years later, we kept going back to that name and decided to call it just that. It became more and more clear that it was a little bit kooky, but the best thing to define who we were."
Israel added that while the former '80s SoHo venue and their restaurant have the same name, that's as far as the comparison between the two go.
"I think it goes to show that in life, nothing is ever really totally new, but we're being inspired and drawing off others," he said. "I do believe that history repeats itself, or that one thing is always a continuation or revival of another."
For the holidays this year, Israel said Shalom Japan will continue its annual tradition of serving its signature okonomi-latkes during Hanukkah and making hot pot while watching Miyazaki films. One they always make sure to screen is "My Neighbor Totoro"– a personal favorite of theirs and their 3 and a half year old son.
Ultimately the most important thing for them was to share the love and appreciation created by their cultures with the community. "We didn't want it to just be any Jewish or Japanese restaurant or just the literal 'This is a Jewish and Japanese restaurant,'" Israel said. "It's a metaphor for us."
Follow NBC Asian America on Facebook, Twitter, Instagram and Tumblr.