Jeena Lee-Walker remembers the day she was led out of school by security. It was May 21, 2015, and the 37-year-old English teacher had been informed in writing nine days earlier that she would be fired, Lee-Walker told NBC News.
She gathered her things and at 2:55 p.m. was escorted from the building as her students and colleagues looked on, she said.
"Everyone was kind of just standing around and shocked," Lee-Walker recalled.
The six-year teaching veteran said she had received a series of bad performance reviews that led to her dismissal from the High School for Arts, Imagination and Inquiry, a public school in Manhattan. But Lee-Walker believed there was another reason behind her termination.
During her first year at the school, Lee-Walker said she began the fall 2013 semester with a six-week unit on the Central Park Five, a group of five black and Hispanic men wrongly convicted in 1990 of beating and raping a female jogger in Central Park. It was a ninth grade class, and the lessons got students talking not only about the case, but also among themselves, Lee-Walker said.
She added that many of her students connected with the lives of the Central Park Five, who were from some of the same Manhattan neighborhoods as they were. But after a classroom observation a few months into the school year, administrators allegedly voiced concerns about her social-justice unit, she said.
"It was veiled in language like, 'Well, we want to be sensitive and careful to presenting the case in a more balanced way, for it to be balanced, we wouldn't want students to get the wrong idea that it was just this one way versus seeing the whole picture,'" Lee-Walker said.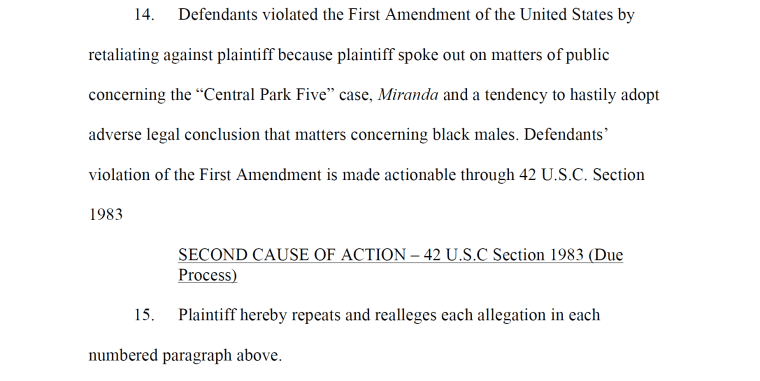 Details of what allegedly transpired between Lee-Walker and her administrators in the roughly 18-month period leading up to her dismissal are part of a lawsuit dated Jan. 6 that she filed in U.S. District Court, Southern District of New York. In it, Lee-Walker accuses the city Department of Education and school administrators of violating her civil rights.
The city Law Department, which handles lawsuits made against New York City, told NBC News last week that "we will review the claims" and provided no further comment.
RELATED: New York City Teacher Allegedly Fired After Teaching Lesson on Central Park Five
Lee-Walker said she designed the unit with her mentor in 2013 while still teaching English at the Murry Bergtraum High School for Business Careers in Manhattan. She became interested in the Central Park Five case, she said, after watching a 2012 documentary of the same name, directed by Ken Burns, daughter Sarah Burns, and her husband Daniel McMahon.
The goal of the unit, according to Lee-Walker's lawsuit, was to get students to "re-examine old assumptions and to challenge orthodoxy" while maintaining a "balanced view of the facts."
After leaving Murry Bergtraum because of staffing cuts, she said, Lee-Walker found a position at the High School for Arts, Imagination and Inquiry where she taught her unit. For her text, she used "The Central Park Five," written by Sarah Burns and published in 2012. The book explores the story behind the wrongful conviction of the five men accused of assaulting and raping then 28-year-old investment banker Trisha Meili in 1989 and the events — including the confession of an inmate whose DNA matched that taken from the crime scene — leading to their exoneration in 2002.
The city settled a federal lawsuit in 2014 with Raymond Santana, Antron McCray, Yusef Salaam, Kevin Richardson, and Korey Wise, paying out a total of $40 million.
The topic, she said, immediately resonated with students; 96 percent of the high school's population is black and Hispanic. But an assistant principal, who according to the lawsuit observed Lee-Walker's class in November 2013, allegedly told her to be "more balanced" in her discussion of the case because it might "rile up" black students.
"I think because [the students'] instinctual reaction was, like, 'Oh my God, this is such an injustice, cops are bad' — just very emotional responses— maybe that was part of what the administrators felt fearful about or unbalanced," she said. "I'm just speculating, but that could be part of it."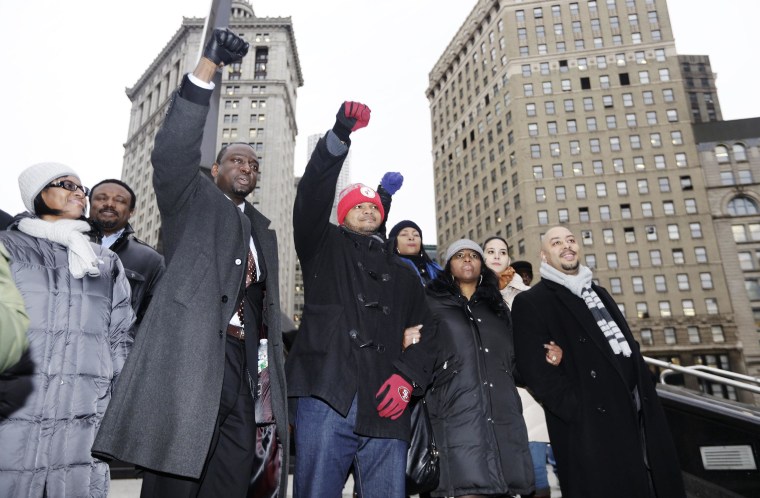 After that observation, Lee-Walker said she received increasingly negative performance reviews, and at the end of the 2013-2014 school year she was given a below-average rating of "developing," according to her lawsuit. Lee-Walker received a satisfactory rating from 2012 to 2013, the lawsuit said.
The following school year, Lee-Walker was assigned new classes and a new room, she said. She also wasn't teaching her Central Park Five unit. From 2014 to 2015, Lee-Walker alleges in her lawsuit that she received inconsistent evaluations and that the ratings "had been pretextual all along, in attempts to mask retaliatory animus" against her.
Her relationship with administrators, Lee-Walker added, became progressively worse.
RELATED: New York Reaches $40M Settlement in Central Park Jogger Case
On May 12, 2015, Lee-Walker was formally terminated and was told her last day would be in nine days, according to her lawsuit. She said the written notification came four days after school administrators first informed her verbally of the decision.
Lee-Walker's lawsuit, which seeks unspecified damages, alleges that her firing violated her union contract because she wasn't provided 60-days notice before her termination. Lee-Walker also said she was not tenured because her probationary period, according to the lawsuit, had been extended by one year in 2013 after she had taken maternity leave from 2011 to 2012.
For now, Lee-Walker, who holds degrees from Barnard College, Fordham University, and Harvard University, said she's been working as a private tutor, but she hopes to someday return to the classroom.
"To the teachers who are teaching in the classroom who want to make these types of curriculum choices, I would say do it," Lee-Walker said. "Keep doing it. It's important."