Sikh Americans are launching a million-dollar awareness campaign as a response to increasing hate violence and a lack of understanding about the religion in the United States.
The "We are Sikhs" campaign, which begins April 14 is timed with the Sikh New Year of Vaisakhi. It is being organized by the nonprofit National Sikh Campaign and is years in the making, funded by Sikh leaders and their families across a dozen cities, who have been swept up in anti-Muslim sentiment since the Sept. 11, 2001 attacks. Their beards and turbans — symbols of equality in a religion that opposes India's caste system — make Sikh Americans easy targets for the angry and uninformed.
"'We Are Sikhs' is an effort to raise the awareness of the Sikh religion, including explaining and demystifying the significance of the turban," Shawn Singh Ghuman, National Sikh Campaign communications director, told NBC News. "The initiative will utilize tested television advertisements, an innovative website, targeted digital and social outreach, and most importantly, local grassroots events to affect change."
The ads, which will air on CNN, Fox News, and on TV stations in Fresno, California, home to a large Sikh community, make no mention of the more than 300 hate crimes reported by Sikhs in the U.S. since the 2001 terrorist attacks. Rather, they feature Sikh families explaining how the world's fifth-largest religion, founded in India, aligns with American values.
"Whether it's our belief in equality between men and women across all races and faiths, to our deep belief in community service and the freedom to pursue one's own success through hard work, these values are fundamental to our identity as Sikh Americans," Ghuman said.
Internet advertising will begin immediately as well, and subsequent TV ads are planned for at least three more cities with large Sikh populations.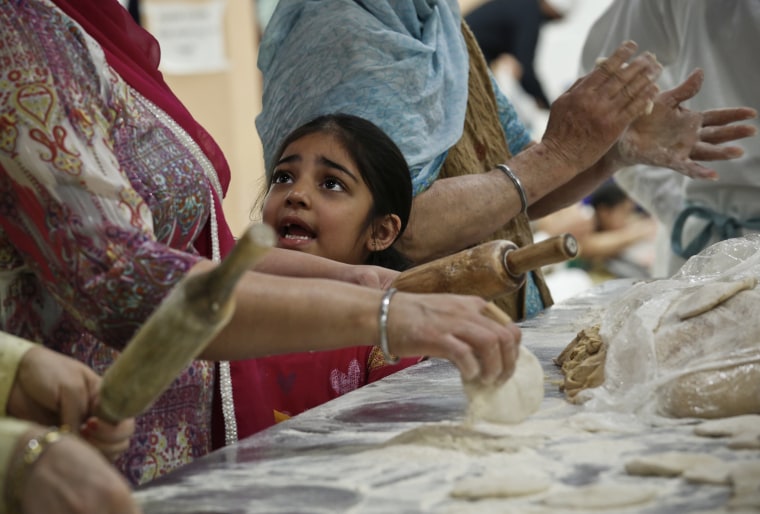 The ads, developed in consultation with Republican and Democratic consulting firms, do not mention Republican President Donald Trump, whose candidacy hammered on illegal immigration and Islamic extremism. While fundraising events in Sikh communities across the nation coincided with Trump's rise, organizers insist the $1.3 million effort has no connection to the tough-talking president.
"It's a coincidence," said Gurwin Ahuja, a 27-year-old political operative who also helped organize the new campaign. "Administrations have changed, and we still experience violence regardless of who's president."
This type of religious outreach has some precedent. Muslim advocacy groups launched a billboard campaign in recent years, while others developed public service announcements soon after Sept. 11.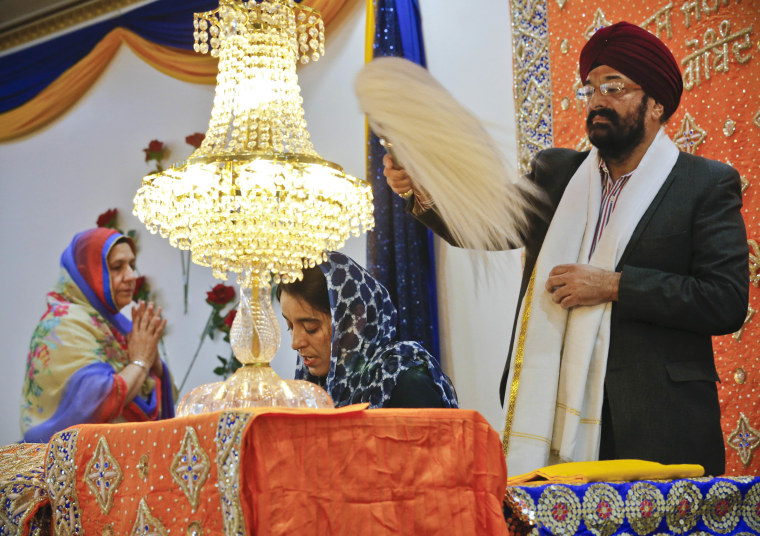 Corey Saylor, spokesman for the Council on American-Islamic Relations, praised the new effort, noting that Sikh leaders have "not allowed bias to divide religious minorities."
"Years ago, they could have said, 'Hey, we're not Muslims.' But they've always taken what to me was a very honorable stand that nobody should be targeted, period," he said.
Surveys commissioned by Sikh leaders found that nearly 9 in 10 American Sikhs have experienced negative reactions or hate language, Singh said. Subsequent polling by a Democratic firm revealed that 60 percent of Americans know nothing at all about Sikhs.
RELATED: Sikh Community Remembers Oak Creek By Running on 'Relentless Optimism'
"When people see us, they think we're either religious extremists or terrorists," said Ahuja, a Cleveland native who worked in the Obama White House. He recalled schoolchildren once asking during a White House tour if he was a member of the Taliban.
Many Sikhs are still haunted by the 2012 shooting inside a Wisconsin temple that left six dead. More recently, the FBI is investigating an early March shooting of a Seattle-area Sikh man as a hate crime. Three weeks later, a man was arrested after attacking a woman inside a Sikh temple in Oregon.
Hundreds of Sikhs gathered this past Sunday at a temple in Hicksville, on New York's Long Island, that makes meals for the homeless. A woman led prayers from the Sikh holy book for much of the morning.
The Long Island Sikh community has escaped much of the violence that has plagued Sikhs elsewhere. But just four months ago, temple leaders said, a group of young men shouted in the parking lot outside: "Get out of here, you Muslims!"
RELATED: Langar Tradition Expresses Key Sikh Principles
Rana Singh Sodhi's brother was shot to death outside a Phoenix-area gas station four days after 9/11 by a man who said he wanted to kill Muslims.
Sodhi says he recently spoke by phone with the killer, who is serving a life prison sentence. They agreed to work together to help educate the public about Sikhs if and when he gets out.
"It's a long process," Sodhi said. "We all are Americans."
Follow NBC Asian America on Facebook, Twitter, Instagram and Tumblr.