The community of Oak Creek, Wisconsin, is honoring the memory of six Sikh Americans killed by a gunman with reported ties to white supremacist organizations on Aug. 5, 2012, one kilometer at a time.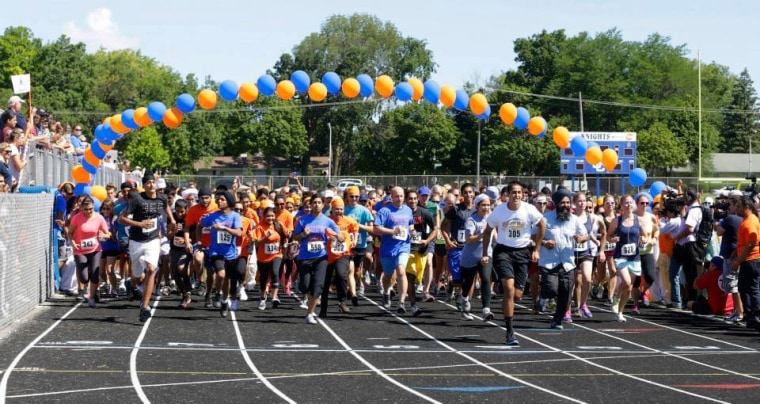 Inspired by the Sikh concept of chardhi kala, or relentless optimism in times of hardship, the fourth annual Chardhi Kala 6K Run/Walk, blood drive, and food drive is scheduled to take place tomorrow and seeks to both honor the six individuals who died in the 2012 Sikh Temple of Wisconsin mass shooting and to celebrate how the many diverse communities in Oak Creek have grown closer since then.
RELATED: Man Who Lost Loved One in Sikh Temple Shooting Seeks to Unite After Tragedy
"We hold this event to bring communities together, to bring people of various backgrounds together to show them who we are and to learn who they are in hopes of creating a stronger bond and preventing something like the Aug. 5, 2012 shooting to ever happen again," Navi Singh Gill, founder of the Chardhi Kala 6K event, co-founder of event sponsor Serve2Unite, and son of one of the founding members of the Sikh Temple of Wisconsin, told NBC News.
Emphasizing themes of unity, community service, and resilience, the event also features a blood drive, a food drive to benefit Veterans Outreach of Wisconsin, and a fundraising campaign to create a sustainable scholarship for students who are dedicated to seva or community service.
"Building safe and inclusive communities takes sacrifice, dedication, hard work, and deliberate practice," Pardeep Singh Kaleka, Serve2Unite coordinator and eldest son of the late Satwant Singh Kaleka, the president of the Sikh Temple of Wisconsin who was killed in the shooting, told NBC News. "If we don't bring people together because of fear, then we are cowards and have no business calling ourselves Sikhs. The run symbolizes this practice for bringing people together, the blood drive symbolizes the sacrifice and courage, and the food drive symbolizes the need to give to those who have less. Maya (illusion) separates us, we are simply removing these veils from community."
RELATED: To Mark Shooting Tragedy, Sikhs Organize Annual Day of Service
The Sikh Coalition is also coordinating a national day of service in memory of the shooting.The fourth annual National Day of Seva is scheduled to take place the weekend of Aug. 13 with events currently scheduled in nine cites in North America.
Follow NBC Asian America on Facebook, Twitter, Instagram, and Tumblr.
SOCIAL