After the Aug. 5, 2012, mass shooting at the Sikh Temple of Wisconsin in Oak Creek by a gunman with reported ties to white supremacist organizations, a group of Sikh-American friends wanted to do something to help educate others about Sikhs, Sikhism, and how Sikh Americans contribute to the community.
Because all five had motorcycles, they realized they could use them to reach out to the larger biker community. They created Sikh Riders of America.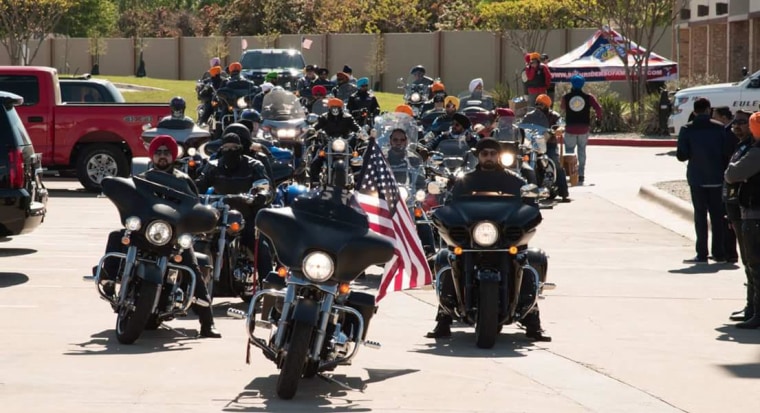 "We are doing this selfless service for couple years with a hope to bridge the gap between diverse communities and spreading lake of love with the very basic principle of Sikhism, which is sharing with everyone," Gurinder Singh Basra of Sikh Riders of America told NBC News. "We live in a diverse world, where we all need to learn about each other and start a positive dialogue about any misunderstandings. [Our] ultimate goal is to educate everyone that we are all brothers and sisters and there shall be no place for hate in our lives and hearts."
With active members in several states, Sikh Riders of America is a nonprofit organization dedicated to increasing awareness in the wider community about the Sikh religion and Sikh Americans. The organization has organized and participated in various fundraising and service events such as sponsored motorcycle rides, Fourth of July parades, toy drives, feeding the homeless, and cleaning highways.
RELATED: How Sikh-Canadian Bikers Are Riding for Religious Freedom and Cancer Awareness
According to the organization, it has donated $44,500 in two years, including to the Euless Police Department in Texas, Wounded Heroes Fund supporting returning U.S. veterans, and Khalsa Aid to help in Nepal after the earthquake.
For the upcoming fourth annual National Day of Seva, a day of service organized by The Sikh Coalition in memory of the shooting at Oak Creek scheduled for the weekend of Aug. 13, The Sikh Riders of America will be cooking and serving three meals, or langar, at the Bakersfield Homeless Center.
Follow NBC Asian America on Facebook, Twitter, Instagram, and Tumblr.