After years of lobbying, a coalition of Sikh Americans are hoping a float in the New Year's Rose Parade will lead to greater acceptance of Sikhs in in the U.S.
"For the first time in our Sikh American history, 125 years of Sikh American heritage will be on display at the Rose Parade," said Jasjit Singh, Executive Director, SALDEF (Sikh American Legal Defense and Education Fund).
Singh said there was never a reluctance on the part of officials organizing the parade -- officially known as the Tournament of Roses Parade -- but it did take an organized effort representing the estimated 700,000 Sikhs in the U.S. to push through the initiative.
Bicky Singh, the founder of the SikhLens film festival credited Rashpal Dhindsa, the founder of the United Sikh Mission, as the main visionary. Eight years ago, Dhindsa believed that participating in the legendary New Year's Day parade with its audience of 50 million people might bridge a gap between communities, and help the rest of America to better understand their Sikh neighbors.
Using American history to explain culture, the float's design is inspired by Stockton Gurdwara, a place of worship that has been in the California Central Valley for more than 100 years.
"Rose Parade viewers will see an image of the Stockton Gurdwara, built in America in 1912, as well as a variety of Sikh American men and women who have committed themselves to a life of service," Dhindsa said.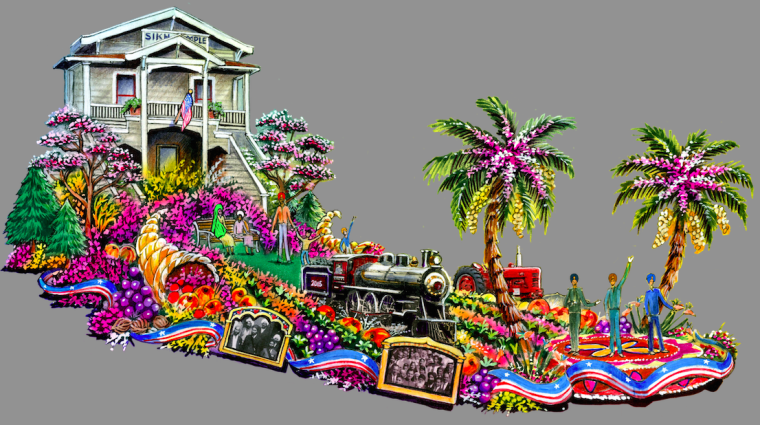 Ever since the 2001 attacks on September 11th, Sikhs have been among the most misunderstood religious minorities in this country. Because many adhere to tradition by keeping facial hair and wearing turbans, Sikhs are often misidentified as Muslims, or stereotyped and feared by others as terrorists.
In 2013, SALDEF, in conjunction with Stanford University, documented the xenophobia that exists toward Sikhs in America.
"We learned that while our community represents America's strongest values, including equality between the genders and all economic classes and a belief in freedom for all, our neighbors still may not know us," said Singh of SALDEF. "Seventy percent of respondents misidentified a Sikh in a dastar (turban) as Muslim, Hindu, Buddhist and Shinto instead of Sikh. Worse, 20 percent of respondents said that when they encounter a stranger wearing a turban and beard they are more likely to become angry or apprehensive."
So far, the coalition has produced a rare public service announcement, believed to be the first of its kind for the community.
And now comes the float, set to roll through Pasadena on January 1st, 2015. Bicky Singh believes the effort will have a lasting effect beyond the celebration of the day.
"This float," he said, "will be a dynamic way to demonstrate this American community's history in America."