Harris County Sherrif's Office (HCSO) in Texas became the country's largest Sheriff's office to allow an observant Sikh American to serve with his articles of faith, including turban and beard, as part of his uniform.
"I joined the Harris County's Sheriff Office in 2009, after Sheriff Garcia visited my Sikh gurdwara," said Deputy Sandeep Singh Dhaliwal, "As a Sikh American, I felt the need to represent the Sikh community in law enforcement. Serving in the police force is natural to us, as Sikhs value service."
Sheriff Adrian Garcia has been active in meeting regularly with religious and ethnic groups, expanding diversity training, and creating a Citizen Advisory Council.
"We believe that cross-cultural inclusion and understanding is imperative for law enforcement agencies in any community," said Garcia in a statement, "HCSO deputies need to not only understand, respect, and communicate with all segments of the population, but represent it as well."
"HCSO has inspired a new generation to serve their communities," said Jasjit Singh, Executive Director of Sikh American Legal Defense and Education Fund (SALDEF), which helped with HCSO's cultural awareness training, "Because of this sheriff's office, and people like Deputy Sandeep Singh Dhaliwal, we have seen Sikhs across the country proud to show their children that here in America, a Sikh can serve as an officer of the law without compromising his or her faith."
Sikh turbans and beards represent belief in equality and a commitment to service, but are often outside of uniform regulations. Washington Metropolitan Police Department was the first police department to explicitly allow Sikhs to serve with their articles of faith, followed by Riverside Police Department.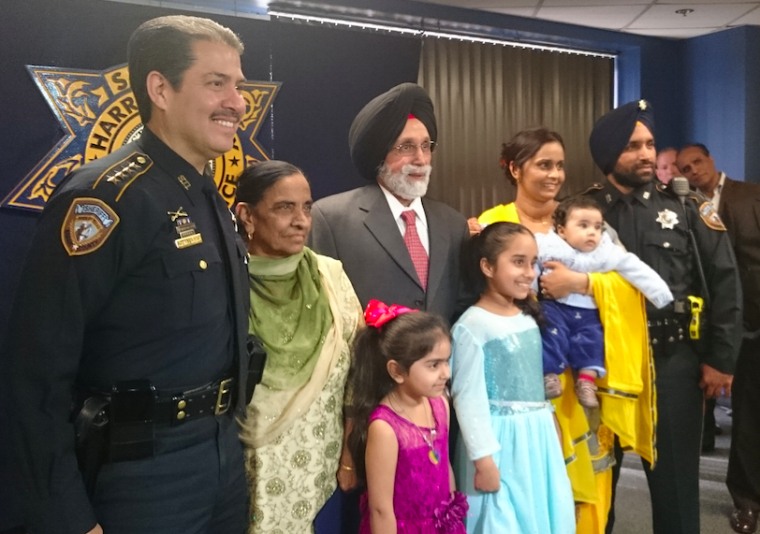 IN-DEPTH
SOCIAL