After a year of controversy surrounding the character of Apu, the hit animated show 'The Simpsons' may soon be dropping the character from the show.
The impact and lasting legacy of the fictional Apu Nahasapeemapetilon (voiced by Hank Azaria), has been sharply debated since the debut of comedian Hari Kondabolu's documentary "The Problem With Apu" in November 2017, which examined the stereotypes about Indian Americans that Apu embodied. The documentary featured several South Asian celebrities and newsmakers, including comedian Aparna Nancherla and actor Kal Penn, as they recalled the way Apu made them reflect on their own identities.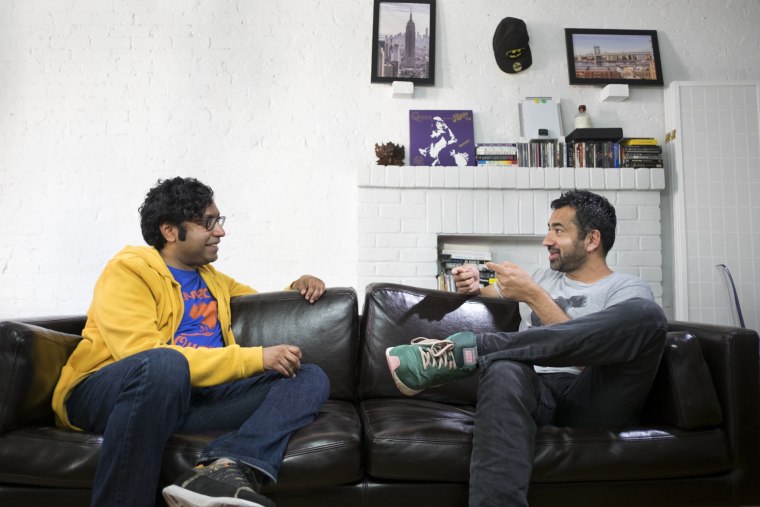 Social media began buzzing on Friday when IndieWire published an interview with film producer Adi Shankar, who told the site that he had heard from several people close to "The Simpsons" that Apu would soon be dropped from the animated show. While Shankar is not affiliated with "The Simpsons" or its network Fox, he began a contest in April inviting creators to write scripts in which the character of Apu is reimagined beyond his current portrayal of a stereotypical Indian immigrant.
"I've verified from multiple sources now: They're going to drop the Apu character altogether," Shankar told IndieWire. "They aren't going to make a big deal out of it, or anything like that, but they'll drop him altogether just to avoid the controversy."
Shankar would not elaborate on his IndieWire interview when reached by phone by NBC News, stating that he didn't want to give away his source. A spokesperson for Fox released a statement from "Simpsons" executive producer Al Jean to NBC News stating, "Apu appeared in the 10/14/18 episode 'My Way or the Highway to Heaven.'"
In response to the rumors that Apu might be written out of "The Simpsons," Kondabolu said he wasn't necessarily thrilled. "There are so many ways to make Apu work without getting rid of him. If true, this sucks," he tweeted.
Since its premiere last year, Kondabolu's "The Problem With Apu" has opened up a wide-ranging conversation about stereotyping, typecasting, and the lack of diversity in comedy. Azaria, who has voiced the character since "The Simpsons" debuted in 1989, told late night host Stephen Colbert in April that he was willing to "step aside" from the character.
In April, "The Simpsons" attempted to slyly address the controversy through a storyline that saw Simpsons matriarch Marge trying to share her favorite childhood book with her daughter Lisa, only to realize it was more offensive than she remembered.
"Something that started decades ago and was applauded and inoffensive is now politically incorrect. What can you do?" Lisa asks before a photo of Apu appears on screen.
"Some things will be dealt with at a later date," Marge says.
"If at all," Lisa adds.
That episode was criticized for missing the point of the conversation started by "The Problem With Apu."
As for Kondabolu himself, he has consistently said that he does not find the character hurtful, but rather that he viewed Apu as a lazy depiction of an entire culture.
"I don't find Apu offensive, I find him annoying and insulting," he said. "But for me, one: It's inaccurate. Two: It's insulting to my parents. And three: When that's the only depiction you have, that's how the world sees you."
Follow NBC Asian America on Facebook, Twitter, Instagram and Tumblr.