/ Source: Associated Press
Something was lost in translation.
On Sunday, "The Simpsons" addressed criticism surrounding the character of Apu Nahasapeemapetilon, the Indian proprietor of the Kwik-E-Mart convenience store — whose accent is as thick as a Squishee and comes courtesy of a white actor, Hank Azaria.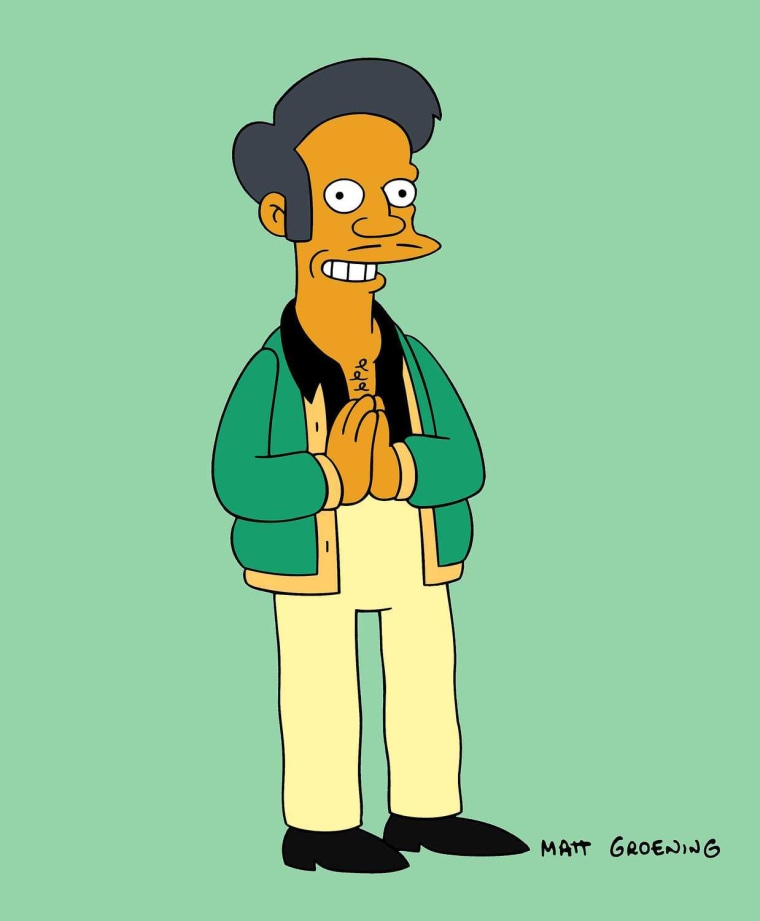 Complaints of stereotyping found traction in a documentary, "The Problem With Apu," from comedian Hari Kondabolu, which debuted last fall.
The Queens-born comic, 35, started watching "The Simpsons" as a 9-year-old and previously told NBC News that he was uncomfortable even then with the most prominent depiction of a South Asian in American pop culture.
"I don't find Apu offensive, I find him annoying and insulting," Kondabolu said at the time of the documentary's release on TruTv in November. "But for me, one: It's inaccurate. Two: It's insulting to my parents. And three: When that's the only depiction you have, that's how the world sees you."
He would not be any less insulted by the show's response five months later. Sunday's episode featured Marge, the matriarch of the Simpsons clan, sharing her favorite childhood book with her daughter Lisa before realizing that it's more racist and offensive than she remembered.
That leads to an attempted edit that causes Lisa to observe: "Something that started decades ago and was applauded and inoffensive is now politically incorrect. What can you do?"
Cue a photo of Apu appearing on screen.
"Some things will be dealt with at a later date," says Marge.
"If at all," adds Lisa.
That wasn't very funny to Kondabolu. "In 'The Problem with Apu,' I used Apu & The Simpsons as an entry point into a larger conversation about the representation of marginalized groups & why this is important," he tweeted.
"The Simpsons response tonight is not a jab at me, but at what many of us consider progress."
Michael Roach, a spokesman for 20th Century Fox Television, the network that airs "The Simpsons," said in an email that the show's producers are declining comment and prefer to let the episode speak for itself.