A glamorous Hollywood film with a nearly all-Asian cast makes a splashy debut, telling the story of young Asians living in America who must overcome the meddling of family to be with their true loves. That describes the new Hollywood blockbuster "Crazy Rich Asians," scheduled for release on Aug. 15, but nearly six decades ago it was also "Flower Drum Song."
Based on the 1957 novel "The Flower Drum Song" by Chinese-American author C. Y. Lee, "Flower Drum Song," the Broadway musical by Richard Rodgers and Oscar Hammerstein, premiered in 1958. The story was adapted into a film in 1961, becoming the apparent first major Hollywood studio film about — and starring — Asian Americans.
Set in San Francisco's Chinatown, the romantic comedy follows a Chinese woman who immigrates to the U.S. for an arranged marriage. But the man she's supposed to marry, a nightclub owner, is in a relationship with a showgirl. Clashes with parents, love triangles, and misunderstandings play out through musical numbers to a happy ending. A trailer at the time advertised the film as "ancient traditions clashes head on with modern romance."
While critics did not consider it the best work of Rodgers and Hammerstein, it was "still unbelievably popular and powerful," said Heidi Kim, associate professor of English and comparative literature at the University of North Carolina at Chapel Hill. The film was a pop culture phenomenon, reviewed in major papers, and its stars — Miyoshi Umeki, Nancy Kwan, Jack Soo, and James Shigeta — went on to successful careers in entertainment.
"It was probably the portrayal of Chinese Americans that more Americans saw than anything else," Kim said.
The playwright David Henry Hwang, who adapted the musical for a Broadway revival in 2002, recalls the film with affection.
When he was a kid, he avoided any movies or TV shows with Asian characters. "I developed this instinct for knowing that what I saw would probably make me feel bad and I wouldn't know how to analyze it any further than that as a kid," he said.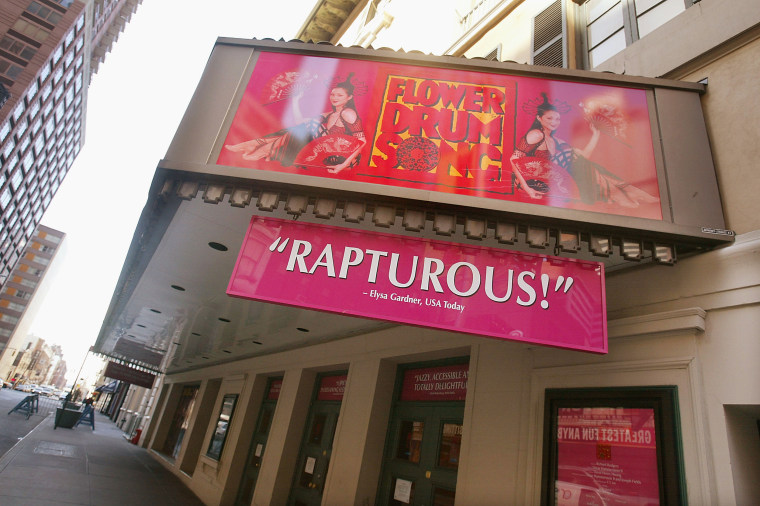 But "Flower Drum Song," with its dazzling musical numbers, was an exception. "It was a virtually all-Asian cast and it had an actual romance between an Asian man and an Asian woman, which we still don't see much of today," Hwang said. "And it had an Asian male romantic lead, which we still don't see much of today."
Over time, though, the portrayals of Chinese Americans in "Flower Drum Song" troubled some Asian Americans, said Peter X Feng, associate professor of English and women & gender studies at the University of Delaware.
"The musical has a very simplistic version of assimilation, namely that the immigrant generation is 100 percent Chinese and doesn't understand the American-born generation and that the American-born generation is completely uninterested in Chinese culture and completely wants to assimilate," he said, noting that the novel is more nuanced.
"Flower Drum Song" was not unique in this way, though. It fit into the mainstream narrative at the time of immigrants as resistant to assimilation, which was judged negatively, Feng said. "And the younger generation is trying too hard to assimilate and has lost their Chinese culture — and that makes them pathetic," he explained.
Nancy Wang Yuen, author of "Reel Inequality: Hollywood Actors and Racism" says that the themes in "Flower Drum Song" remind her of the 1927 musical film "The Jazz Singer" in which a young man defies the traditions of his Jewish family. It's a typical American story of old world versus new.
"White ethnics once upon a time were new Americans coming to the country and exploring identities and trying to find out what it means to be American," she said. "And the movie 'Flower Drum Song' was an exploration of what it means to be American again."
When Hwang went to college in the '70s and began to analyze the musical more deeply, he realized that some of its depictions of Chinese Americans were stereotypical.
"It's basically an outsider's view of Chinatown," he said. "If you take 'Grant Avenue,' the song, and you look at that lyric, 'You travel there in a trolley / In a trolley up you climb, / Dong! Dong! You're in Hong Kong,' who is coming up the trolley? It's someone who is not from Chinatown. It's a tourist point of view of Chinatown."
For a long time I think people would think about it as a guilty pleasure for Asian Americans, that even though it had a lot of stereotypes, there was just this joy to seeing a film with a nearly all Asian-American cast.
For the revival, Hwang kept the songs, but rewrote the script radically into an Asian-American critique of race relations. In his version, the young immigrant woman, Mei Li, is fleeing the Cultural Revolution and the song "Chop Suey" is not a happy musical number about the virtues of assimilation, but a kitschy send-up of what white tourists want to see of Chinatown.
For all its frivolity and its simplistic take on an immigrant community, though, the original film touched upon serious issues. The immigrant Mei Lei is undocumented, a departure from the novel that must have been introduced by Rodgers, Hammerstein, and their collaborators, Kim said.
"It's really fascinating just to think that when they were creating what they had to know, given their reputation, would be this blockbuster musical and then film about Asian Americans, starring Asian Americans, that they felt it was necessary to include the plot thread about illegal immigration in order to portray the community," said Kim, who wrote an article about the topic.
And the fact that it was a nearly all-Asian American cast endeared it to many in the community.
"For a long time I think people would think about it as a guilty pleasure for Asian Americans, that even though it had a lot of stereotypes, there was just this joy to seeing a film with a nearly all Asian-American cast," Kim said. "And not only that they're Asian Americans, but they're having a good time singing, dancing, speaking fluent English."
"I think Rodgers and Hammerstein — despite the faults of the musical — were very daring and progressive and bold to write a show which essentially, and perhaps simplistically, but nonetheless depicts Asians, Chinese Americans, as fully American and to look for all Asian cast as much as they could find," Hwang said.
It was the only Broadway musical written about Asian Americans, he noted, until "Allegiance," in 2015.
Nancy Kwan, who played the Americanized showgirl Linda Low in what she calls "a light, fluffy film," recalls it fondly. Just the other day, she caught a glimpse of it on someone's TV and felt that it held up well. "I've always loved the film because I think it was very groundbreaking, looking back, for Asian Americans," she said. "It opened a lot of doors for the actors, people in the business."
At the time, though, she didn't realize what a legacy it would leave. "I took it in stride. I said, 'All Asians? Great! Great!'" Kwan said. "I think it's still unusual today to see all Asians singing and dancing. And you can't go wrong with Rodgers and Hammerstein!"
She plans on seeing "Crazy Rich Asians," which is based on the best-selling novel by Kevin Kwan, a distant relative. "I hope the film does well financially because, as you know, Hollywood is all about the bottom line," she said. "And then it would help a lot to get more films also made with Asians.
Follow NBC Asian America on Facebook, Twitter, Instagram and Tumblr.