Six new counties were added to a list of places required by federal law to provide voters with language assistance in Asian languages, the Asian American Legal Defense and Education Fund (AALDEF) announced last week.
The addition and removal of languages in certain counties brings the net number of jurisdictions covered by the federal Voting Rights Act to 27 in 12 states, up five counties from the Census Bureau's last adjustment in 2011, AALDEF said.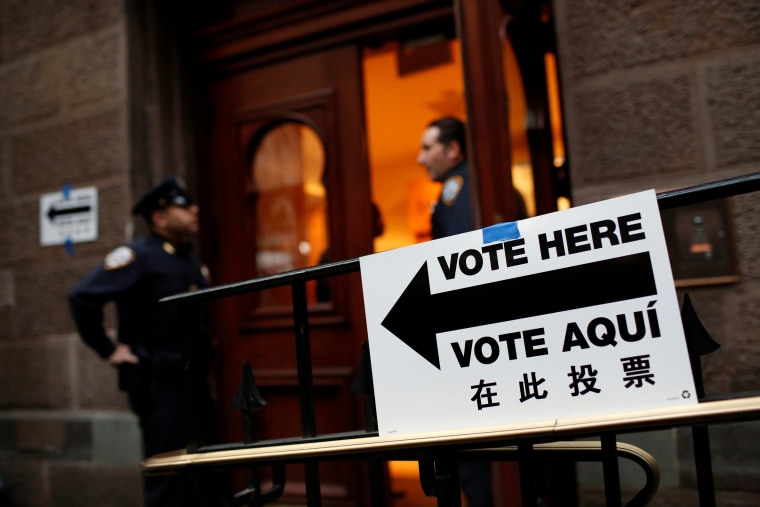 Jerry Vattamala, director of AALDEF's democracy program, called the additions great news.
"It's the result of a lot of work of community-based organizations, and the work that AALDEF does as well, to make sure people fill out the Census forms and people fill out the American Community Survey," Vattamala told NBC News.
RELATED: Opinion: Democracy Must Be Accessible In Every Language
The new additions to the list include the counties of Contra Costa in California and Malden in Massachusetts for Chinese; Fairfax in Virginia and Tarrant in Texas for Vietnamese; Middlesex in New Jersey for languages spoken by Indian-American voters; and Lowell in Massachusetts for Cambodian.
Cambodian was also added to a seventh county, Los Angeles, which is already on the Census Bureau list for other Asian languages.
Some languages in certain counties were also removed. Japanese language assistance is no longer covered for Los Angeles and Honolulu; Filipino for Maui; and Indian languages for Los Angeles, according to AALDEF.
The Census Bureau recalibrates its list once every five years, Vattamala said, using data taken from both the Census and the American Community Survey, known as the ACS. Unlike the Census, which is conducted every 10 years, the ACS is a survey that provides information yearly about the United States and its people.
"As jurisdictions know in the past, if they don't fully comply, we'll review all legal actions, all legal remedies, if necessary."
Counties covered for language assistance by the Voting Rights Act are required to provide translated ballots and voting materials for those language-minority groups, AALDEF said.
Vattamala said this is particularly important for limited English proficient Asian-American and Pacific Islander (AAPI) voters. In the 2016 presidential election, around 32 percent of AAPIs fell into this category, Vattamala said.
For future elections, Vattamala said AALDEF will monitor every county now covered to ensure they comply with providing language assistance.
"As jurisdictions know in the past, if they don't fully comply, we'll review all legal actions, all legal remedies, if necessary," he said.
Follow NBC Asian America on Facebook, Twitter, Instagram, and Tumblr.