Eric Chan and his sister, Ivy, showed up at their family's restaurant Jade Garden in Seattle's Chinatown-International District on the morning of March 26 to discover the windows had been shattered.
It's one of many examples of vandalism across the country directed at Asian Americans amid the coronavirus pandemic, reports say.
Chan estimated that the damage to Jade Garden was around $1,500. Business was already down 80 percent at the beginning of March, forcing Chan to temporarily lay off 33 employees. Now, the restaurant doesn't have the money to make the necessary repairs, he said.
"This wasn't just a simple rock being thrown," Chan told NBC Asian America. "Someone took the time in the middle of the night to smash the windows in hard, very forcefully, five times."
The nonprofit group Stop AAPI Hate has logged more than 1,100 reports of coronavirus discrimination against Asian Americans since it established a reporting center was established on March 19. In its initial March 25 report, 7 percent of discrimination was categorized as "other," which includes vandalisms. In the following week's report, that figure rose to almost 14 percent.
In New York City, the police department's Hate Crime Task Force has investigated 11 cases in which Asian Americans were targeted because of the coronavirus pandemic, a spokesperson said. If an act of vandalism is motivated by the victim's identity, it is categorized as a hate crime.
In another instance in Yakima, Washington, in late March, Tony Yan was checking up on his restaurant, Minado Buffet, which he had closed in concordance with the state's shelter-in-place directive.
Lisa Li, his wife and co-owner, said the windows were broken and a message was spray-painted in black on the restaurant's exterior: "Take the corona back you chink."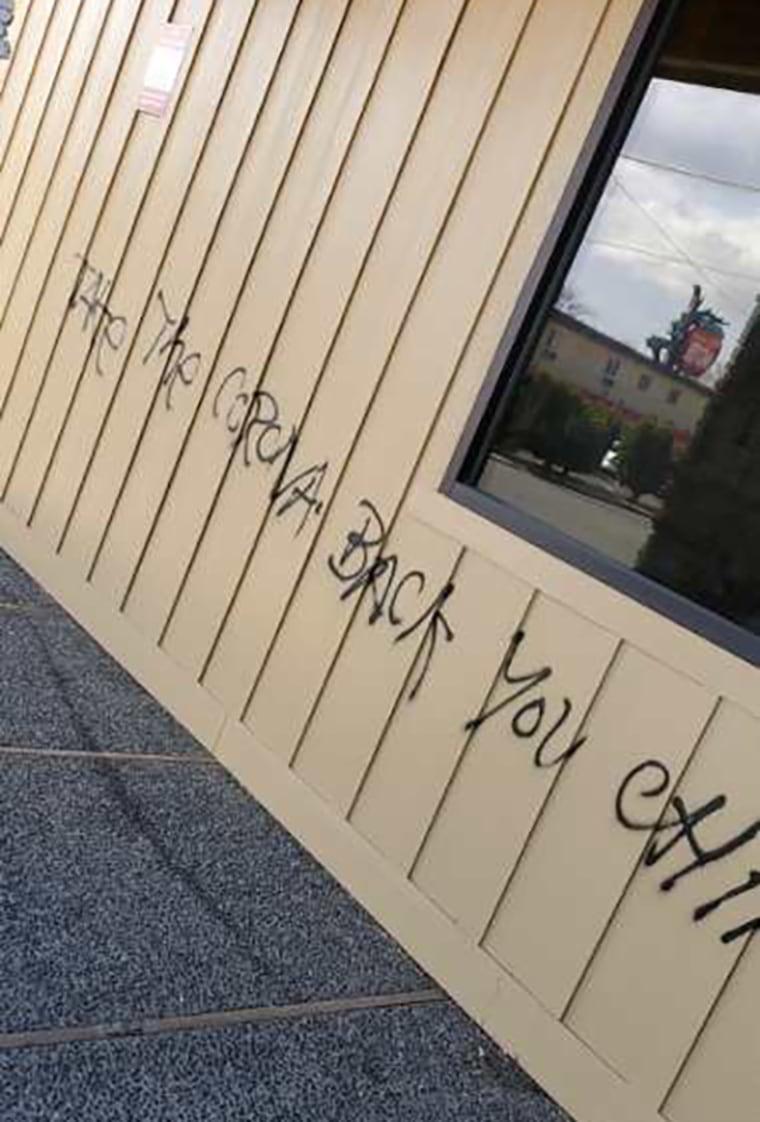 Li said they called the police but no arrests have been made.
"He's very angry and upset," their son Nianzu Yan, a Seattle University student, said. "When I heard about it, it was sad and disappointing, but I didn't feel all that surprised. I had never experienced racism like that."
With insurance, Yan said it will cost $1,000 to fix the damage to the restaurant.
In addition to Minado Buffet, Tony Yan and Lisa Li own Yan's Chinese Buffet in Walla Walla, Washington, which Nianzu Yan said has also been significantly affected by the virus. In the first two months of the year, he said, revenues decreased by more than 50 percent.
"This situation has been very hard on our family, and at times, there was definitely a lot of uncertainty," Yan said. "But we expect to reopen once the quarantine ends."
In the Midwest, Muyang Deng, a University of Wisconsin sophomore, left her residence on March 24 and saw a message scrawled in chalk across the street from the campus: "It's from China #chinesevirus."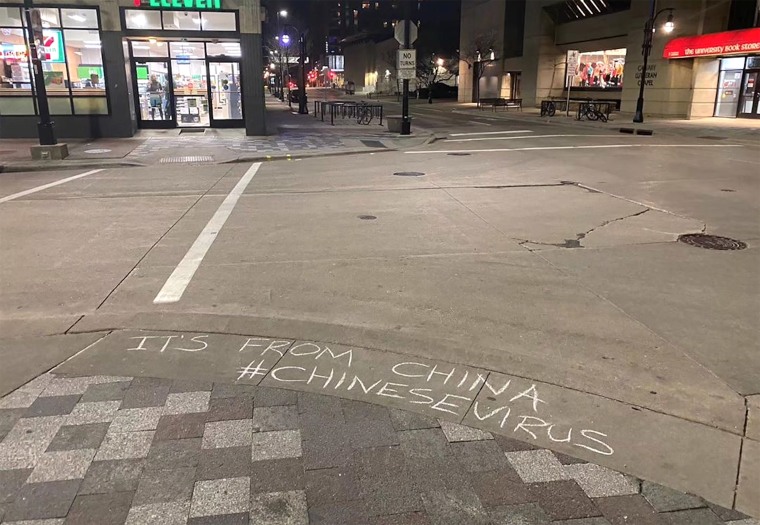 "I didn't know what to say. I was really speechless," Deng, who is originally from Zhenjiang, China, said through a translator. "At the time, there was already the term 'Chinese virus,' but I didn't think this would happen this close to school."
In the San Gabriel Valley in Southern California, home to one of the largest Asian American populations in the country, Josh Fleagane and Madeline Yang said they were driving in Pasadena on March 13 when they saw a defaced "Mulan" movie poster.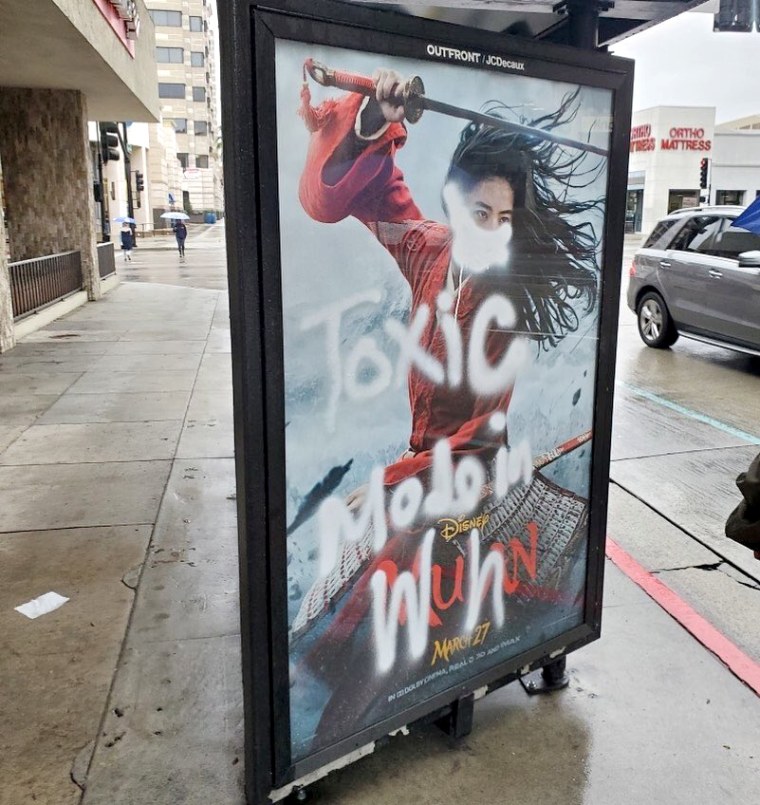 "It was on the opposite side of the street, so we made a U-turn," Fleagane said. "It was important to document."
A white mask was spray-painted over Mulan's mouth, as well as the words "Toxic, Made in Wuhan."
"San Gabriel Valley is the home of so many Asians," Yang said. "By putting that in the middle of Pasadena, you know you're broadcasting your message to a huge part of the Asian-American community."
How to help struggling Asian American communities amid coronavirus pandemic.
Follow NBC Asian America on Facebook, Twitter and Instagram.