The theme of "East meets West," with forbidden love and enlightening cross-cultural interactions, is rife with stereotypes, but not uncommon in American entertainment. Inspired by the 2015 revival of Rodgers and Hammerstein's "The King and I," Tony winner David Henry Hwang has set out to flip that trope through a new work: Instead of a Western visitor teaching the King of Siam how to govern his own country, what if the main character came from Asia and saw the United States as a strange and barbaric land to be civilized?
That's the driving question behind "Soft Power," Hwang's latest production which debuted in Los Angeles in May before making its second stop in San Francisco through the first week of July this summer.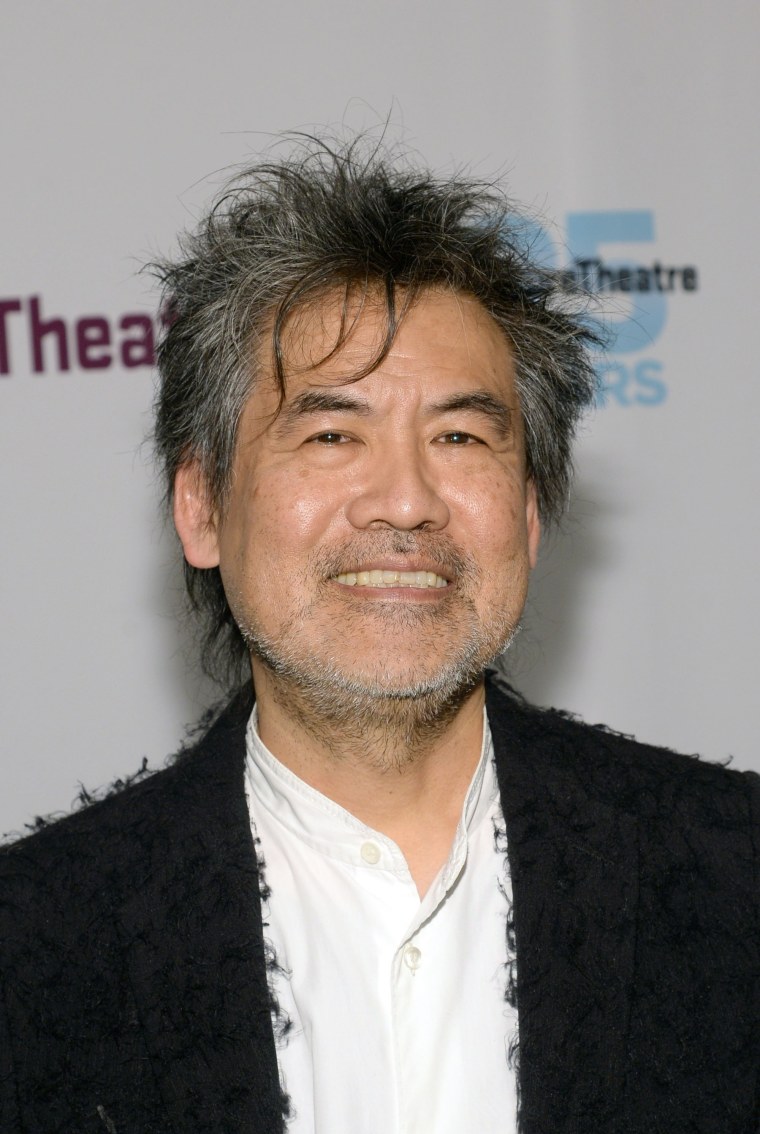 "Soft Power," created with Tony-winning composer Jeanine Tesori ("Fun Home," "Thoroughly Modern Millie"), describes itself as a "play with a musical" and aims to show audiences how stories of a white person traveling to a foreign land might embellish actual events or presume the superiority of Western society.
"These white savior versions of foreign stories are exaggerated versions of the truth," Hwang said by phone.
The show begins with Chinese movie producer Xue Xing (Conrad Ricamora, best known for his role in ABC's "How to Get Away With Murder") telling Chinese-American playwright DHH (Francis Jue, playing a version of Hwang) about his brief meeting with Hillary Clinton (Alyse Alan Louis) at one of her 2016 presidential campaign fundraisers.
The character DHH is then stabbed in the neck and nearly dies, mirroring a real-life situation Hwang survived in 2015 when he was stabbed near his Brooklyn home while returning home from a grocery store. In "Soft Power," DHH loses consciousness after the attack, sending him into a musical dream.
The audience is suddenly transported 50 years into the future when the story of Xue's brief meeting with Hillary Clinton has become a hit stage production in China.
"The conceit is that we're watching a Chinese musical in Shanghai set in 2016," Hwang explained. Xue Xing's adventure in America — a land hostile to Chinese and filled with gun-toting xenophobes — is set to a score of Chinese-influenced melodies and riffs on Golden Age showtunes.
Since its debut in May, "Soft Power" has been hailed by critics as "spectacularly unique" and daring. The two-act musical presents an over-the-top version of the days leading up to the 2016 presidential election, filled with flashy sets before ending on a nearly-bare stage while its cast — the majority of which are Asian American — reflects on the promise of democracy.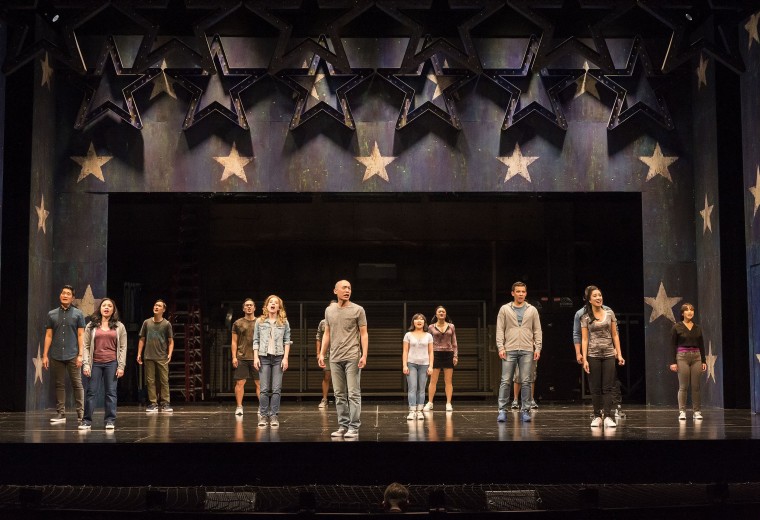 'Soft power' and the influence of art
How did Hwang – whose body of work often touches on the interactions between Chinese, Americans, and Chinese Americans – decide to write a show centered around such an abstract idea?
The term "soft power," coined in the 1980s by political scientist Joseph Nye, refers to a nation's ability to influence the world through its art and culture, as opposed to its 'hard power', or military and economic strength.
"I've been interested in subject of soft power since over the years — 10 to 15 years — I've been approached by the Chinese producers, with the intention of getting their shows on Broadway," Hwang said.
The planned 2015 revival of "The King and I" further piqued Hwang's interest in the East-West dynamic, so when Century Theater Group in Los Angeles commissioned Hwang in 2014 to write a show, "Soft Power" was born.
In the same way Hwang's "M. Butterfly" put a twist on "Madame Butterfly," "Soft Power" begins with an "East meets West" scenario similar to "The King and I," but flips it so the American leader looks to a layman from China for advice. Instead of a Eurocentric visitor exoticizing the ways of the East, "Soft Power" shows audiences how baffling American politics (gun rights, healthcare, voting) appear to a Chinese visitor.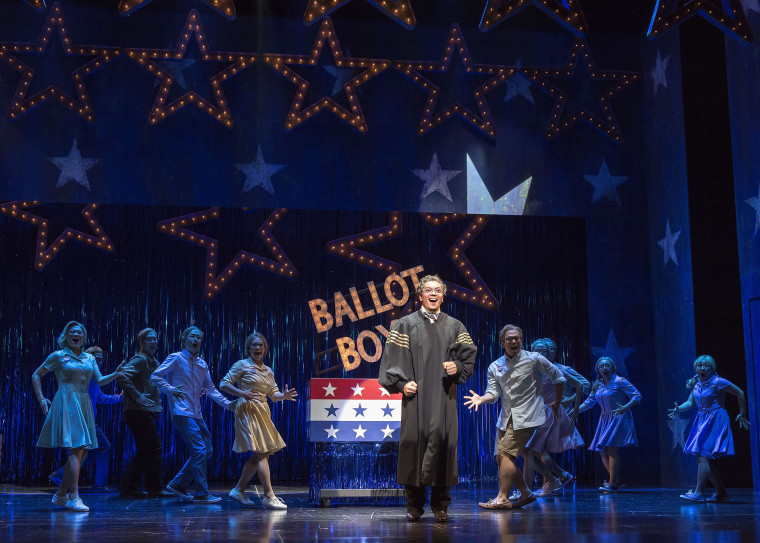 In one scene, Xue gestures to a room full of McDonald's diners and asks Hillary Clinton, "They all get to vote?"
"They all get to vote," she groans.
'Soft Power' makes a statement through casting
Hwang said he also drew upon the experiences of his immigrant parents and his experiences working with the Chinese entertainment industry to imagine how the United States in 2016 would look through the eyes of a newcomer from China.
"Through a lot of my work, I'm always trying to parse and understand what might really be Chinese as opposed to the stereotypical or westernized views of what is Chinese," Hwang said, noting that he grew up in America watching American media. Those viewpoints include notions about romantic love and familial duty, as well as assumptions about the best way to run a country.
Although the president is never named in "Soft Power," the visual cues are there: an ensemble of men wearing baggy suits and red neckties, and a fan base which clutches guns and is suspicious of a man with an Asian face. In a year when some have criticized the entertainment industry of being too political, Hwang disagrees.
"I happen to believe all art is political, either endorsing something new or the status quo," he said. "Even in 'The King and I,' Rodgers and Hammerstein intended to make a statement about slavery."
One of those political choices is the decision to use color-conscious casting. The actors in "Soft Power" are primarily Asian, with an ensemble cast outfitted with blond wigs and light makeup to portray white characters. That casting reflects the idea that the musical is being produced in Shanghai, with local actors.
Hwang said color-conscious casting is also a way to address Broadway's historically dismal diversity record.
"On Broadway and the 12 major regional theaters in New York, those actors statistically over the past 12 years have been 75-80 percent white. That's just a bad diversity figure," he said. "It's not preparing the theater for future audiences, which are going to be majority people of color."
Hwang differentiates this from the practice of white actors portraying Asians (the subject of his 2007 play "Yellowface"), adding, "I don't like it when the reverse happens, when a white actor is cast as an Asian or a Black person, because that increases the 80 percent figure."
Whether or not "Soft Power" will make it to Broadway has yet to be determined, but Hwang is optimistic. And even with what can be seen as a progressive message, Hwang believes it could even play in red states someday.
"I talked to various people who were not Hillary Clinton fans, Republicans who enjoyed the show. Even some Trump supporters enjoyed the show," Hwang said. "I like to think this is a show that can reach everyone."
Follow NBC Asian America on Facebook, Twitter, Instagram and Tumblr.