Aru Shiney-Ajay was in India the summer of the worst floods there in a century.
The disaster displaced more than 1 million people - including her grandmother and cousins - and left more than 400 dead.
"It was so terrifying … and I realized for the first time what it would actually mean if rising sea levels kept rising for Kerala, and what it actually would mean for millions of people to live under conditions like this," she told NBC Asian America.
That summer, Shiney-Ajay also learned about the detrimental effects of air pollution in Delhi. That, combined with the 2018 Kerala floods, made it difficult for her to focus on school when she returned for her sophomore year of college, she said. It prompted her to leave school and work full time for the Sunrise Movement, a climate change political advocacy nonprofit, where she serves as training director.
"I remember having this feeling that everything that we talk about on how bad climate change is going to get," she said. "It's already here."
For Asian Americans and Pacific Islanders like Shiney-Ajay, environmental protection is a pressing issue. They are more likely as a group to prioritize it over economic growth, compared to other racial and ethnic groups, according to AAPI Data. And for some, their ties to countries in the Asia Pacific region contribute to their dedication to protecting the planet and combating climate change.
Climate action influenced by the repercussions of climate change
The greatest percentage of people living in high risk climate zones are those in the Asia Pacific region and South Asia, according to data in a 2019 Global Peace Index report. Natural disasters, particularly those related to climate change and environmental degradation, have increased in intensity and frequency in the region. Nearly half of all natural disasters across the globe in 2018 occurred in the Asia Pacific region.
One of the strongest storms in 2018 - Typhoon Yutu, which tied Typhoon Mangkhut as the strongest storm of 2018, according to NASA - slammed the Northern Mariana Islands that year.
The catastrophic storm was the catalyst for Michelle Voacolo, a resident of the nearby island of Guam, to establish the Micronesia Climate Change Alliance (MCCA), a nonprofit that seeks to address climate change through culture- and community-based solutions by collaborating with various agencies and organizations.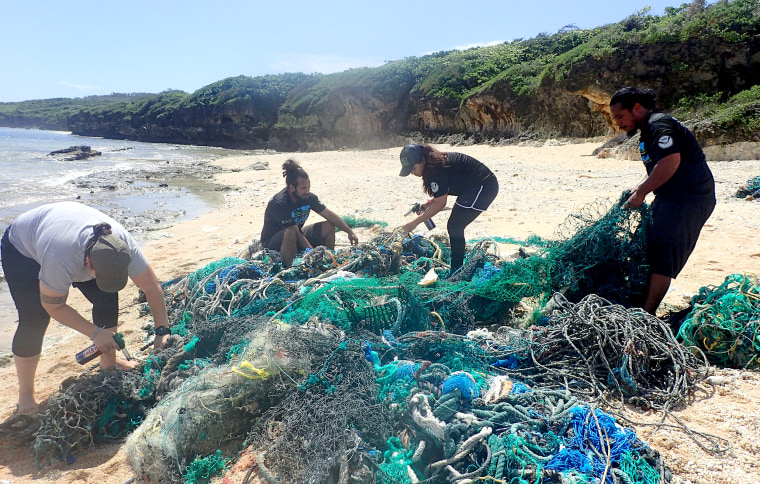 "A lot of our work is rooted in climate justice and systemic change, and understanding that climate change is a symptom of a larger global problem rooted in capitalism and valuing profits over people and the environment," she said.
Voacolo said the organization's efforts are focused on small projects to help the community realize that a vibrant economy is dependent on the health of the environment. One project the group is developing, given the island's food insecurity, is a plant-based cookbook to help reduce Guam's dependency on imported food and help residents return to nature for nourishment.
"Once we nourish ourselves with our natural surroundings, we'll be more likely to nourish the land back," Moñeka De Oro, a fellow at MCCA, said.
Educating the public about the climate crisis is another key action for activists.
Becky Furey, program director of the nonprofit Micronesia Islands Nature Alliance, said in an email that the Northern Mariana Islands are heavily dependent on their biodiversity for food through subsistence agriculture, fishing and hunting. But that biodiversity is suffering due to habitat loss for a range of reasons, including pollution and climate change.
One of the alliance's programs trains high school graduates to become community conservation messengers about the threats facing the islands' environment, Furey said. They monitor Saipan's beaches and encourage community members to take a responsible and sustainable approach when interacting with the island's natural resources, she added.
In California, Kristy Drutman, an assistant lecturer at UC Berkeley, created a media series about building an environmentally just society called Brown Girl Green. She said she was inspired to root her work in her identity as a Filipino American after connecting with her Philippine heritage during a trip to her mother's hometown in the southern part of the country.
Drutman said her activism focuses on content creation to make the issue more palatable to broader audiences, something she considers an important piece of the puzzle.
"There's a large disconnect between groups and how activities are moving worldwide and I feel like the only way that you can really learn strategies and tactics, and info to develop trends and mobilize people who otherwise wouldn't be engaged in this in person, is through social media," she said. "If I hadn't had access to social media, I don't think I'd be doing what I'm doing right now."
AAPI youth are also among activists rallying behind climate action.
Nadia Nazar was 16 when she co-founded Zero Hour, a youth-led nonprofit that aims to spotlight the voices of diverse youth in climate and environmental justice conversations. Since the organization was established in 2017, it has expanded to about 150 chapters worldwide, including in Australia, India, the Philippines and Iran, she said.
Nazar said seeing the impact of warming temperatures on India, where her parents are from, including massive flooding and droughts, deepened her drive to do whatever she can to address the climate crisis.
Olivia Sun, 15, an activist with Zero Hour, said one of the organization's programs encourages young people to vote for climate candidates - not only in presidential elections, but also in local races. The group is also working on carrying out digital action in light of the coronavirus pandemic to encourage voter turnout in November.
While a number of youth involved in Zero Hour won't be able to vote in the election, they recognize that they will be able to vote in the future.
"This fight isn't just for something that's happening in 2020," Nazar said. "This is something that's going to be happening for years."
Shiney-Ajay noted that the current generation lives in a society with intersecting societal crises, from economic depressions to a rise mental health problems, all while the planet has continued to warm.
"I think the experience of living through those things and growing up with these crises looming over you really affects the way that I've seen people feel the climate crisis so deeply like never before," she said.