Monica Chen, chair of the California chapter of the Asian American Democratic Club, said she's noticed a distinct split between younger and older Asian American voters when it comes to the subject of Andrew Yang, the Democratic presidential candidate.
Younger voters, she said, tend to be excited at the prospect of having an Asian American president. But older voters are less enthusiastic.
"Chinese people care very much about saving the face, and they think Yang is embarrassing the whole Chinese race," said Chen, who prefers Yang. "They think he's too progressive, and some think he's crazy."
A Democratic presidential candidate for almost two years, Yang has found some support, qualifying for Night Two of the first Democratic primary debate scheduled for June 27. His base — sometimes known as the "Yang Gang" — loves Yang's signature policy, a universal basic income that would provide adults over the age of 18 with $1,000 a month to ease the transition to an economy dominated by automation, which Yang believes will put one out of three people at risk of losing their jobs.
But his candidacy has split Asian American voters. An April analysis of donor data by AAPI Data at the University of California, Riverside, has found that Yang has received about $120,000 in campaign donations from Asian Americans, placing him fifth out of 14 candidates examined. But others are skeptical or willing to wait.
John Lin, 47, a tech worker in Silicon Valley, has a deep connection to the candidate.
"It's good to have representation from someone who is intelligent," said Lin, who was born in the United States and raised by immigrant parents from Taiwan, like Yang was. "He is fairly articulate in facts and can be a pretty funny guy."
But Shekar Narasimhan — the chair of the AAPI Victory Fund, a super PAC focused on Asian American and Pacific Islander voters — said it is still early to decide what candidate to support.
"Just because he is AAPI does not mean that our community will automatically donate to him or support him or vote for him. They have to see how he performs at the debate and to see if he's going to show up to our event," Narasimhan said, referring to a presidential forum the super PAC plans to host in September.
"We want to find someone who shares our values and who can defeat the current incumbent," he added. "It would be ideal if that person looks like us and speaks our language, but it is not a prerequisite."
Don Sun works with Yang's Asian American and Pacific Islander outreach team and said that while the campaign has seen senior citizens and young voters embrace the logistics of a basic income, a majority of middle-age working professionals they've interacted with have disagreed with the idea.
"They work hard; they pay very high taxes; they think it's a national income redistribution; and so they don't like it," Sun said.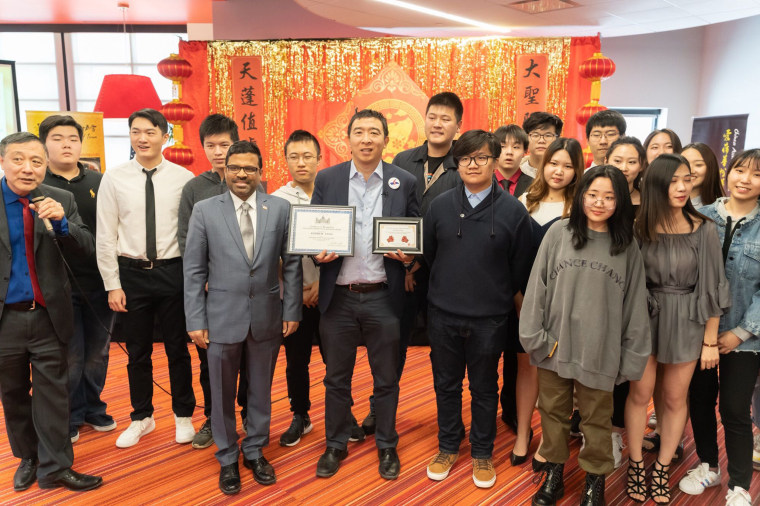 Beyond basic income, experts said that Yang could perform well with Asian American voters on issues like health care, jobs, education, gun control and national security.
According to the 2018 Asian American Voter Survey, which was conducted by seven nonprofits, 46 percent of Asian Americans surveyed said health care should be provided to all immigrants regardless of legal status and 78 percent believe that there should be stricter gun control laws. Yang supports a "Medicare for all" system, as well as a federal background check, among other requirements for gun purchases.
"Asian Americans tend to be issue-based voters," said Jennifer Baik, a communications and policy associate at APIA Vote, one of the groups that conducted the survey. "Andrew is doing a good job on hitting on those segments within the APIA community."
Yang's supporters have also been active on a platform more traditionally associated with conservatives: WeChat, a social media platform popular among some Chinese speakers.
Steven Chen, a Yang advocate and a founding partner at a company that conducts market research and strategy on social media, actively publishes articles on WeChat about Yang and participates in conversations about why others should vote for him. He said the grassroots energy and voter mobilization on this platform were outstanding.
"There were hundreds, thousands of people joining the WeChat special groups who supported Yang's campaign," Chen said. "We had donations, so many signatures to support him … so he can be on the stage for the Democratic primary debate."
Despite the right-leaning reputation of WeChat, which had been used to organize support for Donald Trump's presidential campaign and anti-affirmative action protests, Chen said he believes the majority of those on the network will support Yang's platform despite party identification.
"People in the WeChat world who want a positive face of an Asian American or Chinese American in the political arena want to support him," he said.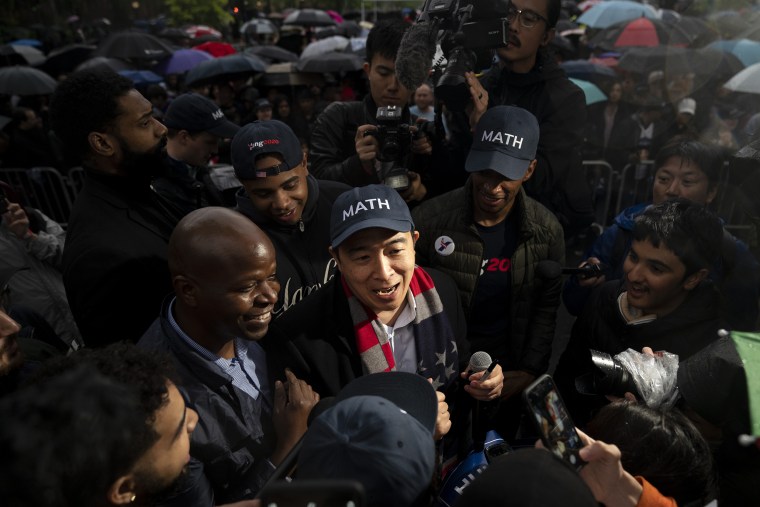 Beyond a presidency, organizers hope Yang and the other Asian American and Pacific Islander presidential candidates — Sen. Kamala Harris of California and Rep. Tulsi Gabbard of Hawaii — could boost Asian American civic engagement.
The Asian American community currently numbers almost 21 million and is the fastest-growing major racial or ethnic group, according to Pew Research. About 5 million Asian Americans were registered to vote during the 2016 election, compared to 2 million in 2000, according to the 2018 survey. The Center for American Progress estimates that the community will grow to about 10 percent of voters by 2036.
And according to the 2018 survey, three out of five Asian Americans disapprove of Trump.
"Not many Asian Pacific families are particularly excited about getting into public affairs," Kishan Putta, chair of the D.C. Democratic Party's Asian American and Pacific Islander caucus, said. "Yang said he really hopes his whole candidacy would serve more Asian Americans to get involved and that's my hope as well."
With the first Democratic primary debate taking place later this month, Monica Chen believes this could just be the beginning of Yang's growth in popularity.
Lin, the tech worker, agreed.
"Andrew Yang is making a good argument that if we're going to wait for an Asian American through the traditional route of elected officials rising to the top, we're going to have to wait a very long time," he said. "The field is certainly crowded and I want him to go as far as he can."
Follow NBC Asian America on Facebook, Twitter, Instagram and Tumblr.