For Tom Ikeda, a third-generation Japanese American, this past week seemed like 1924 all over again. That was the year the United States set immigrant quotas and banned immigration altogether for citizens of Asian countries, including Japan.
Those vestiges of the Johnson-Reed Act resurfaced for Ikeda when President Donald Trump signed an executive order Friday that halted a U.S. refugee program for 120 days, barred Syrian refugees indefinitely, and imposed entry restrictions on people from seven Muslim-majority nations for 90 days.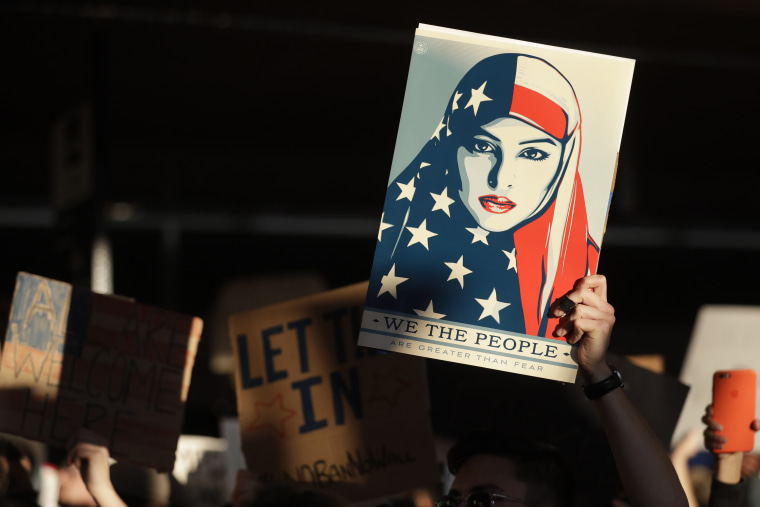 The intent behind the Johnson-Reed Act and Trump's executive order, while generations apart, bear some striking similarities, according to Ikeda, founding executive director of Densho, a nonprofit that preserves testimonies of Japanese Americans incarcerated during World War II.
RELATED: Trump Travel Restrictions Leave Refugees Stranded: Reports
"I know there's a lot of support for what President Trump is doing," Ikeda told NBC News. "But again, it's coming from this bigoted populism that people are afraid. And I think they're letting some of their primal instincts of wanting to be safe overrule some of the moral questions that we have to ask."
Trump's executive order touched off a topsy-turvy weekend that began with authorities detaining a dozen arrivals early Saturday at John F. Kennedy International Airport in Queens, New York, shortly after the order took effect. That led to protests and the American Civil Liberties Union asking a federal judge in New York to temporarily block parts of Trump's order, a request that was granted.
The stay prevents the government from deporting citizens from the affected countries who have already arrived in the U.S., a number the ACLU put at around 200. The Department of Homeland Security said Sunday Trump's order still remains in place.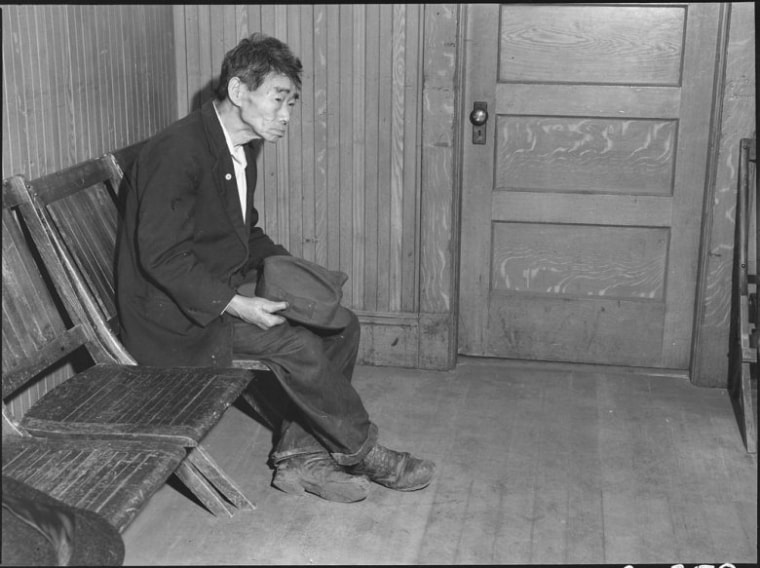 The executive order applies to seven countries — Syria, Sudan, Somalia, Iraq, Iran, Libya, and Yemen, which are predominantly Muslim.
Trump, who first floated the idea of a Muslim ban in December 2015, said Friday he's "establishing new vetting measures to keep radical Islamic terrorists out of the United States of America."
Some Republicans came out in support of the executive order, though others were critical of it, including Sen. John McCain (R-AZ) and Sen. Lindsey Graham (R-SC). The Council on American-Islamic Relations, a non-profit civil rights group, is expected Monday to announce a federal lawsuit to challenge the order.
Drawing parallels to Muslims today, Ikeda said that back in the 1920s, Japanese "were painted as being morally suspect or potentially dangerous, unable to assimilate into American culture." Some writers penned articles saying Japan, which was becoming an increasingly formidable power, would overrun the United States unless immigration was stopped, Ikeda said.
RELATED: Immigration Order Sows Chaos, Questions About Competency
The media, he added, stoked those fears to the point of influencing immigration policy.
"And what I believe is that we're seeing a similar repeat today in terms of the sensationalized claims against Muslims and what they're doing, how refugees from these particular countries are so dangerous when there's just no evidence of that," Ikeda said.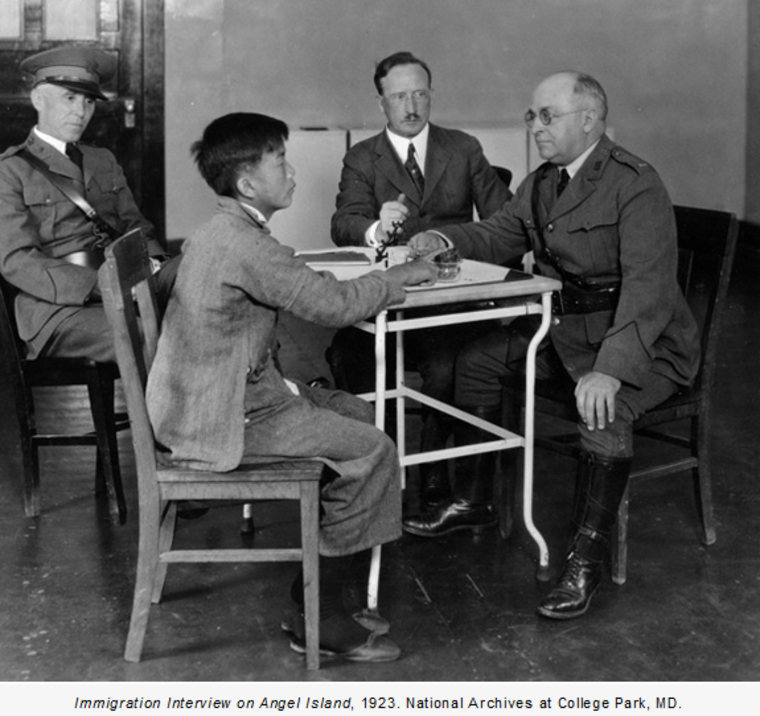 While people from Japanese were forbidden to immigrate to the U.S. following the Johnson-Reed Act of 1924, people from China had already been barred decades earlier when Congress passed the Chinese Exclusion Act in 1882. That was the first time in U.S. history that immigration was restricted based on race and class.
For the Japanese, the U.S. government's move to halt immigration from Japan, coupled with the Japanese ambassador's resignation, fanned the flames of anger among some in that country who wanted a stronger nation and a more aggressive military, Ikeda said.
"So it really sort of soured the diplomatic relationship also, which ultimately led to the [U.S. declaring] war in 1941 when Japan bombed Pearl Harbor," Ikeda said.

What followed two months later was President Franklin D. Roosevelt's Executive Order 9066, which authorized the relocation of anyone considered a national threat to security. In its wake, some 122,000 people of Japanese ancestry — nearly 70,000 of them American citizens — were rounded up and moved from the West Coast to fenced-in, guarded incarceration camps further inland.
Among those were Japanese-American actor and activist George Takei and his family. Takei, along with others in the Asian-American community, has voiced fears of internment camps being created for Muslim Americans.
To be sure, the U.S. government has not called for such a thing. Trump did, however, say in 2015 that he "would certainly implement" a database system tracking Muslims in the United States.
"And what I believe is that we're seeing a similar repeat today in terms of the sensationalized claims against Muslims and what they're doing, how refugees from these particular countries are so dangerous when there's just no evidence of that."
Reflecting on the Japanese experience surrounding World War II, Ikeda said he predicts there would likely be other steps before any incarceration of Muslims. He said those might include a return to enhanced surveillance, registration of Muslim immigrants or even Muslims who are U.S. citizens, and laws that are discriminatory, similar to those over 100 years ago that forbade non-U.S. citizens from owning property or land.
"There were all these hurdles or laws and policies put in place to make it harder and harder for Japanese," Ikeda said. "And by doing so, it also created this picture that these people are somehow different. The government is treating them differently, so maybe we as a citizenry should treat them differently."
Ikeda expressed concern that Trump's executive order could color the way in which some Muslims here and abroad view the United States.
"So we start going down this slope, and that's essentially what I believe happened in Japan," Ikeda said.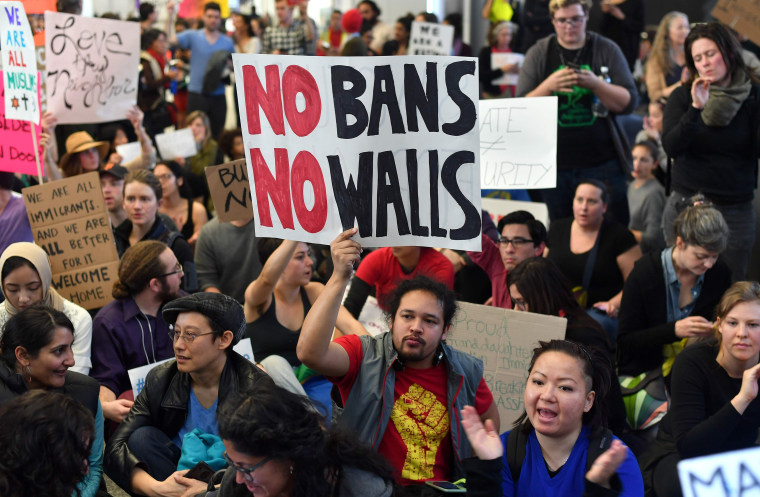 As events play out in the months to come, Ikeda's Seattle-based organization has planned a commemoration scheduled on Feb. 19 to mark the 75th anniversary of Roosevelt signing the executive order that led to Japanese internment.
Also taking part, Ikeda said, will be the Washington chapter of the Council on American-Islamic Relations. Ikeda will share the story of Japanese in America, and a representative for CAIR-Washington will talk about the Muslim-American community today, he said.
"We didn't want to be just a history project," Ikeda said of Densho, his organization. "We really want to make it relevant in connecting it to current events … In particular, this climate of fear and racism and hatred that is going on parallels a lot with what we saw happen during World War II."
Follow NBC Asian America on Facebook, Twitter, Instagram and Tumblr.