If you visit Song Long Restaurant during dinner service, you'll feel like you've stumbled into a family reunion. Hot plates are shared, diners lean over chairs to greet their coworkers, and waitress ask customers how their children are doing over the sounds of clinking silverware. Even if you visit the restaurant during the lunchtime lull, you can't escape the feeling that everyone knows each other. That feeling is there because many of the diners have frequented Song Long — one of the oldest still-operating restaurants in Orange County's Vietnamese-American enclave of Little Saigon — for decades.
"We have a lot of customers that have been coming for so long that we've seen their children grow up. Some of them move away so we never get to see them again, and some pass away, which is sad."
"I can't truly express my feelings, but when I come here, it's like coming back to my family," Angie Do, who has been dining at Song Long three times a week for over 20 years, told NBC News.
Driving along Little Saigon's main thoroughfare of Bolsa Avenue, Song Long is easy to miss. Tucked away in the back of a plaza, the restaurant blends in with the other Vietnamese-owned businesses, but for locals, Song Long Restaurant is a cultural landmark, one of the first places they could find Vietnamese food in the United States.
The restaurant started as a French bakery by sisters Lan Khai Vo and Diep Lan Vo before closing and reopening as a Vietnamese-French restaurant in 1981. It was one of the first Vietnamese restaurants established in the area, predating the name "Little Saigon." Along with Thanh My Restaurant and Danh's Pharmacy, it remains one of the few early businesses to still be running.
RELATED: The Story Behind America's Obsession with General Tso's Chicken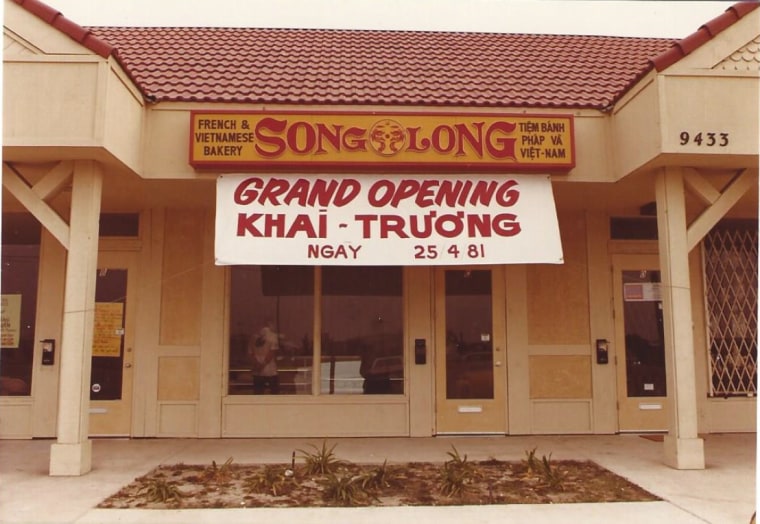 After escaping by boat during the fall of Saigon in 1975, Lan Khai Vo and her children spent several months in a refugee camp in Guam before being sponsored to the United States by a church based in Colorado. Being among the first wave of Vietnamese to immigrate to the area was a daunting experience for Vo, and she left the country to join other family members in Paris, where her sister was studying cooking at Le Cordon Bleu. While living in Paris, Vo picked up on the cooking techniques her sister learned at school, and together they sold and delivered baked goods from their home to make ends meet.
"It was difficult trying to adapt — I didn't speak any French, so it was hard in school, where you didn't understand most of the things the teacher was talking about," Tri Tran, Vo's son, who was a child when his family was uprooted from their home in Vietnam, told NBC News. "And then when we moved to the U.S., I had to start all over again with learning English."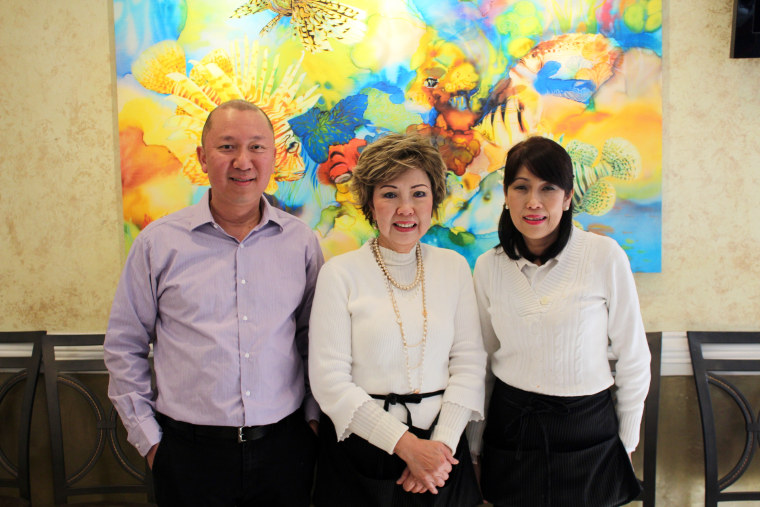 After five years in France, Vo's family moved back to the U.S., this time settling in Orange County. Armed with their schooling and business expertise, Vo and her sister opened the Song Long Bakery in 1981.
"We made croissants, eclairs, cookies, cakes, everything you'd find in a French bakery," Vo told NBC News. "I enjoyed making the mini croissants: some with chocolate, others with ham and cheese."
RELATED: Roy Choi Wants to Take 'Locol' Food National, Feed the Unfed
The bakery became a hit with the Vietnamese trickling into the area, but after a few years struggling to pay an expensive monthly rent, the sisters were forced to close down the business.
It wasn't long before they discovered a cheaper space to rent on Bolsa Avenue. By 1985, thousands of Vietnamese immigrants had established themselves in the pockets of Garden Grove, Santa Ana, and Westminster, three of the cities that make up Little Saigon and to this day home to one of the largest number of Vietnamese Americans in the U.S. The sisters decided to open a restaurant as opposed to another bakery in order to serve the traditional dishes they and their neighbors craved.
RELATED: Connecting Generations: At Lunar New Year Festival, Cultural Village Brings Together Young and Old
"We decided we'd cook the food they missed; food they hadn't had in a long time," Vo said. "People started coming in every week to get that taste of home. We cook it the way they make it in Vietnam. Just the way their mothers or grandmothers would make it."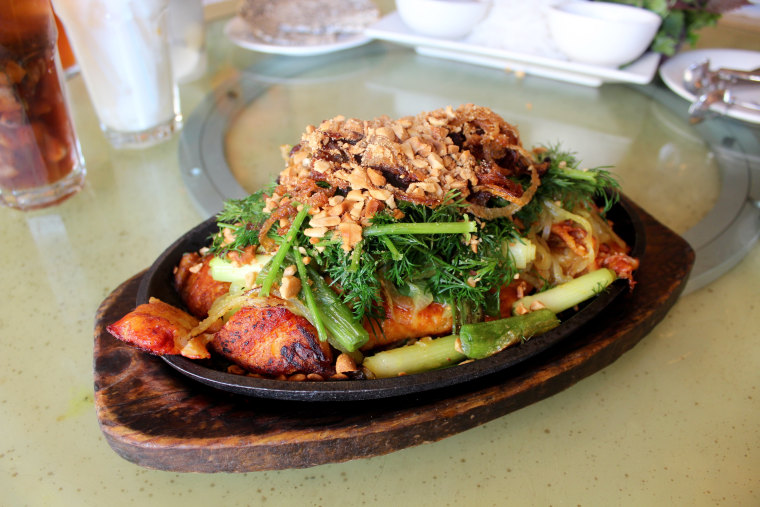 In the 30-plus years Song Long has been in business, the dishes have remained the same. Favorites include classic Vietnamese options like bò kho (beef stew), bánh khọt (miniature pancakes), and hủ tiếu (soup with rice noodles), as well as French staples like escargot smothered with butter and pesto. The most popular item on the menu is Song Long's signature chả cá thăng long, catfish served sizzling hot and topped with turmeric and dill.
Over time, Song Long became a popular restaurant for occasions ranging from casual family dinners to professional lunches with coworkers and clients, and it's not uncommon to find famous Vietnamese singers and actors at a corner table, chatting over bowls of bouillabaisse. One thing many customers seem to have in common, however, is a history of dining that spans generations.
"We have a lot of customers that have been coming for so long that we've seen their children grow up," Tran said. "Some of them move away so we never get to see them again, and some pass away, which is sad. It's like we're growing old with our customers."
RELATED: Deuki Hong Is Bringing 'Koreatown' to American Kitchens
Suong Truong, a waitress who has been working at Song Long for 29 years considers the restaurant home.
"The moment the customers walk in, I know where they like to sit and which dishes are their favorite, so they don't even need to order," Truon, told NBC News. "I've never thought about doing anything other than working here. I'd miss everyone too much."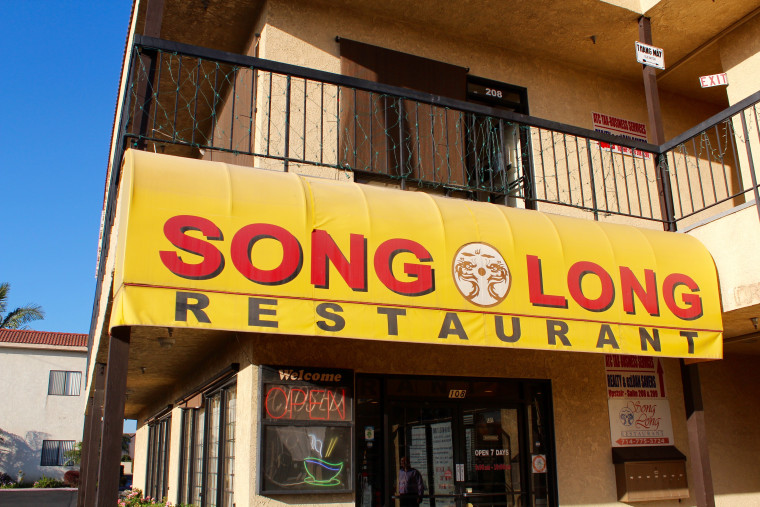 Vo hopes that Song Long will live on as a gathering place for the Vietnamese community; a safe haven where people can relax, swap stories with the staff, and order some old-fashioned comfort food.
"When we came to the U.S., I was so homesick — we all were," Vo, who is in her 70s and continues to run the restaurant, said. "So for me to have been able to create a home away from home for so many people…I'm grateful for it. It's nice to be surrounded by faces that are so familiar to me, even if I haven't met them before."
Follow NBC Asian America on Facebook, Twitter, Instagram, and Tumblr.