Hello Kitty and her friends are embarking on a new adventure this fall in Southern California.
Sanrio, the Japan-based corporate home of Hello Kitty, is partnering with Tanaka Farms located in Irvine, California, for a year-long collaboration where characters — including Hello Kitty, Keroppi, and Pochacco — will serve as ambassadors to the family-run farm.
The characters will join the 77-year-old farm's educational initiatives on topics like healthy eating, sustainability, and responsible farming, as well as appear throughout the 30-acre property for photo opportunities. They will also be part of seasonal activities like a pumpkin patch, Halloween costume contest, and Christmas tree farm.
"Our target audience is young children. We do a lot of farm tours, and we like to educate them on eating healthy, where their food is coming from. We try to get them to do that at an early age in life and develop those habits early on," said Kenny Tanaka, manager of Tanaka Farms.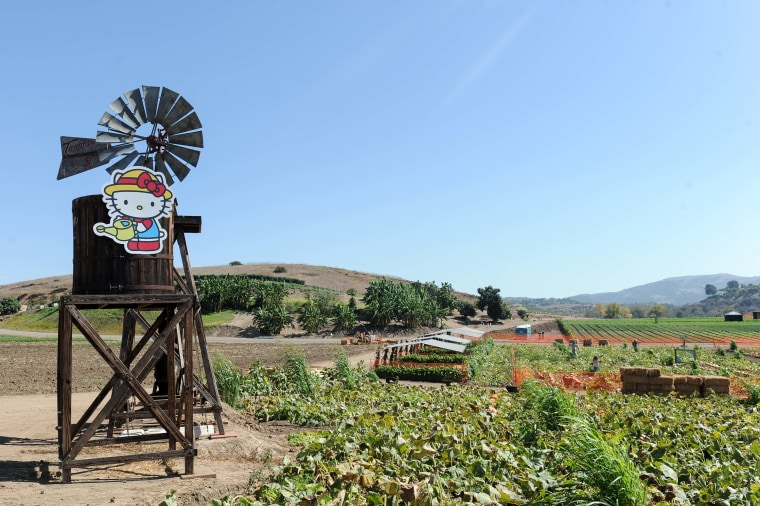 This isn't the first time Hello Kitty and her friends have ventured into the agriculture space: In 2014, Sanrio opened the Hello Kitty Go Green Organic Farm in Hong Kong. According to David Marchi, Sanrio's vice president of brand management and marketing, that venture inspired the partnership with Tanaka in the U.S.
Each year, Tanaka Farms receives more than 100,000 visitors who participate in tours, cookouts, and the farm's "U-Pick" program where they can pick their own produce from the dozens of crops the family grows, including romaine, butternut squash, strawberries, carrots, and tomatoes.
Founded in 1940 by Teruo Tanaka, an immigrant from Japan and Kenny Tanaka's great-grandfather, the family ventured into agritourism and agritainment about 30 years ago with pumpkin patches and tours.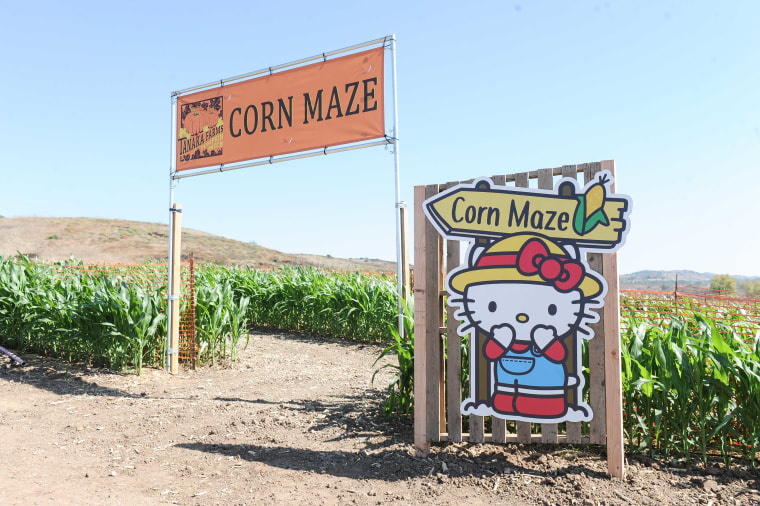 In 1998, the family-run business downgraded to a smaller, 30-acre farm (from its previous 200 to 300 acres) and became more reliant on agritourism to stay in business.
"If it wasn't for that, we probably wouldn't be in business today," said Tanaka.
He added that agritourism and agritainment make up about a third of the farm's income today, with the remaining coming from their produce stand and community-supported agriculture program.
In 2015, California ranked as the top agricultural producing state in the U.S. But a shortage of migrant farmworkers, especially on larger-scale farms, has resulted in steep losses – an estimated $13 million in two state counties alone.
According to Tanaka, smaller-scale farms like his family's have been less affected: Tanaka Farms employs 20 full-time staff members and grows crops throughout the year, which means they are less dependent on seasonal workers.
But, he said, labor costs are one of the most pressing issues facing sustainable farming.
"We grow one row of this [crop], one row of that [crop], so it takes longer for guys to walk from one area to another to pick vegetables. It's very difficult for small farms to make it efficient enough to make the labor worth it," he said.
Ancillary ventures, then, have become the farm's lifeblood.
"Without the agritainment part of it, it's really hard to see how a small farm would just survive off of doing a produce stand and maybe some wholesaling to stores," he added. "A lot of smaller farmers are starting to do agritainment to bring people out to show them how they're growing things. I really think that's the way to help subsidize the smaller farms."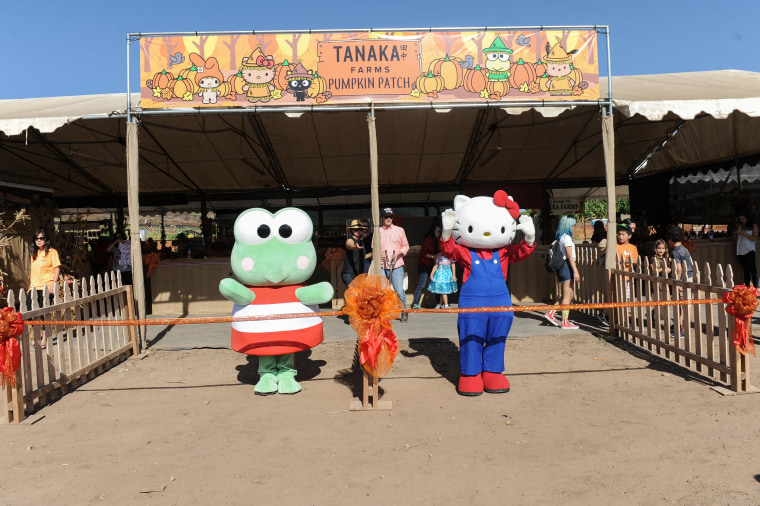 Tanaka said it made sense for them to partner with Sanrio since the brand appeals to both children and adults.
The Tanaka partnership is just one of Sanrio's "space licensing" ventures that the company has experimented with in the U.S. In 2014, Sanrio held Hello Kitty Con in Los Angeles to celebrate the popular character's 40th birthday. The company has also brought out a character-themed food truck and permanent mini-cafe in recent years.
RELATED: First Hello Kitty Cafe Opens Its Bright Pink Doors in California
"We can't be afraid to be a little quirky," said Sanrio's Marchi. He cited the popularity of the brand's newer characters, Aggretsuko (a heavy metal-loving red panda who works an office job) and Gudetama (a depressed egg yolk), as examples of Sanrio's fondness for the offbeat, but still adorable.
"There's a Hello Kitty experience for a 7 year old, but there's also a Hello Kitty experience for a 24 year old and a 44 year old and an 84 year old," he said. "Nothing is outside the realm of possibility if it's something we think will make our fans happy."
Follow NBC Asian America on Facebook, Twitter, Instagram and Tumblr.